Trisha Yearwood's Wide-Legged Barbiecore 'Fit Brought Summer To 2023 ACM Awards Stage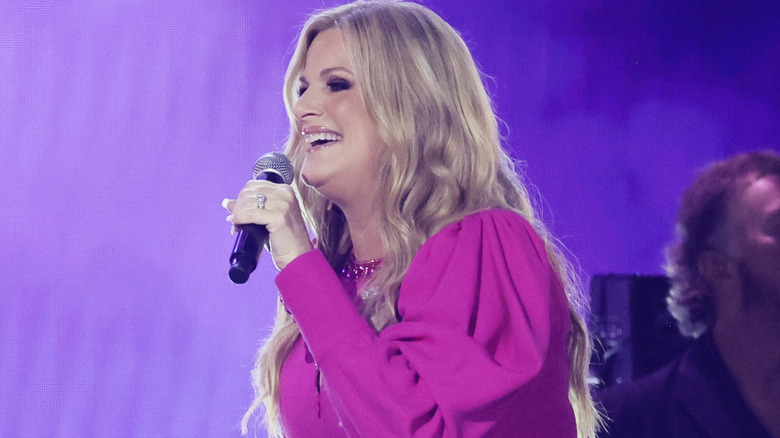 Theo Wargo/Getty Images
Trisha Yearwood ensured that the ACM Awards stayed seasonal and on-trend this year by appearing on stage in a fabulous hot pink jumpsuit. During her performance with Carly Pearce, Yearwood brought life to the show not only with her dazzling voice — seriously, it's worth a listen if you didn't catch it live — but also with her bold fashion statement.
Advertisement
With over 30 years of experience in the industry, Yearwood's no stranger to country music awards show fashion, but she may have outdone herself this year in her timely, girl-power ensemble. Nostalgia was having a moment with the Barbiecore fashion trend last summer, but a new onslaught of Barbiecore fashion is right around the corner with the upcoming release of Greta Gerwig's "Barbie" in July — and Trisha Yearwood just gave us a sneak peek of what we can expect. The bright hue and matching blond locks give classic Barbie vibes, but the tasteful tailoring keeps the jumpsuit from tilting into cosplay territory.
What we loved about Trisha Yearwood's look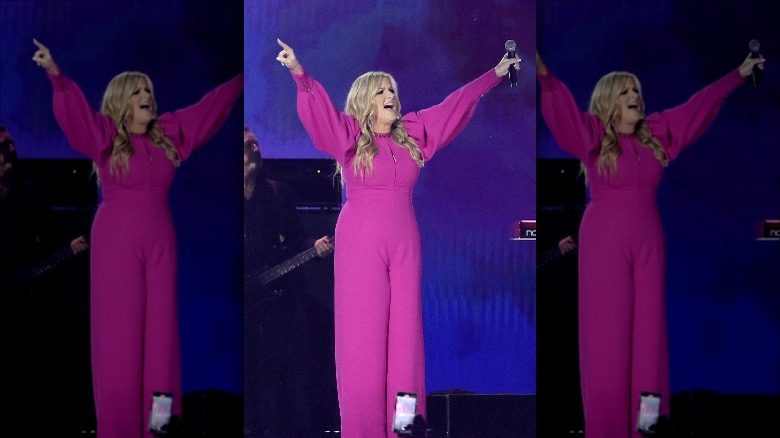 Theo Wargo/Getty Images
Trisha Yearwood's pink jumpsuit look offers a great example of how to incorporate the Barbiecore aesthetic into your personal style. Hot pink can feel childish on certain clothing items, but this jumpsuit manages to carry ample maturity and grace. The high-volume balloon sleeves and wide-legged pants contrast with the tightness at the waist, creating a perfectly balanced silhouette. Likewise, the high collar with the moderate cutout at the chest is just playful enough while still maintaining an elegant feel. And, of course, we have to give Yearwood bonus points for the collar's bright pink rhinestones, which match the line of buttons on the sleeves. There's nothing like a small detail to elevate monochromatic evening attire.
Advertisement
But what makes this pink jumpsuit a true Barbiecore ensemble is the freedom of movement. Of all the many life lessons you can learn from Barbie, the famous doll teaches us that you can go on any adventure you wish, from wild career choices to perpetually staying on your tiptoes. In the true Barbie spirit, the singer's outfit allowed her to comfortably move around the stage and belt out those showstopping notes — all while perfectly on-trend, with wide-legged pants all the rage in 2023. Trisha Yearwood's fashion display leaves us greatly impressed and looking forward to the many memorable Barbiecore style moments we're sure to see this summer.