FYI, You Might Want To Avoid Certain Aquaphor Products In The Sun. Here's Why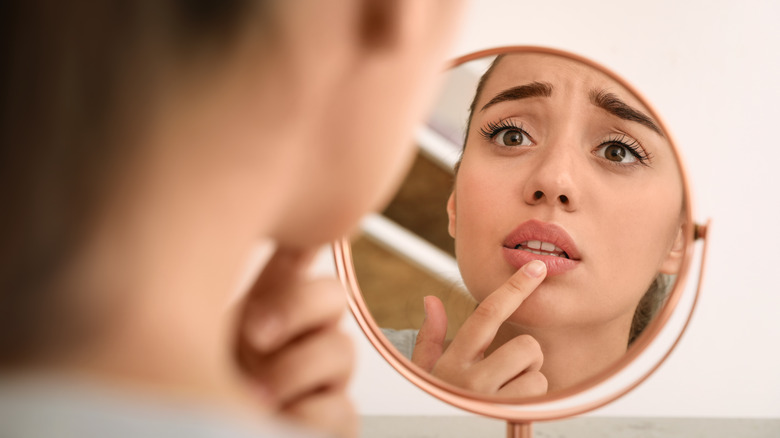 New Africa/Shutterstock
We may receive a commission on purchases made from links.
Aquaphor at first glance, can be described as a pretty safe drugstore product line. According to Eucerin, Aquaphor was first launched in the United States in 1925. For almost a century the products have been proven to be effective for even the most damaged skin. "Eucerin's solution to damaged skin works in several ways to support skin repair," explained Alexander Filbry, Ph.D., who works on product development for the company. "When skin is irritated, or extremely dry or cracked, providing the correct conditions for skin regeneration is vital." He continued to note that the water-free formula creates a protective barrier on the skin. This helps retain water vapor, which ultimately allows the skin to remain moisturized.
Advertisement
With its amazing formula, there is no surprise that people have incorporated Aquaphor into their beauty routine seamlessly, even if they don't have damaged skin. These products could be used for anything including getting softer skin to even giving people the easiest way to get the glazed donut look. However, while all of the products are generally safe, they are not all for everybody. Recently TikTokers have found out that Aquaphor's lip protectant and sunscreen might not be the best while having a day out in the sun.
The dangers of Aquaphor's lip protectant and sunscreen
It is no surprise that the lips might be the one place you may be neglecting with your sunscreen. To fix that issue, instead of rubbing sunscreen on the mouth, many people have tried to use Aquaphor's lip protectant and sunscreen. According to Ulta Beauty's product description, it not only helps relieve dry and chapped lips but also provides Broad Spectrum SPF 30 to help protect the lips from UVA/UVB rays.
Advertisement
While the product is said to be formulated for sensitive skin, some people have still reported having allergic reactions. After going outside, people posted videos of their lips with apparent swelling. TikToker, @dermdoctor explains that the reason this happened is because the product has an ingredient called oxybenzone. When this ingredient is exposed to the sun it can cause a photoallergic reaction which causes the lips to swell. The FDA warns that if any irritation happens, it's best to stop using the product immediately.
The importance of lip sunscreen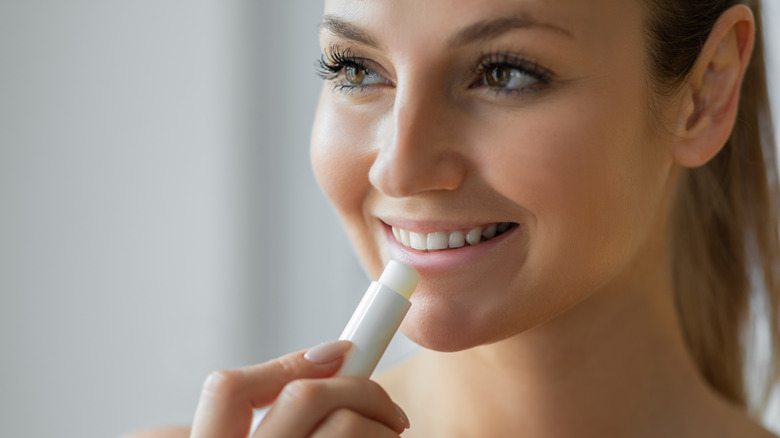 Bymuratdeniz/Getty Images
While the news of Aquaphor's lip protectant and sunscreen might feel disheartening, do not let it discourage you from purchasing a lip sunscreen. According to Real Simple, the lips can be even more prone to sun damage than the rest of the skin on our bodies. This is due to the fact that, unlike the skin on your body, the lips are much thinner making them much more susceptible to damage.
Advertisement
"As a dermatologic surgeon who has performed over 15,000 skin cancer surgeries, including numerous surgical removals of cancerous growths on the lips, I can assure you that your future self will thank you for protecting this sensitive area with daily SPF," notes board-certified dermatologist Kristina Collins, M.D, to Real Simple. Aside from cancer, Dr. Collins warns that chronic sun damage can lead to premature wrinkling, thinning of the skin, and chapped lips. While this can seem scary, it's luckily avoidable by finding the lip protectant that works best for you.