The Tips That Will Make You A Liquid Eyeshadow Pro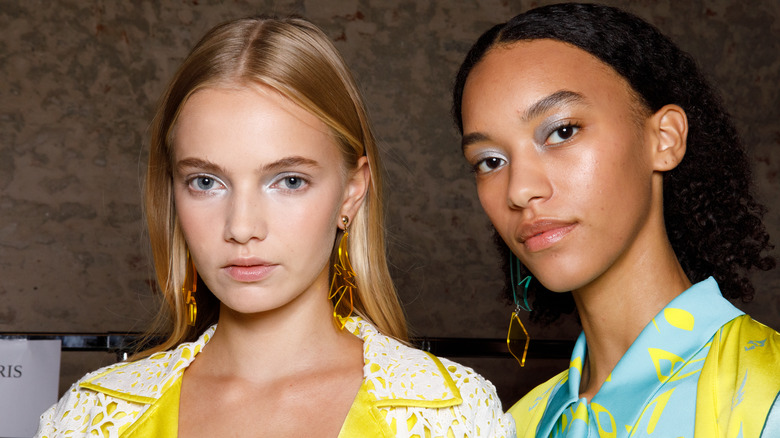 Rosdiana Ciaravolo/Getty Images
Over the past few years, cream and makeup products have taken over the beauty space. Cream blushes, contour wands, and liquid highlight have replaced or accompanied the previously-powder products in our collection, in an effort to get more pigment from a small amount of product while still maintaining a natural, second skin finish. Eyeshadows are no exception, but if you spent your entire life working with palettes full of pressed powder shades, liquid shadows present a bit of a learning curve.
Advertisement
When applied improperly, liquid shadow formulas have a tendency to crease, crack, and look unblended. But, with a bit of new technique, they can open the door to new experimental, bold, and ultra-pigmented eye looks. Thankfully, makeup artist and TikTok user Rose Saird took to the platform to share her top application tips to her over 1.3 million followers, giving us a guide on how to perfectly pull off liquid shadows each and every time we dip into our makeup bags. As long as you start with a clean base, order your colors accordingly, and tap on your product in thin layers, you'll be good to go. 
Start with a clean base
When it comes to powder shadows, it's usually best to start off with skincare, an eye primer, and a bit of translucent powder on your lids to get the maximum pigment, staying power, and blendability out of your shadows. According to Rose Siard's video, however, this isn't the case with liquid formulas. "First thing — we're going to skip eyeshadow base." she says. "In fact, we're going to put a little bit of translucent powder here. I'm talking the tiniest amount. Even a little bit of eye cream here could change that formula."
Advertisement
When applying your liquid shadows, you want to make sure there's nothing on your lid that could interfere with their blendability. By adding a touch of translucent setting powder — dipping in your brush, then tapping heavily to get rid of excess before applying — you'll be able to soak up any natural oils that have accumulated on your lid and give yourself a smooth, dry base to work on top of.
Use transition colors first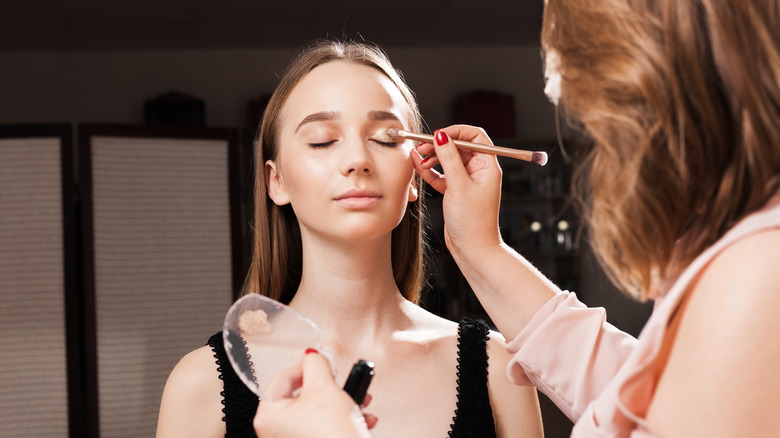 OlegMemo/Shutterstock
This step doesn't necessarily apply to all looks — if you're doing one, all-over shade, you can go straight in with your product. But if you're going for a classic, blended look, you're going to want to start with your lightest color shades first and then layer up to build depth. In her video, Rose Saird begins with a transition shade in the crease, then adds on a slightly darker shade once that's blended in the same area, just more concentrated.
Advertisement
From there, she takes her darkest shade and creates a V-shape in the outer corner to add more depth and definition to this area of the eye. By doing this, she creates a flawless transition from shade to shade in the areas where she wants to achieve a blended look. On the inner part of her lid, however, she decides to go back in with a lighter shade to create a more distinct, cut-crease look on top of the existing shadow. Switching up the order of your layering allows you to create definition or a blended transition, so your technique should depend on your desired final look.
Apply in thin layers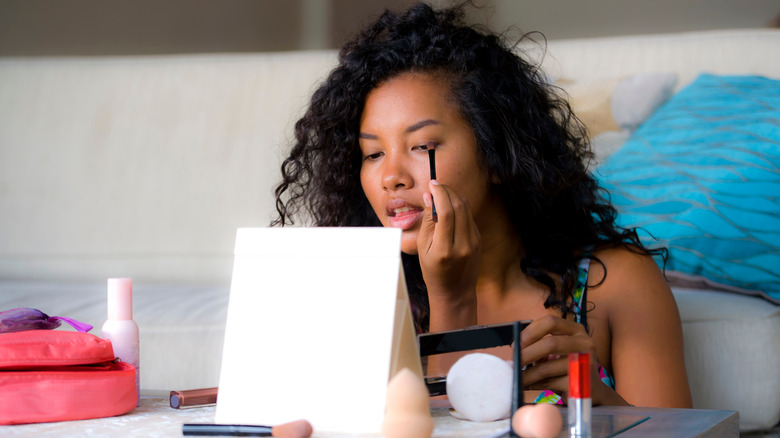 TheVisualsYouNeed/Shutterstock
One of the main issues that people face with liquid shadows is how quickly they dry down and stick in place. If you're used to pressed powder shadows, you could spend as much time as you want blending and perfecting your look, but liquid formulas require you to race against the clock. "Liquid shadows tend to dry very quickly, so do keep that in mind." Rose Saird says in her TikTok. "That just means we need to smooth it out a little bit quicker than we normally would. Too much tapping or too much swiping, it could become patchy."
Advertisement
Because it dries down so quickly, many people are tempted to apply more product in an effort to give themselves more time, but a thick layer will only result in issues like cracking or patchiness once you start blending. Instead, stick with a thin layer, blend quickly, and, if you need a bit more product, go in with a second thin layer after the first is fully dried down.
Tap, don't swipe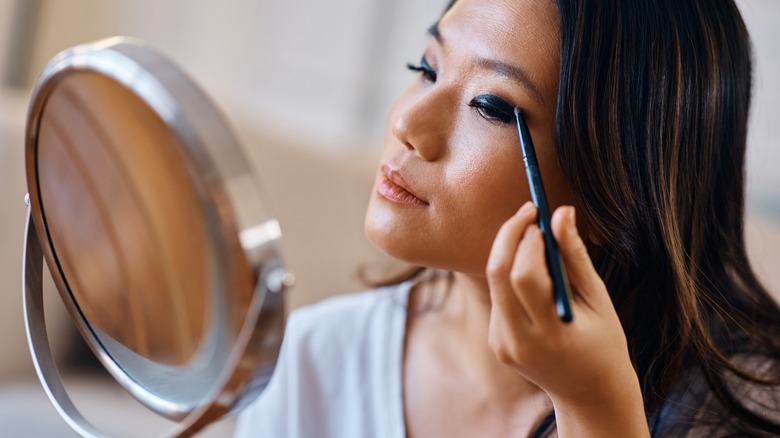 Drazen Zigic/Shutterstock
If you're used to working with regular eyeshadow, the transition from swiping to tapping when you blend is surprisingly one of the more difficult hurdles in learning to work with a liquid formula. But once you get it down, it's incredibly simple. When you blend, go in with a denser, flatter brush than you would use for buffing out powder shadows — Rose Saird uses a Rose and Ben Beauty E28 brush in her TikTok — and gently tap around the edges to diffuse. Once it's dry, you can use the same tapping technique to add layers when you want to create a seamless transition, or leave the edges sharp for a cut crease or more precise graphic liner look.
Advertisement
Liquid shadows can be intimidating at first, but, once you feel more comfortable, application can actually be easier and quicker than regular shadows. After a bit of experimentation, you'll be able to master the more intense pigmentation and stunning shimmers that allow you to add a bit of wow factor without much additional effort. With these techniques and a bit of practice, you'll be a pro in no time.