Black Leather Nails Are The Grungy Look You Won't Be Able To Escape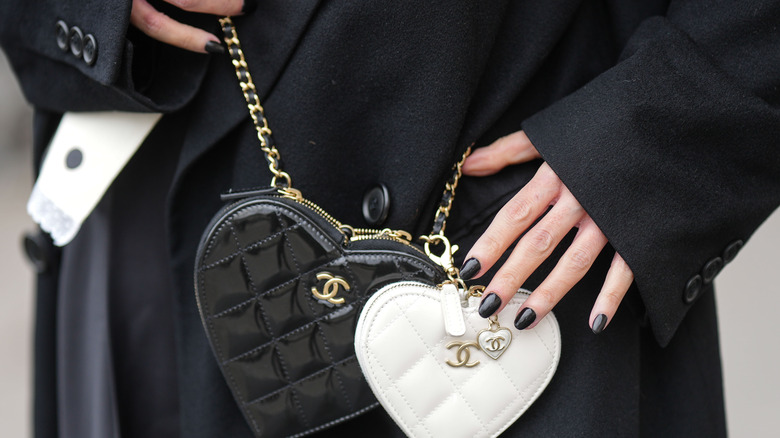 Edward Berthelot/Getty Images
While nail trends like lemonade nails are fun, bright, and bold, there's something to be said about rocking an edgier manicure. While they aren't usually seen as the go-to nail aesthetic, grungy and dark nails can be a chic design that delivers every time. No matter what your style is, black goes with everything. Although it may seem like everyone is currently rocking neoncore, black exudes edginess and empowerment. While it's not everyone's favorite, leather black nails are the current trend that's itching to make a splash.
Not your typical manicure designs, it's all about embracing the dark hue to get a modern look. Like leather, there are various ways you can achieve this manicure. Some prefer getting a shiny leather look while others are fans of a matte leather design. Either way, the most significant aspect has to do with the color. In fashion, black leather is a staple when it comes to pants, leggings, and handbags. Bringing this into your nails sets you up for a sleek and chic manicure with a little bit of an edge. No need to be afraid if black isn't in your current color palette, this hue will match even the brightest of hues perfectly.
Textured black leather nails
Not all leather is shiny or matte; some fall in between with their wrinkles and distress. Some of fashion's favorite handbags are made using a black pebble leather fabric that is known for its rough texture. Bring this roughness into your nails with black crinkled nails that will match any of your purses. Creating this texture is as easy as playing with wet black nail polish to create your desired design. Textured black leather nails are not only on trend, but they're ideal if you want a manicure that won't show every single flaw.
Patent black leather nails
If you're looking to showcase your black leather nails, you're sure to come across some shiny nail designs. Patent leather is a staple material for shoes and accessories, and this high-shine and glossy option is perfect for those who don't want to give up the glam in their nails. Going with a high-shine black nail polish will not only bring some elegance to your look, but it'll also reflect perfectly against the light.
Stiletto black leather nails
The advantage of black leather nails is the fact that it's entirely versatile. No matter if you opt for short or long, black leather is the perfect way of showcasing any shape or length. If you really want to make a bold statement with your nails, give them a stiletto shape. Stiletto black leather nails are for those feeling edgier and empowered. It isn't known for being subtle though, so pairing it with black nail polish is the best way to go.
Black crocodile leather nails
Handbags are probably the place where you've most seen black leather used time and time again. One of the most popular ways you'll see it is in an animal print like snake or crocodile. Bring this print straight into your nails for a design that is rarely spotted. While this look may require a trip to your manicurist, the results are well worth it. Black croc leather nails aren't for those looking for something minimalist or subtle.
Matte black leather nails
For a long time, matte nails were among the hottest nail trends. While they are still struggling to regain that traction, matte nail polish is easy to find and use, making it a simple way of bringing some leather to your manicure. Like anything made out of matte and smooth leather, get ready to see every dirt and scratch on your nails. Although, the risk is well worth it for the sleekness you'll achieve with this look.
Mixed black leather nails
Can't decide between a shiny or matte mani? You don't have to! It's entirely possible to combine them into one design. Mix your leather fabrics by opting for a shiny black nail polish along with a matte nail design. Whether you introduce another color or go with a monochrome design, they work perfectly with each other. 
Distressed black leather nails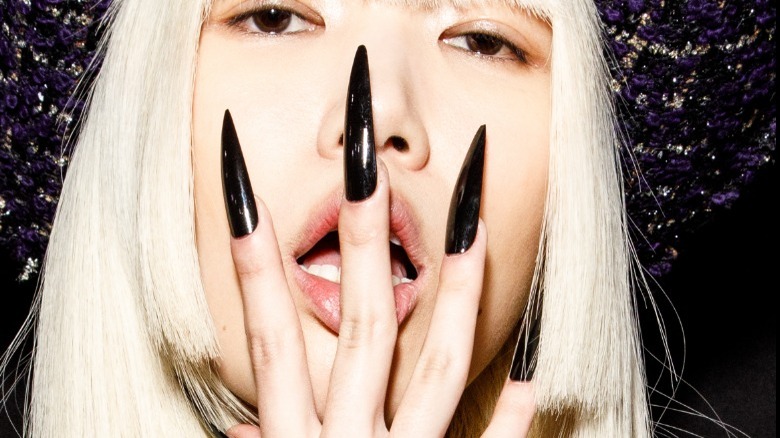 Rosdiana Ciaravolo/Getty Images
We all have that one black leather item that has seen its better days. Bring this nostalgic and vintage vibe to your nails by giving your black leather nails a distressed detail. You can easily achieve this look by buffing nails that have already been painted in black. You can also add a few white streaks or lines to get a similar feel. Be careful to not completely take off your nail, but the more flaws that show, the better.
Black leather nails with a statement
Black leather nails are already a statement nail trend in themselves. But if you want something a little bit extra, try this: Paint four of your fingers on one hand with your favorite black leather nail variation. On your bare nail, create a statement nail by adding a print or a combination of the black leather trend. Add a shiny and matte black leather nail with a print, or add some color to the spare. No matter which combination you choose, repeat on the other side for a cohesive and consistent look.