This TikToker Just Shared A Hair Tie-Free Way To Pull Your Strands Back - And It's Genius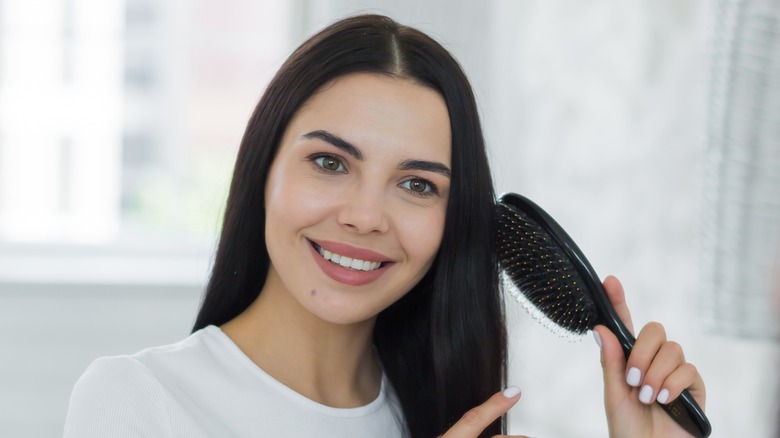 voronaman/Shutterstock
Whether you're looking to get your hair out of your face quickly or need one to perfect a very specific look, finding yourself without a hair tie can feel like the ultimate nightmare — especially if your chosen hairstyle requires several of them. They are often handy for scraping your hair out of your face, either out of convenience or to style it. However, losing them can be all too common, and you may often find that your favorite hair tie has seemingly vanished. 
Advertisement
However, it turns out you don't actually need a hair tie to style your hair. Thankfully, TikTok is full of tie-free hair hacks that you can try straight from home without compromising how good the final result looks. What more could you possibly ask for?
For this hair tie-free hair hack, you'll need just two strands at the front of each side of your hair to complete the look. In effect, you'll be creating a makeshift hair tie out of your own tresses. While it may take some practice, the end result is definitely worth it. Below, we'll quickly run you through how you can achieve this stunning look.
How to pull your strands back using the hair tie-free way
To begin the process, separate two strands at the front of your hair, with the second starting just underneath but to the side of the first strand. Taking the strand underneath, loop it around your finger and pull it underneath the first strand to the other side near the front of your face, as TikTok user @montana.coles demonstrates in the video.
Advertisement
Next, pull it over the top strand of your hair and back around so it's looped around the top strand, keeping your fingers in place. Pull the looping strand underneath itself, making sure to pull it all the way through so it sits securely. It should almost act as a tie in itself to your first strand of hair. To secure the look, go in with a hair grip, fastening it where you feel most comfortable so that it stays in place. While it may seem daunting and complicated, you should be able to perfect this look with enough practice. If you want to tame any flyaways to complete the look, try using TikTok's dental floss hack.
Try hair tie-free buns or ponytails
Of course, this TikTok hack isn't the only way to go hair-tie free. If you want to experiment with a different look that still helps to get the hair out of your face, try opting for a hair tie-free bun or ponytail. Like the previous hack, these were also birthed on TikTok. Of course, there are plenty of videos showcasing how you can achieve both looks yourself. While they may be a little tricky to perfect, you should be able to get the knack of it with some practice. Again, the basic premise is that you twist your hair, this time using all of your hair instead of two strands, to create a loop through which you can knot it.
Advertisement
Most importantly, none of these hacks requires a hair tie, making them the perfect go-to option if you're out and about without one. Now, you won't have to live in fear if you do, in fact, find that you lose your hair tie.