Rice Water's Hair Growth Powers Aren't Confirmed, But There Are Other Benefits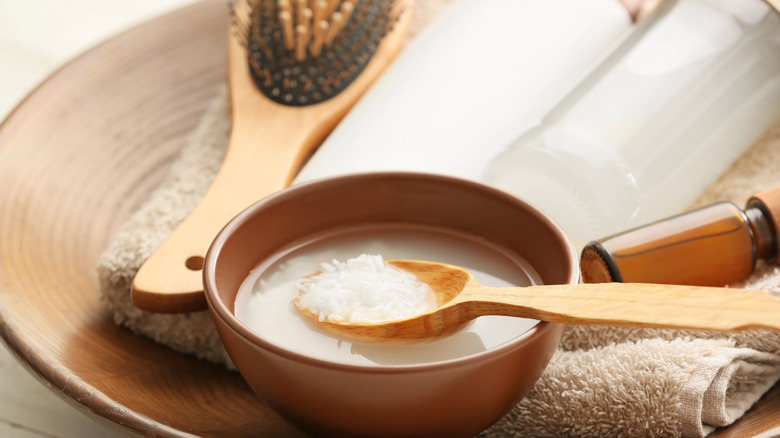 Pixel-Shot/Shutterstock
We may receive a commission on purchases made from links.
Every so often, a food-based haircare ingredient comes along and takes us by surprise. Using cholesterol in your hair was all the rage for decades until coconut oil conditioners started cropping up in styling formulas far and wide. Today, however, rice water has become the star ingredient in many haircare products, from shampoo bars to strengthening treatments. That's right — the same starch-filled liquid that you discard after rinsing your rice is said to increase hair growth and add shine to tired strands.
Unfortunately, the scientific community hasn't thoroughly researched rice water's haircare benefits, and public opinion on the matter is mixed. While some rice water devotees swear that the culinary byproduct can promote healthier hair, others remain unconvinced of its lengthening properties. Still, there's no reason to throw out your rice water just yet. To its benefit, rice contains powerful nutrients like amino acids, and many Asian cultures have historically used leftover rice water as a versatile beauty tonic. Ready to find out more about the benefits of using rice water for hair and skin? Ahead, we'll break down everything you need to know about rice water's beauty applications.
How rice water can improve your hair and skin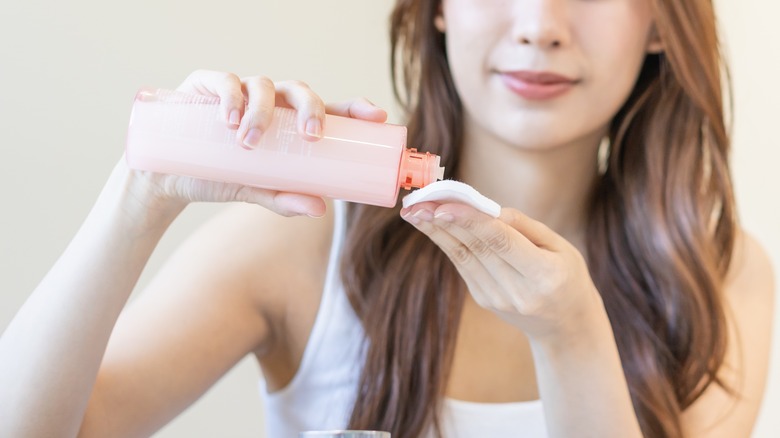 Kmpzzz/Shutterstock
We may not have definitive proof of rice water's ability to increase hair growth, but we know it's linked to softer, smoother strands. That's because rice is a rich source of hair-nourishing compounds, like vitamins, minerals, and antioxidants, according to the International Rice Research Institute. Furthermore, some varieties, like brown or purple rice, contain higher quantities of proteins and antioxidants than your standard milled white rice. The only drawback of using rice water on your hair? Rice water-enriched haircare products may lead to excess protein buildup, so it's crucial to use a clarifying shampoo treatment every two to three weeks.
Although more research is needed to establish the link between rice water and hair health, there are a few existing studies on the benefits of rice water in skincare. According to findings published in the medical journal Cosmetics, topical rice water was found to have antioxidant activity on par with vitamin C serums. Popular Asian beauty products such as SK-II Facial Treatment Essence utilize rice in its fermented form to improve texture, tone, and diminish dark spots. Fermented rice water is thought to be even more potent than fresh rice water, and many skincare enthusiasts claim it can control oiliness and tighten pores. "Nothing keeps my pores nonexistent like homemade fermented rice water," writes one Redditor.
Using rice water in your beauty regimen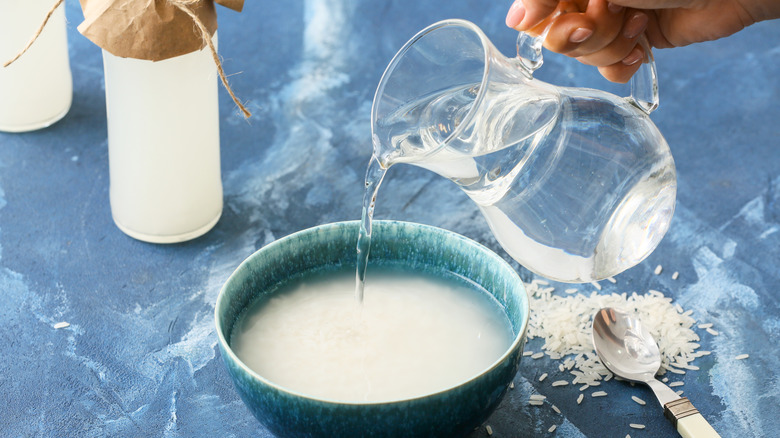 Pixel-Shot/Shutterstock
Can't wait to use rice water in your hair or skincare routine? Fortunately, there are plenty of shelf-ready products made from the supercharged ingredient. Looking for curl control and a hint of shine? Try Mielle Organics Rice Water Milk, a cruelty-free styling product infused with rice water, yuzu, and softening plant oils. For an environmentally friendly option, you can always explore zero-waste rice water shampoo. A perfect example is Thrivosh Rice Water Shampoo Bar, a 2-in-1 product made from Longsheng rice that's perfect for travel. Or, quite simply, you can make your own one-ingredient rice water hair treatment or facial toner at home.
To get started, you'll need rice, a jar or spray bottle to store your rice water, and of course, water. Any rice will do, but organic rice is best to avoid skin irritants like pesticides. First, make sure to wash your hands thoroughly before preparing the rice water. Next, add a cup of rice to a large mixing bowl and give it a quick rinse with water. From there, add one to two cups of water and vigorously stir the rice until the water is cloudy. Deposit the starchy rice water into your desired container, and voilà!
After refrigerating your rice water, it can be used for roughly one week before it may start fermenting. You can experiment with rice water as fermented skincare or use the fresher version. Just be sure to discard your rice water if you spot any signs of moldiness — and avoid using fermented rice water near your mouth or eyes.