How To Take The Sheer Top Trend From Runway To Real Life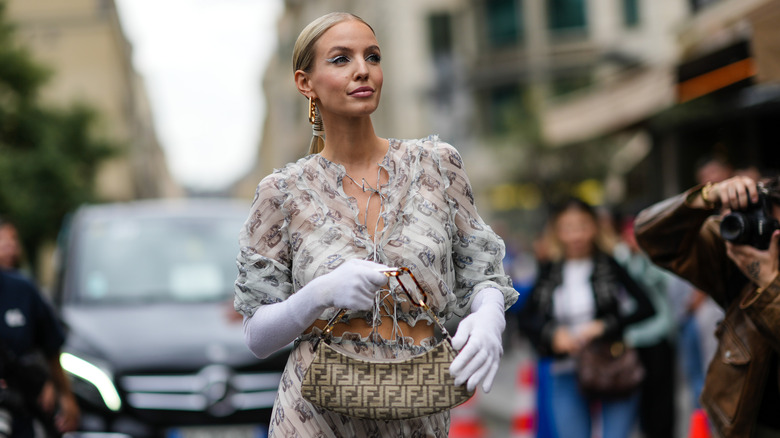 Edward Berthelot/Getty Images
Taking a peek at current fashion trends, none are as risky as the sheer top trend. Although a simple and vintage trend, sheer tops pose an interesting challenge for fashion lovers. Even though they are chic and fashion-forward, it's hard to know how to wear sheer clothing. In the end, wearing a transparent top is about asking yourself how fearless you feel. We've seen plenty of designers and brands take charge of the sheer top trend by making it one of their staple items. Prada, Miu Miu, and others have embraced see-through items and are not ready to let this trend go. While this trend comes from the current Y2K revival, there are more modern ways to wear it that make it less of a retro piece.
The problem with many fashion trends shown on the runway, such as this sheer top trend, is that they don't always translate into the everyday world. While a chic display on the runway, not everyone is willing to bare it all in a sheer top. Thankfully, many have transformed this trend into something anyone can wear to any event or place. The key to wearing a sheer top is adding the right pieces that make you feel more confident and comfortable.
Flirty night out
The easiest time to wear a sheer top is during your next night out. Whether it's on a date or with friends, a sheer top is the perfect piece to add a touch of femininity to your outfit. Use lace detailing and fun textures such as feathers and sequins to add some more fun to your look. For an all-around unique ensemble, pair the wildness of a sheer top with other pieces you would seldom wear in the daytime.
Printed, colorful fun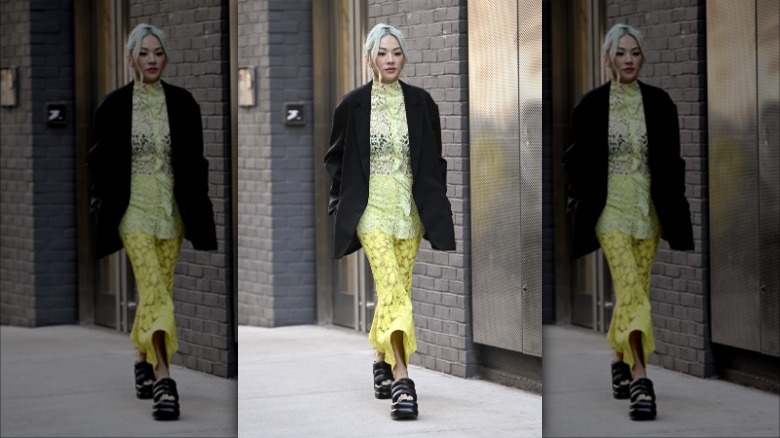 Daniel Zuchnik/Getty Images
Wearing any sheer piece can make you feel uncomfortable at first, especially when it comes to your top. It's normal to feel overly exposed considering sheer fabrics mean see-through pieces. Remedy the fear with a busy sheer top filled with print and loud colors. Although this won't make it less sheer, it does serve as a chic distraction that'll help you feel more covered.
Sheer details
Even if you're embracing a sheer top, this doesn't mean the top has to be completely see-through. If wearing an entirely transparent top is too much for your style, opt for a piece that contains sheer details instead. Sheer sleeves and shoulders are some of the safest ways you can jump on this trend without worrying about what to wear underneath.
Warm-ish pieces
Sheer tops aren't known for being the warmest items in your closet. Thankfully, there are small ways you can make them thicker, heavier, and ready for cooler temperatures. Reach for sheer tops in either a ribbed fabric or with long sleeves. These types of sheer tops will give you slightly more coverage than regular sheer tops but still give you the feel of a sheer piece.
Color twist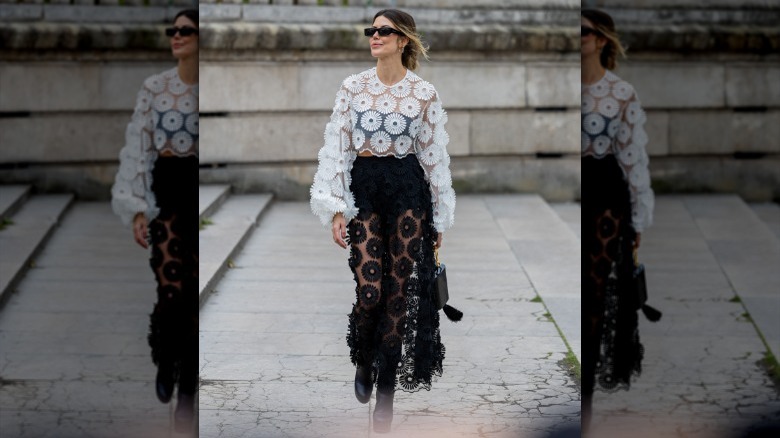 Christian Vierig/Getty Images
When it comes to pairing pieces underneath your sheer tops, the obvious answer is to match the color of your undergarment with your top. However, nowadays, fewer people are giving importance to this rule and opting for the opposite. Instead of matching colors, use an undergarment in a different color to give your outfit another pop of color. Long gone are the days of hiding your layers underneath. Embrace the change and show off all of the pieces that make up your outfit.
Retro undergarments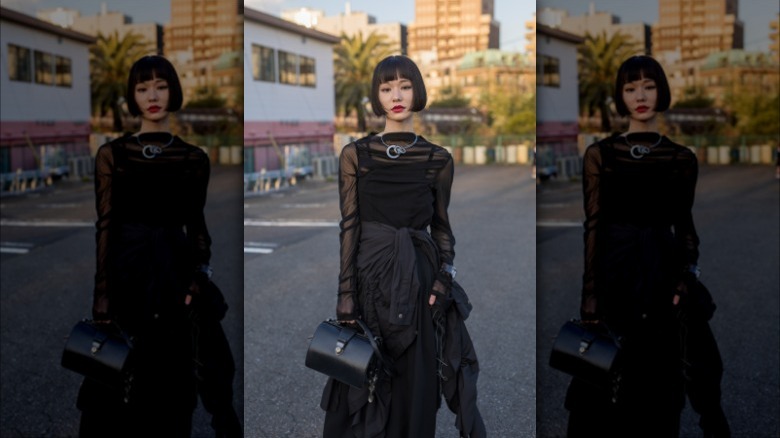 Matthew Sperzel/Getty Images
While not exactly vintage or retro, tank tops and camis are the best example of how Y2K still prevails in the fashion industry. These classic '90s minimalist pieces are the perfect way to cover up under your sheer tops. Prada embraced the white tank top as a staple of their collections, paving the way for everyone to reach for these basic pieces. Don't underestimate the power of your camis and tank tops since these pieces will help elevate your sheer tops.
Monochrome tops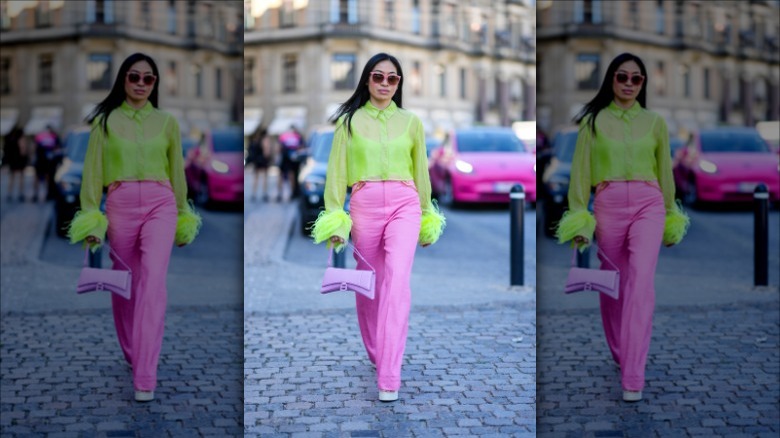 Edward Berthelot/Getty Images
While it's always fun to give your outfits a pop of color, monochrome tops can emphasize your sheer pieces in a chic way. Monochrome will always be the easiest styling trick to create an outfit with a piece that's difficult to style. Although sheer tops are unique, there's nothing a good monochromatic pairing can't deliver. This trick can make wearing bold colors even more elegant and modern.