Bloomers Are Back In Style And They've Taken Over TikTok's Coquette Fashion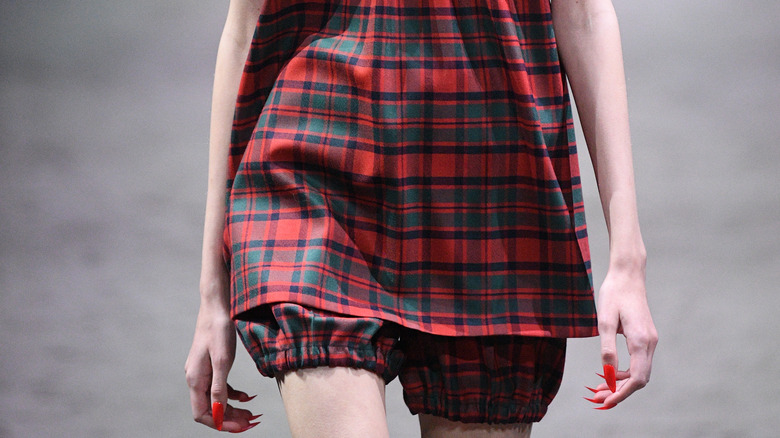 Daniele Venturelli/Getty Images
"Your underwear is showing!" says no one who's been caught up in the bloomer trend that's been gaining traction on social media over the past few seasons. Hashtag #bloomers on TikTok and you'll see a bunch of old-school-inspired frilly bloomer shorts paired with everything from oversized buttoned-up shirts and cardigans to socks and boots.
The coquette look is reminiscent of a time when underwear was not for public consumption and was hidden under layers of fabric. In her book, "The Fashioned Body," Joanne Entwistle writes, "Once the body became hidden behind more and more layers of stiff clothes [during the Victorian era], erotic attention transferred to its coverings ... and ... underwear became the focus of sexual interest." So if you want to add a little sexiness to your everyday look, bloomers can give you the flirty, playful look you're seeking. You can wear them short or at the knee and still feel comfortable to move freely in them (layers of petticoats are optional). Here are some cool ways to rock those bloomers.
Style them up or down
The alluring appeal of bloomers creates a heightened sense of self-expression. Notably, a 2012 study in Culture and Organization highlighted that underwear can be used to elevate feelings of confidence and sexiness or to tame those feeling in the form of less sensually oriented underwear like tried-and-true "granny panties." In other words, underwear is steeped in symbolism and has the power to help create different versions of the self.
So with that kind of sartorial power, the very act of wearing bloomers should be able to facilitate the creative process. You can dress it up or down to enhance your "story." Like as shown by tiktok user @gremlita, wearing simple white bloomers gives a cardigan and boots a cool, downtown meets uptown girl vibe. Paired with a statement blouse and shoes, bloomers add a dose of excitement to a dinner party outfit. Or, they add glamour to an oversized buttoned-up shirt and sneakers.
Play up the vintage appeal
Since bloomers are reflective of a bygone era, searching out bloomers that have vintage appeal, or ones made from vintage fabrics (pictured), accentuates their throw-back appeal. Here, the bloomers are paired with a long-sleeved crop top, and the gold belt adds substance to lightweight bloomer fabrics. If you choose a long-sleeved shirt, try adding socks or calf-length boots to balance out the look. Alternatively, you can choose to go more casual with a vintage style t-shirt, and you can layer it with a jacket or sweater to create more interest.
Interestingly, seeking out vintage bloomers has the added benefit of facilitating sustainability. The fashion industry impacts the environment, so consumers are more and more looking to vintage fashion, which often has the added benefit of showcasing a confident, personal style. So if you're looking to exude more confidence through your outfits, vintage bloomers may be the way to go.
Go business casual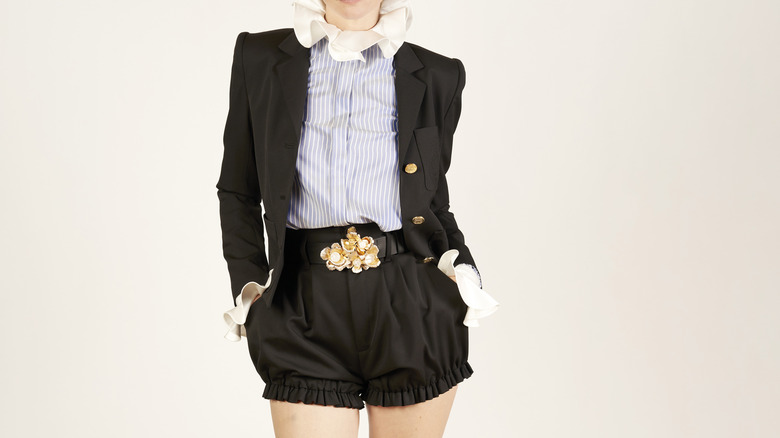 Francois Durand/Getty Images
There's nothing business-y about bloomers. But you really can take them in any direction you choose. So if want them to be about business, try adding a blazer to give it a more serious edge. Wearing it with a ruffled collared shirt and sleeves as pictured plays up the flirty-meets-business appeal. Alternatively, choosing a matching bloomer and top set is another way to add "smart" appeal, similar to a business casual look.
If bloomer shorts feel like a little too much exposure, and you want to cover up a bit more, try knee-high bloomers. You can choose puffy ones that have more of an Edwardian vibe and are often referred to as knickers. Or, you can choose streamlined ones that hang straighter and may have lace or a loose ruffle on the bottom. If you choose longer bloomers, you might want to switch out the high-neck top for a low-neck one to make the outfit feel less stoic and more relaxed.