How To Use Concealer To Give Your Lips A Plumper Appearance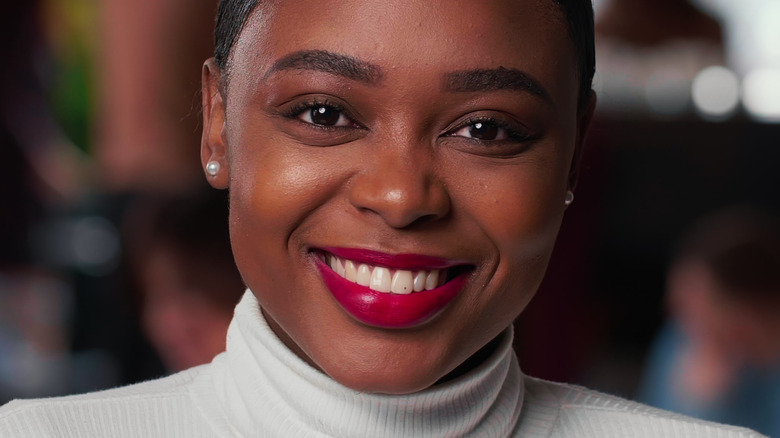 KeyStock/Shutterstock
If you're looking to streamline your beauty routine but you don't want to settle for less than a flawless makeup look, build your core kit around concealers. Also known as color correctors, concealers are some of the most versatile beauty items in existence and are compact enough to be thrown into your purse for regular touch-ups.
A concealer can do many jobs. It can gloss over blemishes and puffiness to lend additional coverage to your foundation, define the shape of your eyebrow, even out your skin tone, contour your face, double as a base for eyeshadow when you run out of primer, and fix makeup mistakes effortlessly. A lesser known use of concealer is its ability to give your lips a plumper appearance. Yup! You can alter human anatomy with just a concealer lip-wise. There's no greater lip commitment than a lip augmentation, and if you're not ready for it, a concealer is a great way to get supple lips in a pinch sans side effects. Here's how to use concealer to make your pout look fluffy without looking injected. 
How to plump up your lips with concealer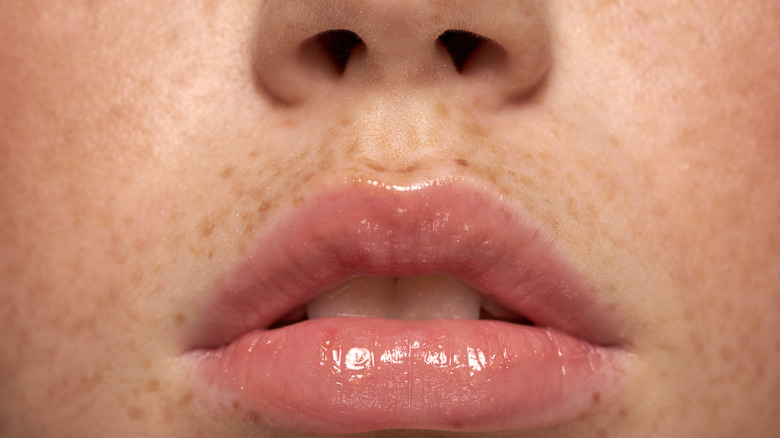 Artem Zhirnov/Shutterstock
A creamy concealer can give your lips a smooth, matte finish sans creasing and dryness. For a start, use your finger or a brush to dab concealer over your lips, spreading the product just over your lip line. This is to enhance the color of your lip gloss and lipstick later on, as well as to blur the edge of your natural lips. It will be easier to redefine your lip shape with a lip liner when your actual lip line is blurred. 
Next, grab a lip liner that's slightly darker than your natural lip color and start outlining your lips. "Round out your upper lip line on both sides — instead of following your natural lip line — and connect the space between your Cupid's bow to give you the illusion of a lifted poutier look," makeup artist Meghan Nguy tells Allure. When drawing the edges of the bottom lip, stay true to your natural line and only exaggerate the center of the lip. The same applies to your upper lip: stay as close to your natural lip line as possible and only overdraw the Cupid's bow to create the illusion of a thicker lip. Then, drag the lip liner into the lip to blend out the harsh line. 
Once you're done lining your lips, fill them in with lipstick. Nude or lighter lipstick shades create the impression of bigger lips. A swipe of light-reflecting, shimmery gloss can also plump up your lips.
Other ways to make your lips look plumper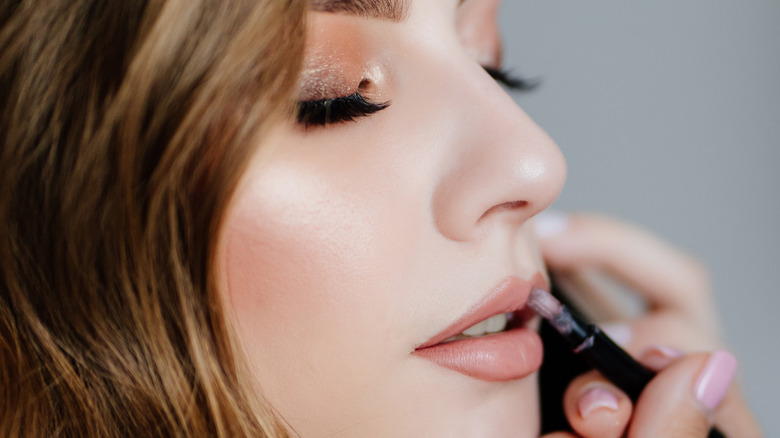 Andrey Sayfutdinov/Shutterstock
Although concealer and overlining can give your lips a plumper appearance, there are other things you can do to amplify the effect. 
For instance, exfoliating your lips before putting on makeup helps to remove dead skin cells and make your lips look naturally plumper. Also, stay hydrated at all times. "When your body is dehydrated, your lips literally shrivel up and disappear," facial plastic surgeon Dr. Jaimie DeRosa tells Seventeen. Aside from drinking water, Dr. DeRosa recommends adding humectants such as hyaluronic acid and glycerin to your lip care routine to lock in the hydration and boost moisture levels, as well as fortify the skin's outer layer. Conditioning your lips with SPF lip balm daily and overnight lip masks regularly is also a quick way to hydrate your dry lips and make them look healthier and plumper.  
Using lip plumper for a full, pillowy-soft pucker is also a good idea. Dr. DeRosa recommends lip plumping treatments that boost collagen synthesis, such as peptides, to hydrate your lips while leaving them with a natural sheen. 
Compared to concealers, these methods are just slow fixes. But if you follow them, you'll find your lips soft and healthy throughout the day, making it easier for makeup to go on and amp up your pout.