The Cringeworthy Fashion Faux Pas Olivia Wilde Made At Colton Underwood's Wedding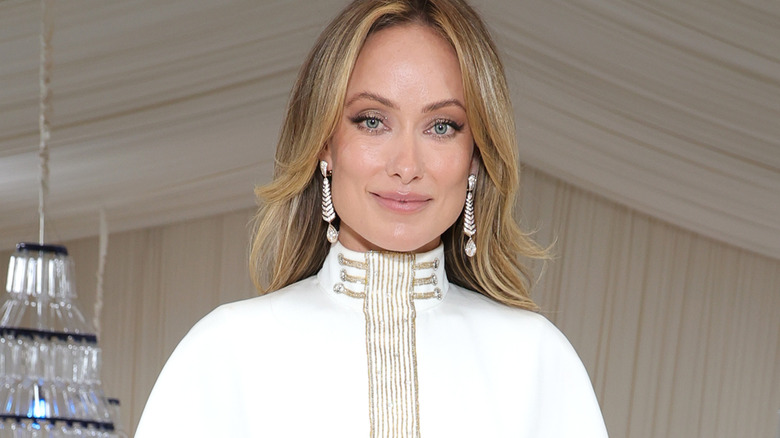 Kevin Mazur/mg23/Getty Images
Weddings can be a bit of a minefield when it comes to potential fashion faux pas. Dressing too casually can suggest that you don't respect the union or the work that has been put into the event for the couple and their loved ones. Dressing too formally may give the appearance of an attempt to upstage the happy couple on the one day when all eyes should be on them. Choosing a bright color for your clothes or makeup that clashes with the wedding's theme can put a damper on wedding photos that are meant to last a lifetime.
All the fashion rules associated with weddings and the reasoning behind them seem pretty straightforward to most people. However, there always seems to be at least one guest or wedding party member who just doesn't get it. At "The Bachelor" personality Colton Underwood's wedding, that guest was actor Olivia Wilde, who showed up to the ceremony wearing a literal wedding dress. 
The dress seen 'round the world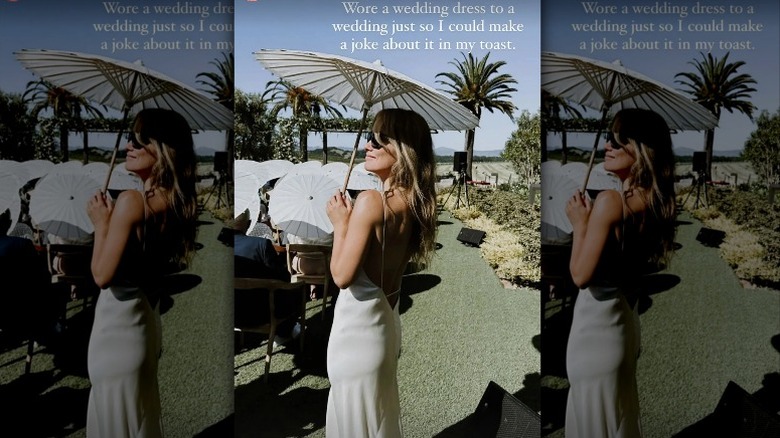 Instagram
On May 13, 2023, Olivia Wilde posted a photo of herself in a white, backless silk wedding gown on her Instagram story from Colton Underwood's wedding ceremony. The text on the photo read: "Wore a wedding dress to a wedding just so I could make a joke about it in my toast." While Wilde followed with another story claiming that the grooms approved of her wardrobe choice, the move had the exact effect you would expect it to.
Just a few days after the wedding took place, one search of "Colton Underwood's wedding" on social media resulted in several posts, tweets, and videos from the public mentioning Olivia Wilde and her wedding dress stunt. Surely, this isn't what the two grooms were going for when they planned their beautifully coordinated three-day Napa Valley wedding extravaganza. There is no doubt that the couple, their guests, and the media at large will now remember the monumental event of their marriage as forever entwined with Wilde. 
The backlash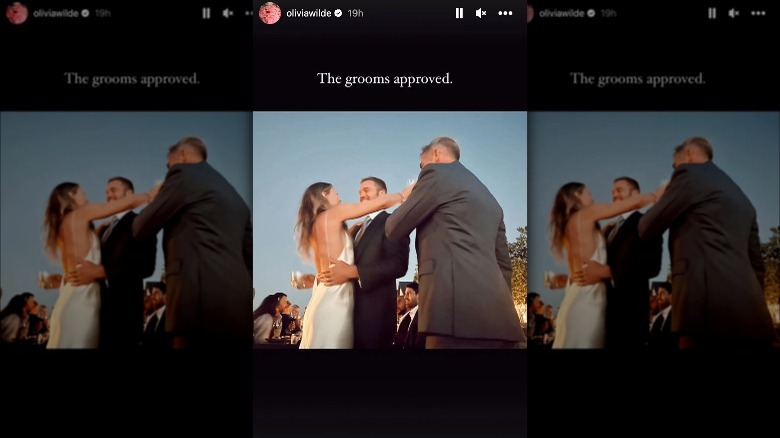 Instagram
Despite Olivia Wilde's insistence that both Colton Underwood and his now-husband, Jordan C. Brown, "approved" of her attending their ceremony in a wedding dress, the public does not appear to support her choice. One Twitter user called the move "desperate." Another tweet observed that Wilde "always finds a way to make everything about her." Some Wilde fans, however, are insisting that wearing a white (or wedding) gown to a wedding isn't a problem when the ceremony does not feature a bride.
In 2023, it doesn't seem like a wedding should need a bride in order for guests to know what not to wear to a wedding. What Wilde considered a funny joke took the attention off of the couple being celebrated. It interfered with the well-planned aesthetic of the event and permanently imprinted her antics onto the memories of the grooms and their guests (not to mention their wedding photos). If you're attending a wedding at any point — even if it doesn't include a bride — please allow the couple to shine on their big day. 
Déjà vu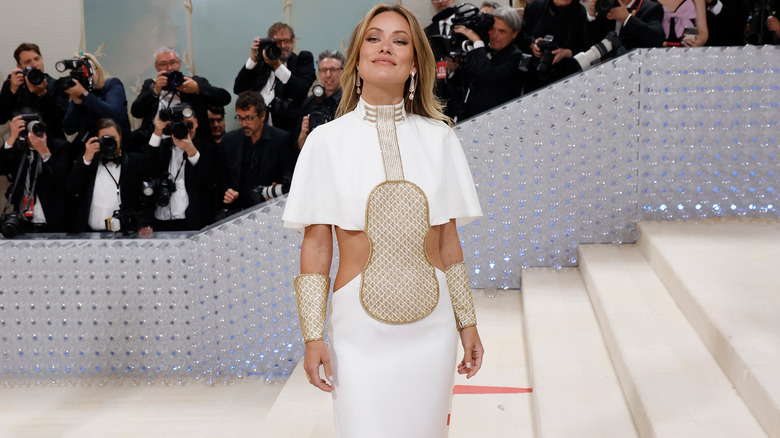 Taylor Hill/Getty Images
The wedding dress debacle at Colton Underwood and Jordan C. Brown's Napa Valley wedding ceremony wasn't the first time Olivia Wilde had graced headlines due to a fashion faux pas this year (or even this month). On May 1, 2023, Wilde showed up at the famous Met Gala wearing a dress almost identical to that of Margaret Zhang, editor-in-chief at Vogue China — something that has never happened before in Met history. Both dresses were based on a sketch that was reportedly created in the 1980s by late Chanel designer Karl Lagerfeld, whose life's work was being honored as the event's 2023 dress code theme.
Wilde's version of the dress was white, much like the gown she wore to Underwood's wedding. The full-length skirt and cropped top with structured shoulders, sleeves, and an open draped-cape back were connected by a gold violin-shaped section of embroidery. She paired the gown with matching gold embroidered wrist cuffs and elegant earrings.
Zhang took a darker approach to the look. She wore the dress in black with a longer length that stretched out into an embroidered train. She topped off the ensemble with a matching full-length black embroidered cape, dark sunglasses, and bright blue hair. After Wilde's antics at her friend's wedding, it's hard not to wonder if the actor-director has enacted a plan to stir up controversy via her wardrobe choices. If her goal was to garnish an abundance of online and media attention, it looks like the strategy is paying off in spades.