7 Groutfit Ideas You'll Master Monochrome In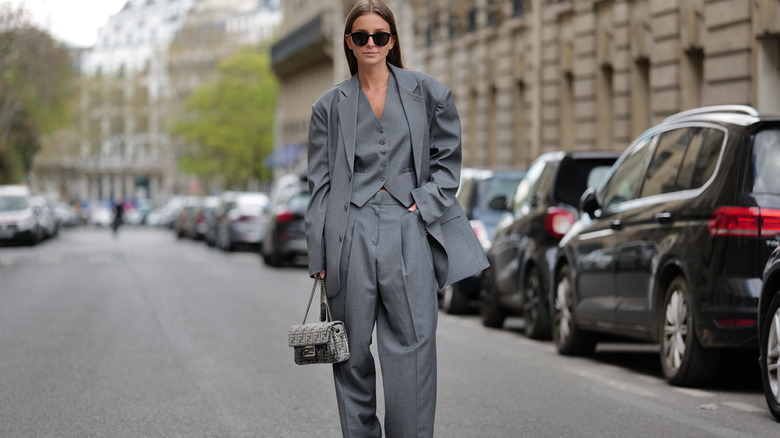 Edward Berthelot/Getty Images
If you're wondering what a groutfit is, it's basically a gray outfit (See what they did there?) from head to toe. And it doesn't stop there — groutfit has its very own day. According to Massachusetts Daily Collegian, Groutfit Day originated when a group of college friends just happened to arrive at a party wearing "a mostly monochromatic gray outfit" and feeling like "everyone deserves a little extra comfort and relief from the daily fatigue ... of scrambling to find something to wear ..." So, they decided to make November 18th the official Groutfit Day.
Interestingly, the color gray isn't always associated with relief. According to a 2020 article in the International Journal of Engineering Research and Technology, gray was thought to be indicative of a depressed mood, and this was attributed to cultural associations, preferences, and personal experiences. 
So it seems our unique exposure to the color gray at least partly determines how we feel about it. While some see it as sadness, others who would prefer to avoid the hassle of picking outfit colors or figuring out what color goes with what might perceive it as easy or calming. So, if you want the challenge of wearing an all-gray outfit in ways that appeal to you, we've got inspo ideas.
Try warmer grays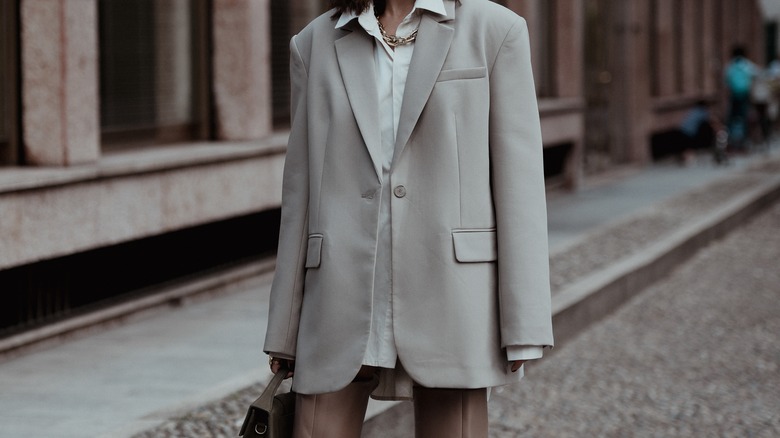 Creative Lab/Shutterstock
As with any color, there are different shades of gray — some are cooler, and others are warmer. Cooler grays have blue, purple, or green undertones, and warmer grays have red, pink, yellow, or brown undertones. Sometimes grays with warm undertones are referred to as taupe or greige. And given that warmer colors tend to be stimulating, they feel more engaging than cooler, calmer grays. Mixing the different tones create a more dynamic ensemble.
Add in gray accessories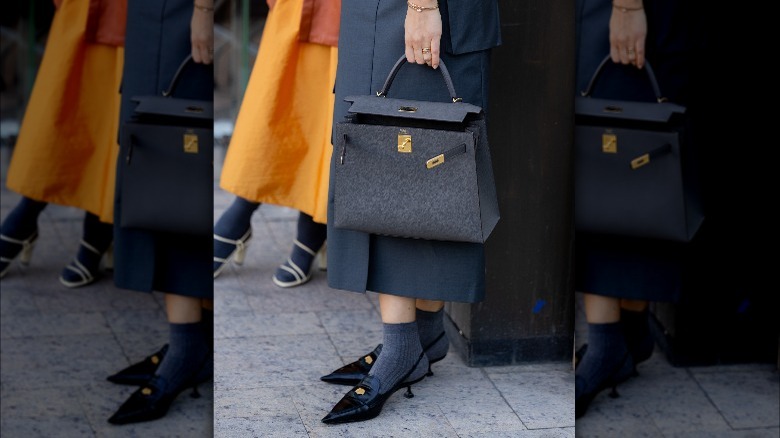 Christian Vierig/Getty Images
Don't forget to complete your all-gray look with gray accessories. Gray ankle socks with a kitten heel and an oversized gray bag give charming, vintage school teacher vibes. The cooler gray colors, sometimes perceived as remote and solemn, only add to the schoolmistress appeal. And according to the Groutfit founders, if you don't own gray shoes, wear any shoes you have — black is an ideal substitution.
Update a gray suit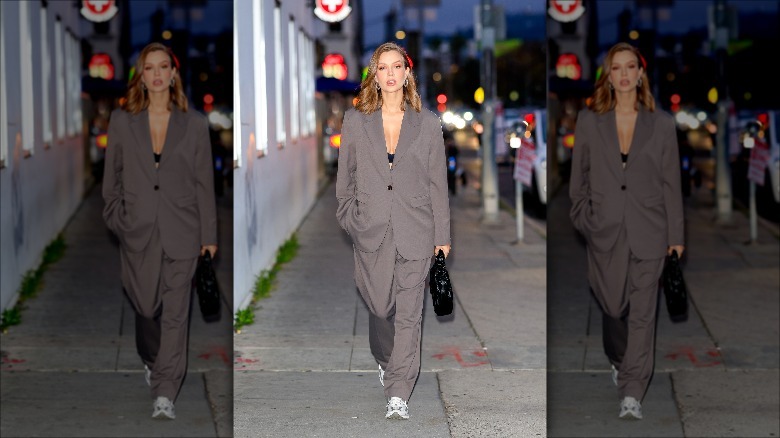 Rachpoot/bauer-griffin
While the mention of a gray suit may conjure images of drab business lunches, try an oversized gray suit styled in a more relaxed fashion. A gray with pink or purple undertones will have a vibrant ambiance. You can skip the undershirt, and wear an oversized blazer as the top. Or instead of typical dressy shoes, pair the suit with classic white sneakers – it's unexpected and on-trend. 
Wear a gray bodysuit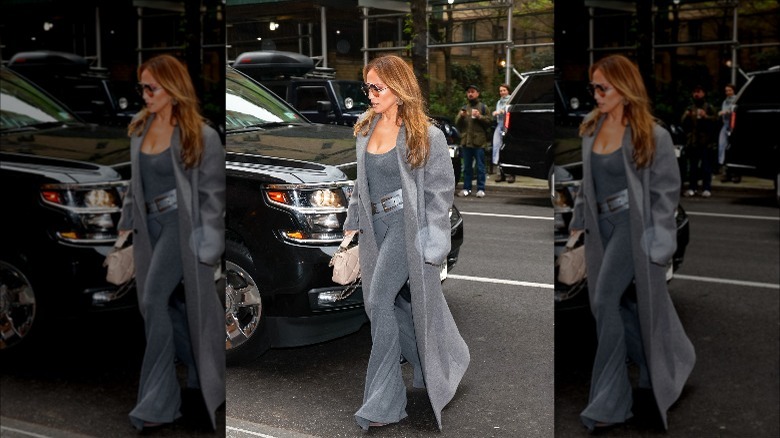 Jason Howard/bauer-griffin
If groutfit started as a way to get dressed without the fatigue of trying to find something to put on, wearing a one-piece suit is the ultimate hassle-free outfit. Just put on the bodysuit and voila, you're dressed. Should you choose to add a few extra layers, try a long gray sweater or coat if the weather calls for it. A matching belt is another way to add in gray accessories.
Try metallic gray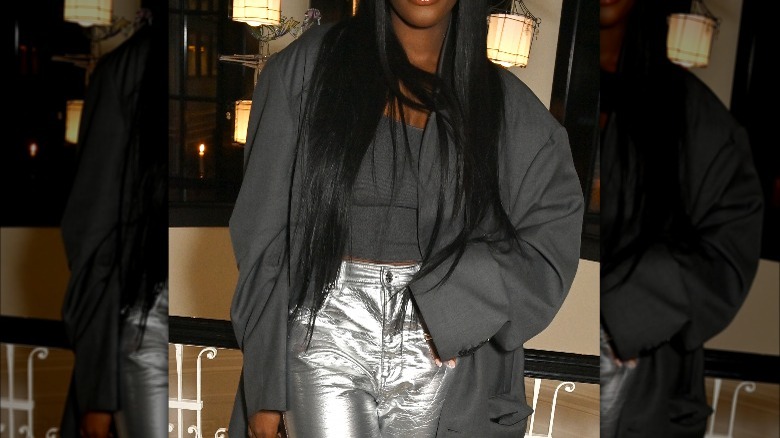 David M. Benett/Getty Images
Gray doesn't have to be boring, especially when you add silver into the mix. We love a gray blazer and tank paired with metallic silver pants. It maintains the monochromatic feel with a little unexpected pop. The reflective texture is both fun and alluring and creates an overall business luxe vibe. 
Upgrade a gray sweatshirt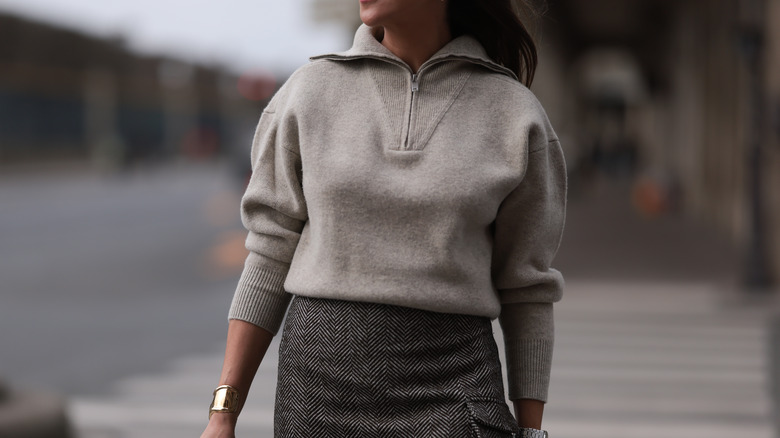 Jeremy Moeller/Getty Images
Instead of pairing a sweatshirt with athletic gear, try dressing it up with a skirt. The tweed skirt is a classic counterpart to the sporty top. A two-toned herringbone patterned skirt reads a cool gray and adds depth to a warmer gray sweatshirt. Add gold accessories for a pop and to complement the warmer and cooler gray tones.
Wear gray jeans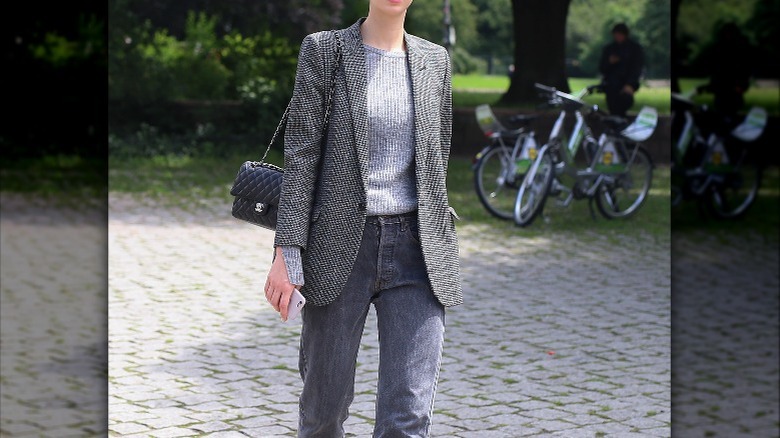 Joern Pollex/Getty Images
Gray jeans add casual style and classic rugged texture to an all-gray ensemble. When paired with a grayish tweed blazer and gray sweater, it feels preppy yet cool. While some may link gray to a lack of emotion, the cool vibe could be an intentional part of the look — especially if you're feeling more formal or not particularly engaging. Since gray is known to be a supportive, neutral color, wear it with a red or warm-colored lip to draw attention to your face.