Beyoncé Is Teasing A Hair Product Drop, And We Can't Wait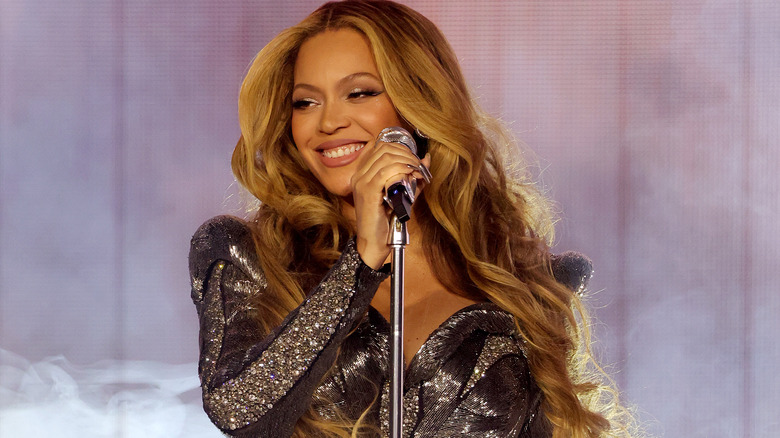 Kevin Mazur/Getty Images
Celebrity beauty lines are nothing new. Rihanna's Fenty Beauty, Selena Gomez's Rare Beauty, and Kylie Jenner's eponymous line are just a few examples of beauty brands that have become successful partly due to their celebrity founders. One celebrity we've all been waiting to drop a beauty line is none other than Beyoncé. Luckily, we may not have to wait much longer to see what she's been cooking.
On May 16, the megastar, who's currently embarking on her Renaissance World Tour, seemed to tease an upcoming hair care line on Instagram. The first photo in a three-part slideshow is of Beyoncé curling her natural hair with what appears to be unlabeled sample bottles in front of her. The second features a throwback photo of the 32-time Grammy winner getting her hair braided as a child. Finally, she concludes the slideshow with a message to her fans about how she and her friends used to perform in her mother Tina Knowles-Lawson's hair salon. "I watched her heal and be of service to so many women," she wrote. "Having learned so much on my hair journey I've always dreamed of carrying on her legacy. I can't wait for you to experience what I've been creating."
These cryptic clues have led us to a conclusion that we cannot be more thrilled about: Beyoncé is releasing her very own hair care line!
Beyoncé has always had high hair standards
It is no surprise to most of us that Beyoncé's latest business venture is hair care. After all, her mother owned and operated a popular hair salon in Houston for decades, so an affinity for fabulous hair is in Beyoncé's genes. Throughout her career, she has turned heads with a myriad of hair looks, thanks to longtime hair gurus Neal Farinah and Kim Kimble. She must have one of the healthiest hair routines out there to pull off the number of all-natural looks she's been spotted with lately. At the 2023 Roc Nation Brunch, Beyoncé was seen rocking long waves that Farinah confirmed are all natural in an Instagram post.
Hopefully, her upcoming hair care line will let us in on some of her secrets. For now, though, we can only pull from context clues as to what some of the ingredients and products in the line will be. From the bottles in Beyoncé's recent Instagram post, it looks as though the line features creams and serums.
Beyoncé also mentioned her love for hemp and honey during a 2021 interview with Harper's Bazaar. "I discovered CBD on my last tour, and I've experienced its benefits for soreness and inflammation. It helped with my restless nights and the agitation that comes from not being able to fall asleep," she said at the time. "I found healing properties in honey that benefit me and my children. And now I'm building a hemp and a honey farm."
Putting all of these clues together leads us to believe that Beyoncé's hair care collection will be perfect for all the natural beauties out there.
This is not Beyoncé's first entrepreneurial endeavor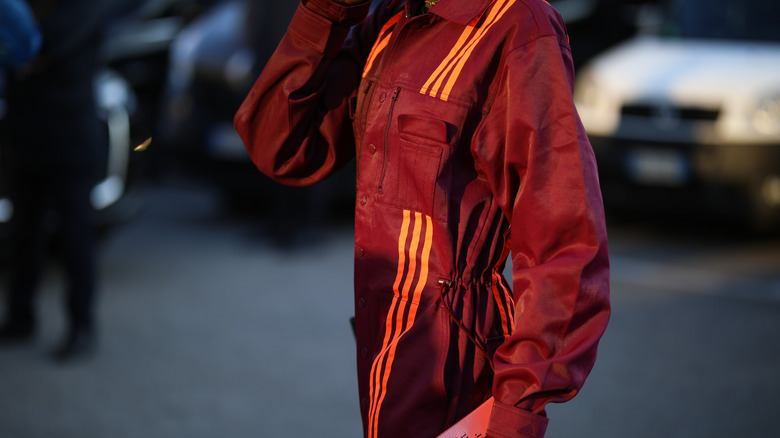 Jeremy Moeller/Getty Images
Beyoncé is no stranger to the business world. In fact, she is already a successful entrepreneur. She's the owner and face of Ivy Park, an athleisure line that launched in 2016 through her collaboration with TopShop. The multitalented artist eventually acquired 100% of the brand through her management company, Parkwood Entertainment. Two years later, Beyoncé signed Ivy Park into a partnership with Adidas.
Though the brand didn't necessarily meet financial expectations during its time with Adidas, it is still estimated to have earned $40 million in 2022, according to The Wall Street Journal. The partnership between Ivy Park and Adidas will end in December 2023, and Beyoncé is set to take over control of the brand on her own design terms. Ivy Park is beloved by the BeyHive, fellow celebrities, as well as the average consumer, so there's no doubt the same will come of her hair care brand.