The Tips That Make Mixing Red & Orange Together Easy And Stylish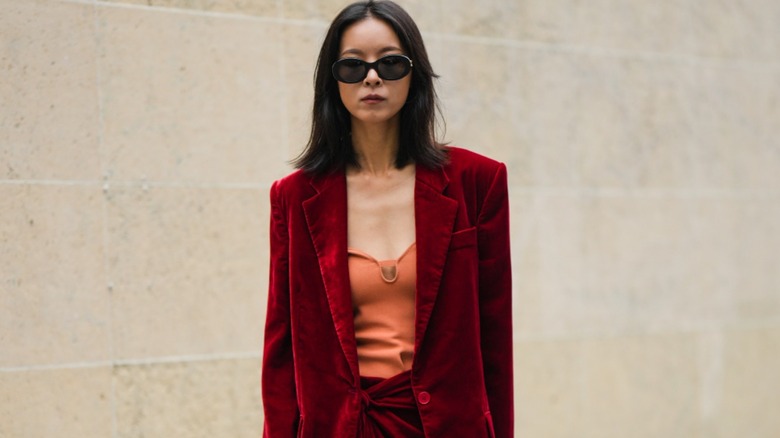 Edward Berthelot/Getty Images
Nailing the perfect color combination is essential if you want your outfit to look stylish. Many colors simply don't work with each other, and others were made to be worn together. Everyone knows that neutral colors will always pair well with each other as they follow a similar scheme and mood. However, it can be trickier to style vibrant hues in one outfit. As we know, many recent fashion trends have called for bold and vibrant shades; although a pop of color is always welcomed, there's no larger statement than pairing two bold hues in one outfit.
Advertisement
One of the colors that has recently become more popular is daring red. A bold red is the perfect tone to give you a warm splash of saturation. Although more difficult to style, orange is the perfect color to balance out your vibrant red. Even though it may initially seem too much, orange and red can pair beautifully together. The key to getting the best out of this combination is striking the right balance between these two powerful hues and ensuring they don't overwhelm you.
Red with orange details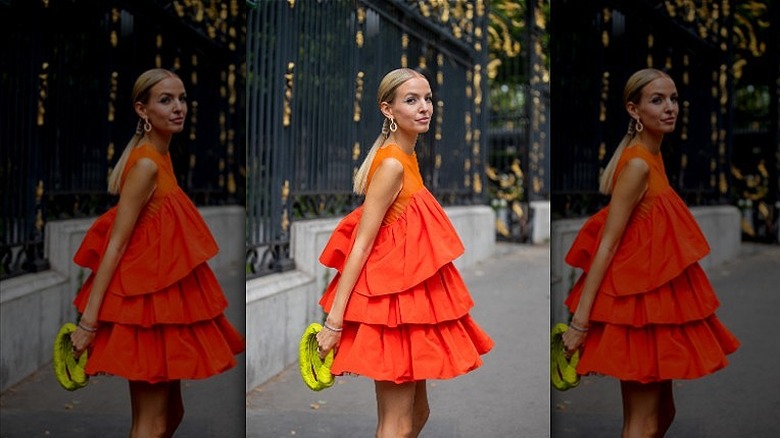 Christian Vierig/Getty Images
The easiest way to get the best out of these two colors is by letting one run the show. Although these are two main character shades, they also work well when one plays a supporting role. Red is a magnetic color that can easily give the appearance of luxury and royalty, while orange can add an interesting pop to your look. Opt for patterns or prints that in mostly red with small hints of orange.
Advertisement
Red dress and orange outerwear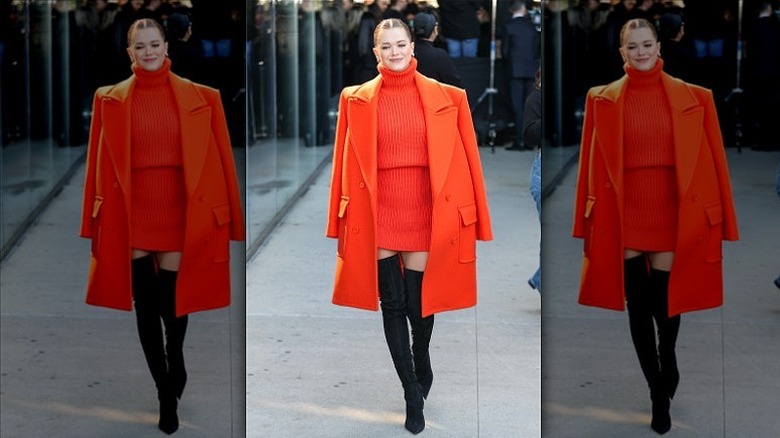 Jose Perez/bauer-griffin
A red dress is a must-have for any wardrobe. Whether it's wedding season or you're attending holiday parties, a red dress can make you the center of attention. Combine your red dress with an orange outerwear piece for a balance of vibrant hues. This combination can take many forms, whether it's a red formal dress with an orange coat or a red sundress with an orange jean jacket. Either way, you can strike the perfect balance by opting for two staple pieces in these saturated tones.
Advertisement
Splash of orange and red shoes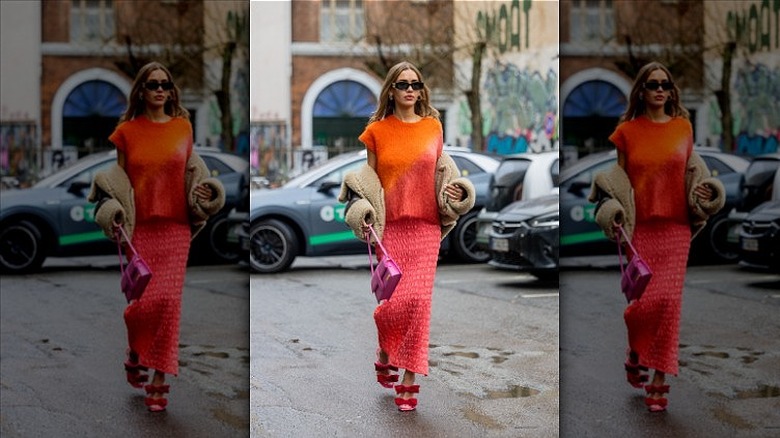 Christian Vierig/Getty Images
If combining vibrant shades is all about balance, you should make room for both colors. There's no better way of creating balance than by dedicating your blouse to the orange shade and red for your bottoms. If going bold from head to toe is overwhelming, the best way to style these two colors is by going with a darker red for your bottoms. Not only is a dark red just enough to give you a hint of color, but the low saturation will act as a balance against the vibrant orange top.
Advertisement
Orange outfit with red shoes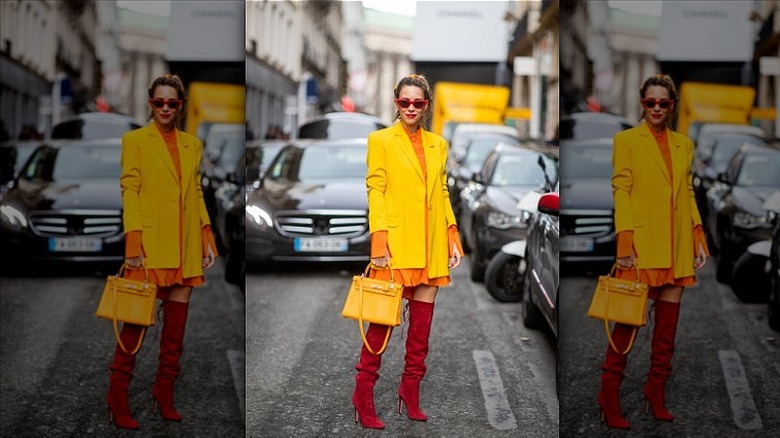 Christian Vierig/Getty Images
Going head-to-toe bold isn't for everyone; thankfully, shoes can help give you a bit of a break. Opt for an orange piece or dress that gives you the right amount of saturation and fun. Style your piece with red shoes that will accent the look. You can even add other red accessories, like red earrings, for a larger hit of red.
Advertisement
Orange and red balance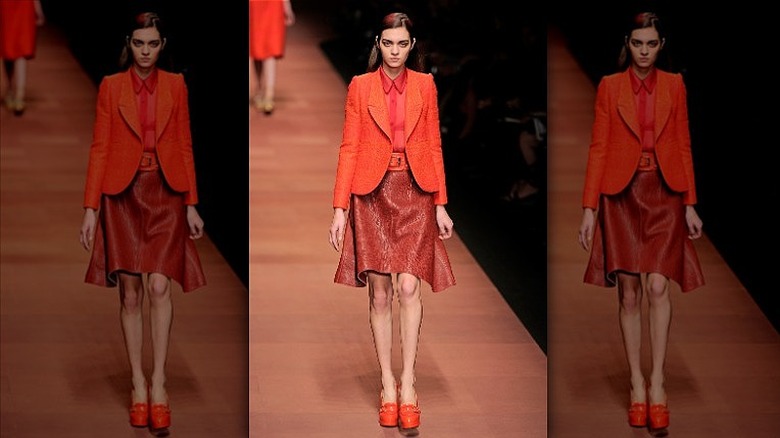 Kristy Sparow/Getty Images
For every orange piece you add to your look, you want to add another red piece to balance it out. This styling trick is important to keep in mind if you're going for a layered look. If you're looking to wear a top and bottom in one shade, opt for an outerwear piece and shoes in the other tone. You don't need to stick with exactly the same hues, as long as all pieces pertain to the same color family. Balance is key if you want your ensemble to look chic and intentional.
Advertisement
Red-toned outfit with orange accessories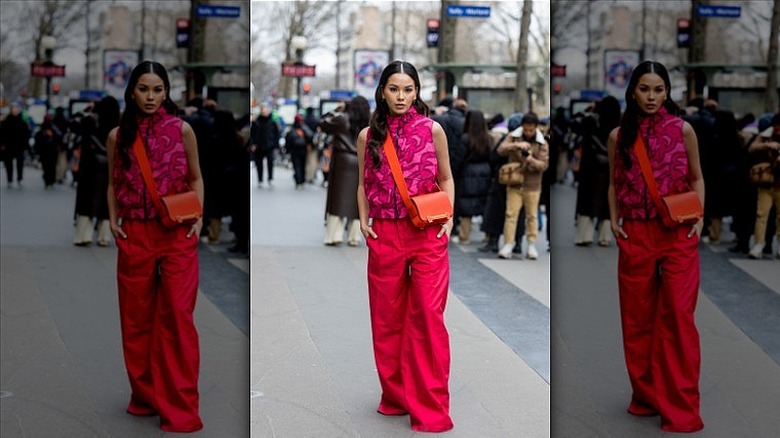 Christian Vierig/Getty Images
We already know that an orange outfit with red accessories is an easy way to style these two fun hues. The same goes when you flip the colors. A red outfit can showcase a variety of styles depending on the tone that you choose. A darker red is more mysterious and luxurious while a vibrant red is more playful. Add a similar touch with your orange accessories, opting for the best pieces that can accentuate the mood you are going for.
Advertisement
Red top and orange pants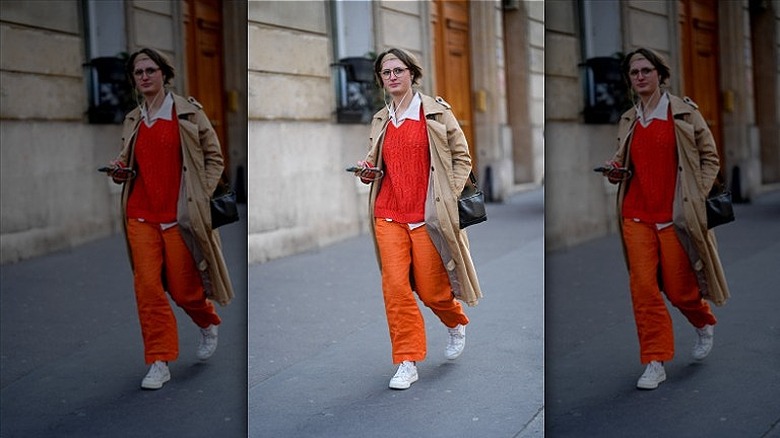 Edward Berthelot/Getty Images
A red top can be an easy way of making any look more dressed up and elegant. On the other hand, orange pants can make a look more casual and fun. Mixing both of these shades in with a top and pants combination is an exciting way of achieving both in a single look. Complete the outfit with a neutral outerwear piece to give your outfit an anchor and a visual rest from the saturated tones.
Advertisement