'Lagenlook' Is The European Fashion Aesthetic That Offers Flowy, Comfortable Vibes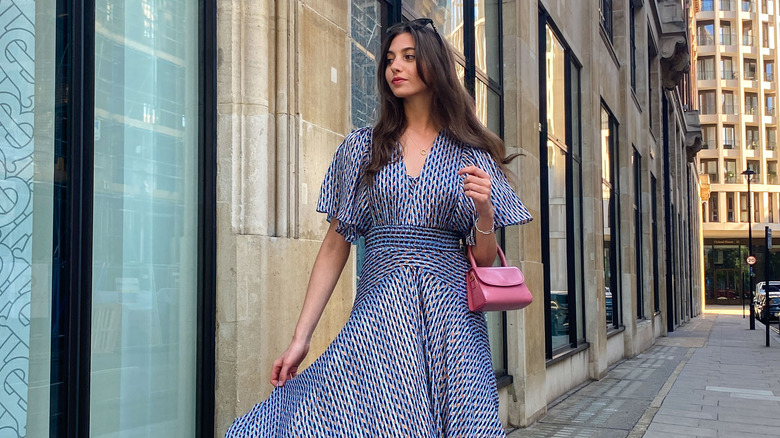 Edward Berthelot/Getty Images
We love taking fashion and beauty inspiration from Europe. From French-inspired warm weather fashion to the chic Italian bob, many European styles and trends are ultra-fashionable and unique. We're also intrigued by "Lagenlook." Lagenlook is a European style emphasizing dressing in long, flowy clothing and layers rather than body-hugging or skin-revealing outfits. The aesthetic is very comfortable, can look excellent on all body types, and does not cost a ton to achieve.
If you enjoy free-spirited fashion, Lagenlook is worth exploring. There are many ways to rock the aesthetic, as long as you appreciate creativity and aren't afraid to get whimsical. Lagenlook is somewhat similar to the more well-known "boho-chic" aesthetic that many fashion-loving Americans already enjoy, but Lagenlook is typically cozier and less focused on showing skin or looking chic. With over 60,000 posts devoted to #lagenlook on Instagram at the time of writing, the social media platform can provide you with some inspo if you want to experiment with the look. We have some tips, too.
Break out the scarves
If any accessory perfectly fits the Lagenlook aesthetic, it's the scarf. Scarves are cozy, keep you warm, and give off free-spirited, whimsical vibes. Thus, adding a scarf to your wardrobe is an excellent way to start rocking the Lagenlook style. Experiment with long, unique scarves for quirky, cozy energy.
Longer is better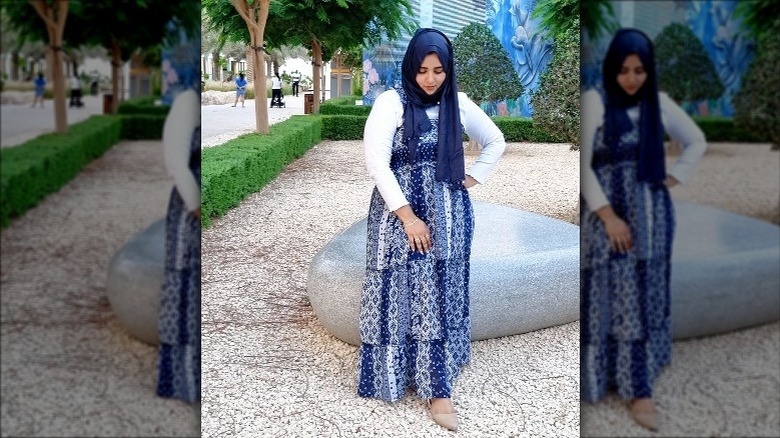 Instagram
A prominent aspect of Lagenlook is long, flowing pieces, so maxi dresses and skirts are crucial for nailing the aesthetic. When rocking the Lagenlook style, there's arguably no such thing as a garment that's too long, so don't worry if your maxi dress or skirt touches the floor or ground; this length works for capturing the quirky look.
Looser is also better
In addition to long clothing, Lagenlook is one of the few aesthetics that typically prefers looser fits rather than body-hugging pieces. Comfortable, flowy looks are significant parts of Lagenlook, so oversized garments are perfect for the style. By loose clothing, we don't mean baggy jeans and hoodies, as no one should confuse Lagenlook with streetwear — these are two completely different styles, so keep this in mind. Plus, Lagenlook isn't about looking conventionally sexy or showing off your body, so tight pieces aren't needed for the aesthetic.
Bring on the layers
You can never have too many layers for a Lagenlook-inspired outfit. For instance, try wearing a dress under a jacket or even over a top and tights, or wear a cardigan over a sweater and a sleeveless blouse. The options are endless, as layers are super fun to explore and will help keep you comfortable as the temperatures change throughout the day.
Embrace ruffles
Ruffles are back in a big way, and garments that feature ruffles are typically fun, playful, and free-spirited, making them ideal for capturing the Lagenlook spirit. So, if you want to master the Lagenlook aesthetic, look for dresses, tops, and skirts with ruffles the next time you shop.
Take inspiration from your favorite fashion 'cores'
While some people might think there are too many "cores" in 2023's fashion world — there are a lot — looking at some of them can help you further understand Lagenlook. Some fashion cores, such as cottagecore, fairycore, and Bloomcore, overlap with Lagenlook, so try taking inspiration from these outdoorsy, fantasy-inspired aesthetics to learn how to put your unique spin on Lagencore.