Can Raw Egg Yolks Really Bring Moisture Back To Your Hair? Here's What We Know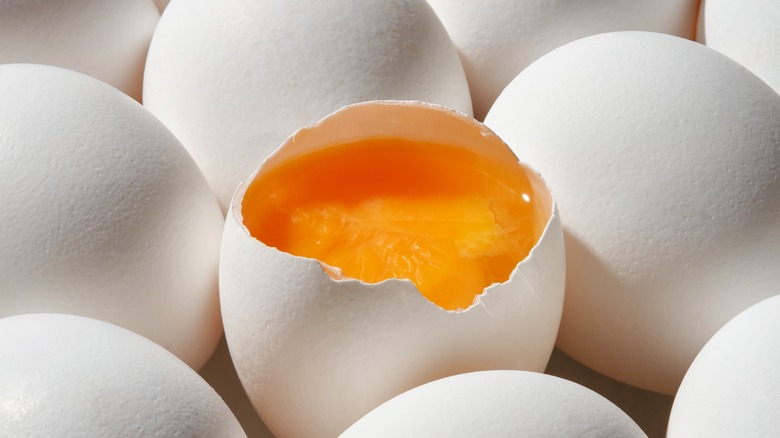 Vlad Antonov/Shutterstock
DIY beauty is a great way to implement self-care from the comfort of your own home, thanks to the internet and social media, where we are constantly inundated with creative ways to take our beauty routines up a notch. From a DIY sugar wax to exfoliators, foot soaks, and lip scrubs, creating your own spa day is easier than ever before. However, certain DIY recipes still have people questioning whether they really work or not.
Egg yolks are often raved about as the perfect ingredient for achieving gorgeous hair, especially with continued use. The idea of using eggs in your hair is a long-running beauty secret predating social media, and perhaps even your parents and grandparents swear by the technique. However, if you are hesitant as to whether eggs are okay to put on the hair, or if they should be left on a plate, you're not alone. Here's what we know.
The benefits of using raw egg yolks on your hair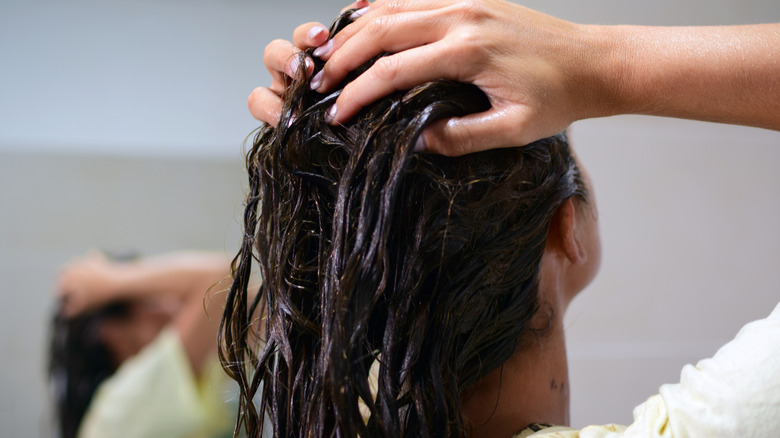 Adam_lazar/Getty Images
There are plenty of theories behind why applying raw egg yolks to the hair is a great idea. Jamie Wiley, a celebrity hairstylist, and global artistic director for Pureology, explained to Byrdie that they're great for strengthening hair. Not only do egg yolks contain protein that works to nourish the hair from within and boost shine, but it also has a specific fat called lecithin that moisturizes your strands, according to Medical News Today.
Because of all these benefits, it's also believed that when egg yolks are applied directly to the hair, your hair will grow faster. However, it is important to note that all of the theories listed and popularized are just theories. Right now, there are still limited scientific studies proving that raw egg yolks can actually improve the health of your hair, making most of its claims simply based on anecdotal evidence.
Are egg yolks worth using on your hair?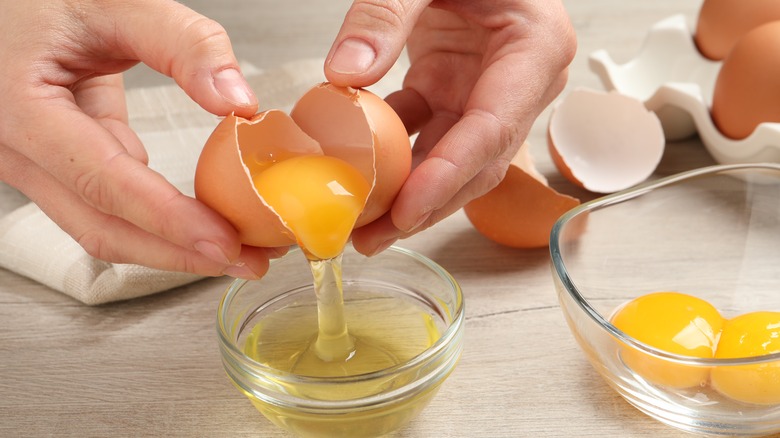 New Africa/Shutterstock
You could be wondering if it even makes sense to put raw egg yolks in your hair in the first place. Overall, they're safe to use, and there haven't been any reported damaging effects on the hair. Plus, they can be used with any hair texture, so it should be okay for most people to try it out and make their own conclusion. However, if you already know that you have a sensitivity to eggs or protein, then it's best to stay on the safe side and steer clear of them altogether.
The most popular way to incorporate eggs into the hair is by using it as a mask. Healthline recommends mixing a raw egg yolk with some olive oil for ultimate hydration. If your hair is on the finer side and you find that olive oil weighs it down, then you can stick to just using a couple eggs and mixing it thoroughly. From there, apply it to the hair and allow it to sit for no longer than an hour, and be sure to rinse it out completely!