Kosas Is TikTok's Favorite Beauty Brand For A Reason & You Can Stock Up With Its Memorial Day Sale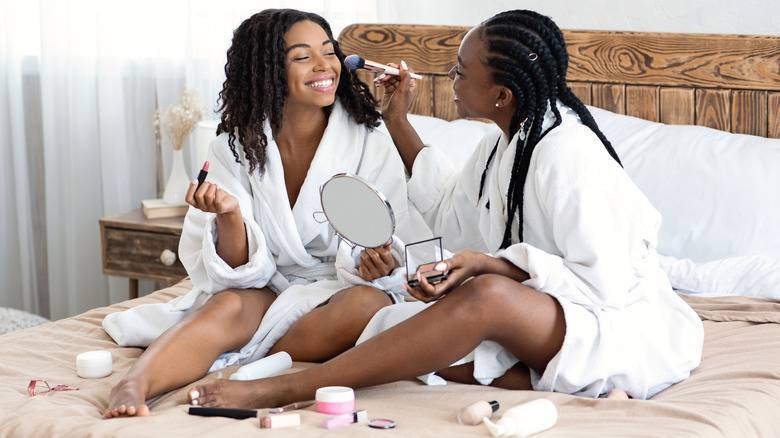 Prostock-studio/Shutterstock
We may receive a commission on purchases made from links.
Kosas may not have the long history of some cult-favorite cosmetics brands — the company launched in 2015 with just four shades of lipstick — but it's already on its way to becoming a household name, thanks in part to TikTok. For one, the brand runs its own popular TikTok account where it shows off its latest drops and behind-the-scenes scoops on the company and its founder Sheena Zadeh-Daly. Other TikTok users have chimed in to endorse the brand, including Melissa Ong, who ran a giveaway with Kosas in 2020, helping to catapult the company to popularity on the social media platform.
Since then, four shades of lipstick have evolved into a full line-up of makeup, skincare, and body care products, all formulated to be just as effective as they are clean. Whether you're already a fan of the brand or have yet to try its best-selling mineral sunscreens and foundations, now's the time to stock up: Kosas is running a Memorial Day sale through May 29, offering up to 50% off its summer sets. Here are the ones worth snagging before they sell out.
Add these newbie multipurpose sets to your cart
Kosas is known for giving a clean beauty spin to must-have makeup bag items, like foundation and lip gloss, and somehow, it always works — just ask its loyal fanbase on TikTok. Newbies to the brand can try multiple Kosas makeup products with its customizable Full Face of Kosas Set, complete with the Revealer Skin-Improving Foundation, Wet Lip Oil Gloss, 10-Second Eye Eyeshadow, and the Color & Light Cheek Palette — and the whole set is 20% off during the Memorial Day sale.
Another winning set: the Clean Start Set, also available for 20% off during the sale. This combo of everyday essentials includes Kosas' Wet Lip Oil Gloss, LipFuel Lip Balm, The Big Clean Mascara, and Chemistry Deodorant.
However, the best savings can be found in the Ready in 5 Set, available now for a whopping 50% off the original price. Inside are three basic beauty essentials: Wet Lip Oil Gloss, 10-Second Eye Eyeshadow, and the Color & Light Cheek Palette.
Pick up your favorites for a steal
If you're already well-acquainted with the Gen Z-approved cosmetics brand, grab your favorites at a discount while they're still in stock. Our recommendation: the Clean Start Set: Lip Alert bundle. This set is all about lip care — where Kosas got its start — including a full-sized LipFuel Lip Balm, mini Wet Lip Oil Gloss, mini Weightless Lipstick, and mini Plump + Juicy Lip Booster. This pack for your pucker is available for 24% off during the Memorial Day sale.
Another set that comes with big savings is the Build-Your-Own Kosas Brow Set, priced at up to 42% off. If you're already smitten with the brand's brow treatment gels and Brow Pop Pencil, here's your chance to stock up at a fraction of the usual cost and master the fluffy brow trend. The bundle is customizable, so take your pick between two brow items for 20% off or three for the full 42% price reduction.