Pre-Conditioning Could Make All The Difference For Your Dry Hair. Here's How To Do It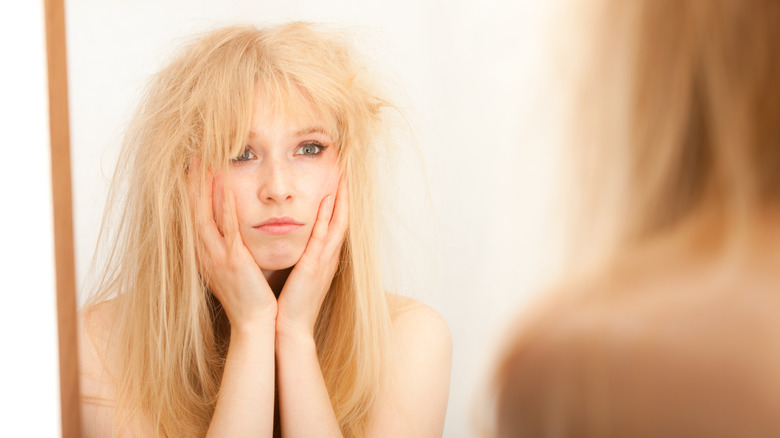 Edenexposed/Getty Images
No one likes having dry hair. The problem with dry hair is that it can cause frizz, split ends, and a host of other problems. Brittle, dry hair also isn't the best base to create fun and chic hairstyles. There are plenty of reasons why your hair can become dry, including your environment, overwashing your hair, coloring your hair too often, and the frequent use of hot tools. Although there are countless ways to solve this problem, the easiest is by tackling it at the source. Pre-conditioning may not be part of everyone's shower routine, but it should be if you're noticing your strands are starting to feel and look brittle.
Advertisement
Many fear that pre-conditioning treatments will flatten their hair, but adding this step before showering can give your hair an extra boost of hydration without weighing it down. Although this won't be part of your daily shower routine, it's a step toward getting healthy hair that should be considered at the very least.
What is pre-condtioner?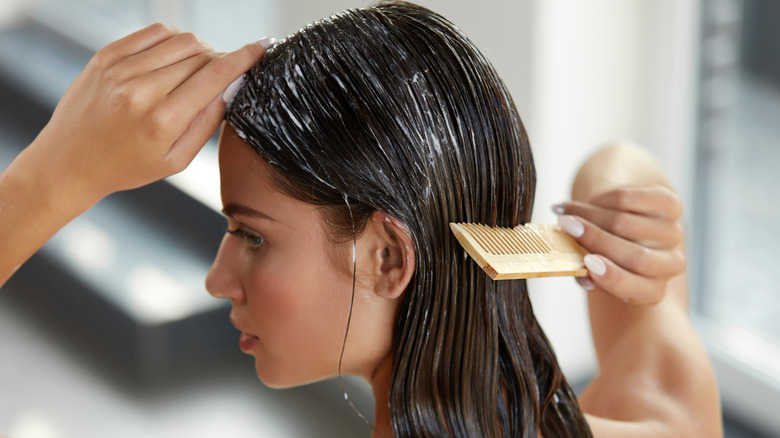 Puhhha/Getty Images
Just as there is pre-shampoo, there is also a pre-conditioner treatment that helps deliver some nutrients back into your strands. Many times, when we shampoo our hair first and then follow it up with conditioner, our hair isn't receiving as many of the hydrating ingredients as it could. Pre-conditioning gives your hair these benefits but still maintains the volume and density of your hair. Those against using pre-conditioning argue that shampoo will undo some of the benefits of conditioner.
Advertisement
The trick with pre-conditioning is to give your product enough time to absorb into the hair. To correctly pre-condition the hair, you'll need to apply the product and leave it in the hair for around 15-20 minutes before hopping into the shower. Once in the shower, you can rinse out the conditioner and proceed with your shampoo. Focus on the ends of the hair since that's the oldest part.
Other ways to fix dry hair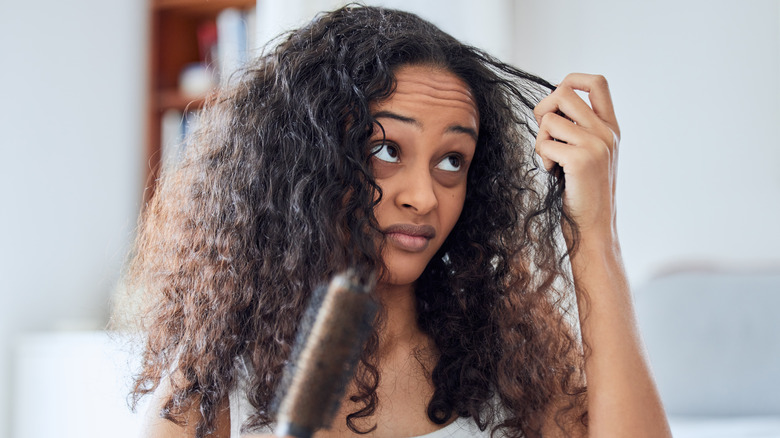 Peopleimages/Getty Images
There's no doubt that a good pre-conditioner product can give your hair more moisture, making it softer and silkier. However, there are other steps you can take to prevent and remedy dry hair. For one, you may want to try cutting down on how much shampoo you use. While shampoo is necessary for cleansing the scalp, too much can have a drying effect. By reducing the amount of shampoo you add to your scalp, you're allowing your hair's natural oils to do their job.
Advertisement
Another common culprit of drying out the hair is your heated tools. Using flat irons and curling irons without a heat-protectant spray is a recipe for dry hair. Give your hair time to dry before spraying heat protectant onto your hair. You never want to go in with a styling tool on wet hair, as this will only burn the strands quicker. "Heat protectants create a barrier or film around the surface of the hair, known as the cuticle — they're essentially a shield between your heat styling tool and the hair," cosmetic chemist Esther Olu explained to The Cut. This process slows down the burning, giving you more time before your hair starts to get damaged.
Combining proper hair techniques will ensure that your hair stays hydrated longer and that your strands will feel as good as they look.
Advertisement