Ghost Layers Are The Subdued Hair Trend That Speaks Volumes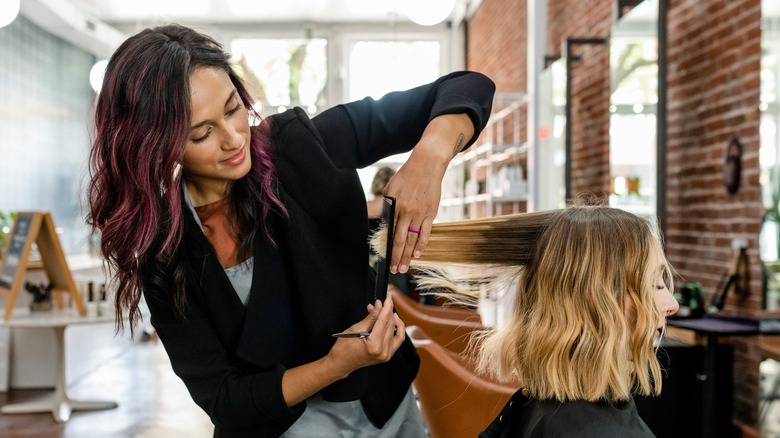 Rawpixel.com/Shutterstock
We may receive a commission on purchases made from links.
Anyone who has thin hair knows that the first issue is always the lack of volume. No matter how hard you try, if you have thin hair, it's only a matter of time before it falls flat. Whether it's short or long, those with thinner hair will always seem to be trying to achieve more hair volume. While there are products that help with increasing the volume and movement, there's nothing better than getting a volumizing haircut. Hair products may not always work, but the right haircut will give you the flow and breeze of thicker hair. Although there are plenty of ways you can style your hair to give a thicker appearance, there's one that seems to be the solution for many: ghost layers. Also known as invisible layers, they are becoming one of the most sought-after haircuts because they can take your hair to great lengths.
Created by stylist Ramòn Garcia, ghost layers are the answer for anyone looking to give their hair an extra boost. Even though it's a known fact that cutting your hair shorter will help give you the appearance of thicker hair, ghost layers eliminate the necessity of chopping down your locks. With this technique, you can keep your desired length and still add some much-needed volume to your hair.
What are ghost layers?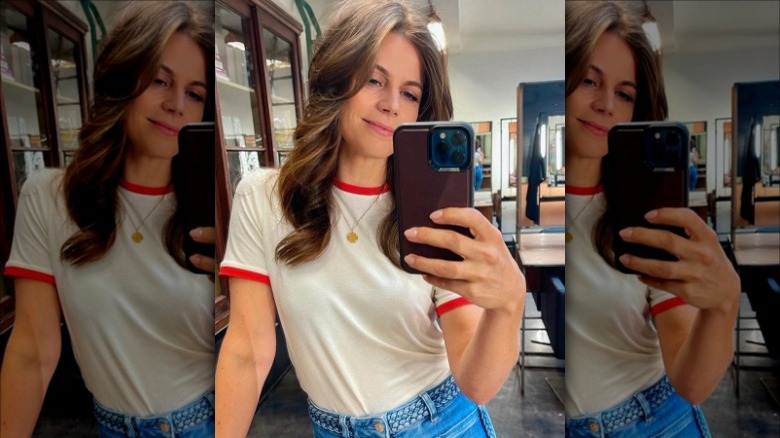 Instagram
Lose the scissors, because the ghost layers technique is all about taking shears or a razor to give you light layers. The difference between ghost layers and a typical layering technique is the fact that using shears or a razor gives you a more jagged edge. This shaggy texture helps give the illusion of more movement and length, even if there is none. Regular layering will have a distinct start and stop point that is easy to distinguish, ghost layers are hidden over the longer hair strands, making it look like there's more hair. This heavier weight will help your hair seem fuller and as if it moves much more. 
While anyone can try ghost layers, it's those with thin or fine hair that could benefit from it the most. Although you are still cutting your hair, this technique makes it seem as if your hair has more texture than it may naturally have. If you have thin medium or long hair, this technique can help as it takes away some of that hair that weighs you down but still maintains the appearance of your length.
What to know before getting ghost layers
Like any other haircut, there are some things to consider before asking your stylist for ghost layers. If you have thicker hair, you can still ask for ghost layers to be placed in areas where you have denser hair that you would like to have removed.
If you are getting ghost layers because you have thin hair, you want to consider proper hair maintenance to ensure your hairstyle is always at its best. Vegamour recommends reverse-washing your hair to focus on giving your strands thickening nutrients while still clearing the scalp from buildup. Those with thin hair tend to suffer from excess oil and greasy hair, making it another factor that can weigh down your hair. To remedy this issue, you'll want to add a scalp scrub to your routine to help rid some of that excess sebum and buildup.
Because ghost layers are invisible to the eye, you don't need to repeatedly head to the salon for a trim. Since they're hidden, you have the advantage of an extra few weeks without needing a retouch. Along with your ghost layers, you'll want to add texturizing products to give even more movement to your hair.