For Maximum Hair Volume, Avoid Layers. Here's Why
Kmpzzz/Shutterstock
We all love the idea of having hair with lots of volume, but those with fine tresses will tell you it can feel simply unobtainable at times. When you factor in the hair thinning that comes with age, volume might seem completely out of the question. However, you may be setting yourself back and not even know it if you've been asking your hair stylist for layers.
For a long time, many of us believed that layers were the only way to go if we wanted hair with more bounce and body — but there are pros and cons to every type of haircut, and layers can go either way. "Excessive layering can take all of the volume out of the hair making it look quite flat and lifeless," celebrity hairstylist George Northwood told Glamour.
As it turns out, the key to maximizing your hair volume is actually how it's textured — not layered, according to TODAY. "Rather than layering hair, texturizing the ends will make hair look longer and fuller," hair stylist Claude Baruk explained to TODAY. Generally speaking, you should also consider the length of your tresses before you head to the salon if you're interested in turning up the volume. Here is exactly what you need to know if you want to restore your limp, lifeless locks and bring them back to their long, flowing state.
How to create as much volume in your hair as possible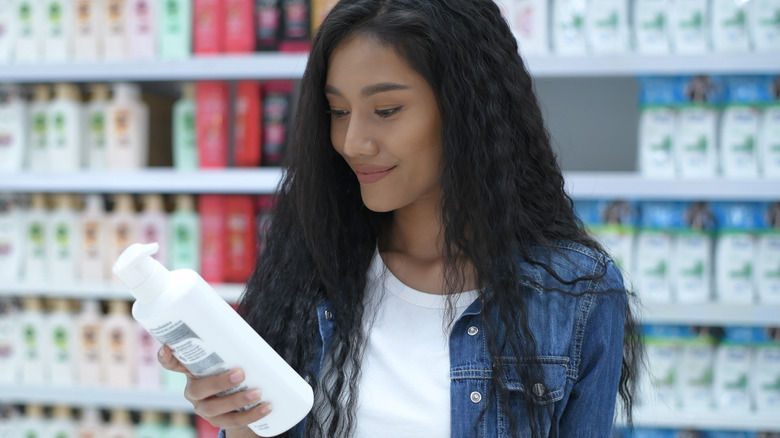 Sellwell/Shutterstock
One way to help bring volume back to your hair is to reconsider the products you're using when you wash it, according to TODAY. For example, there are shampoos and conditioners formulated specifically to add volume to your overall look. "Unlike traditional shampoos and conditioners, volumizing products expand the diameter of each individual hair shaft, which is the best way to plump limp locks," salon owner Scott Yance told TODAY. "Just this small move can help give the illusion of fullness."
Alternatively, it's just as important to steer clear of hair products that can potentially weigh down your hair and sap its volume altogether. Oil and silicone-based products are notorious for creating this effect, so be sure to read the label before you buy.
The haircut you choose to go with can also play a big role in how voluminous it appears. If you've been rocking long hair for years, for instance, you could be setting yourself back in terms of volume — especially if it's thin or fine. "If you have thin hair, opt for a cut that is short to medium length," hairstylist Nick Penna explained to Good Housekeeping. "Thin and fine hair that's very long can often end up looking stringy when it's weighed down by the length." Your hairstylist can work with you to brainstorm a new cut that works best for your tresses.
The true potential of a round hair brush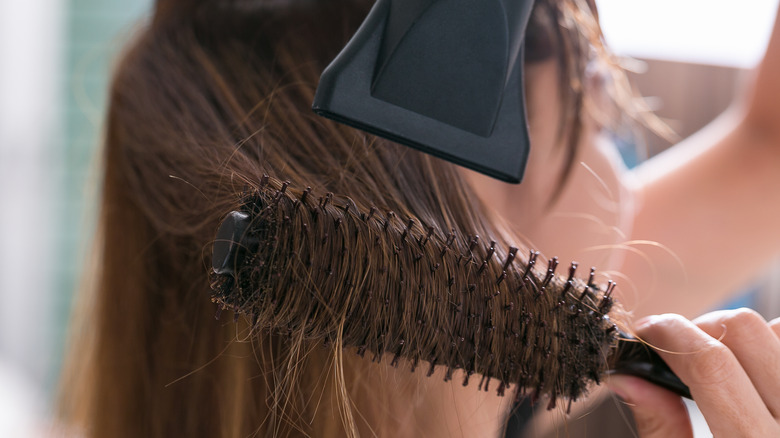 Zyn Chakrapong/Shutterstock
Many people underestimate the power of a round hair brush when it comes to creating volume. While it's not necessary to use one every day, a round brush is essential if you're looking to style your locks or simply add a little volume. With a thick, large round brush, you can add more body to your hair as you style it with little effort. This type of brush can also give you more control as you look to create the perfect style.
As an added bonus, this tool works wonders when paired with a hairdryer and some heat. Anyone who has been to a hair salon before for a blowout will tell you that they've seen these brushes in action, and when used correctly, they can make magic. To recreate a similar look at home, L'Oréal Paris recommends sectioning your hair into parts that are no more than 2 inches thick. As you work with one section at a time, place your round brush at the end of your locks, and roll it up toward your roots. After up to 20 seconds under the heat of the blow dryer, wind the brush downward to unwrap your hair. Don't forget to apply heat protectant to your hair beforehand to prevent damage and unwanted frizz.