Skin Gritting: What Is It And Will It Minimize The Appearance Of Our Pores?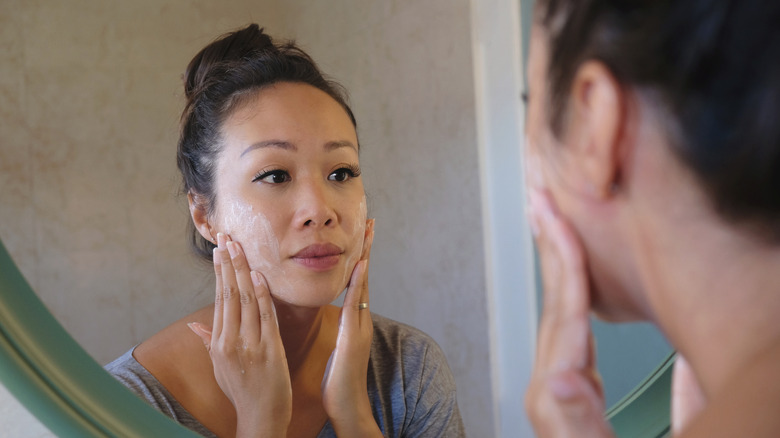 Kanawa_studio/Getty Images
One of the most common issues people have with their skin is the size of their pores. All over the internet, individuals share their secrets hoping to uncover the truth about shrinking their pores. This can include adding a myriad of products to your skincare routine, from pore vacuums to common pantry items that can clear clogged pores. However, with the help of social media sites like Reddit, there is a new routine that claims to blow all the other hacks out of the water.
Skin gritting is the latest skincare trend that's making waves over the internet. According to Healthline, it can be best described as a way to deeply cleanse the skin from sebaceous filaments using clay masks, oils, acids, and facial massages. Many praise the method for instantly removing the "grits" or blackheads found in the face after the method is done. However, experts and other skincare enthusiasts alike are still skeptical about whether this method does what it says. Here's what you need to know before giving it a try.
How to do the skin gritting method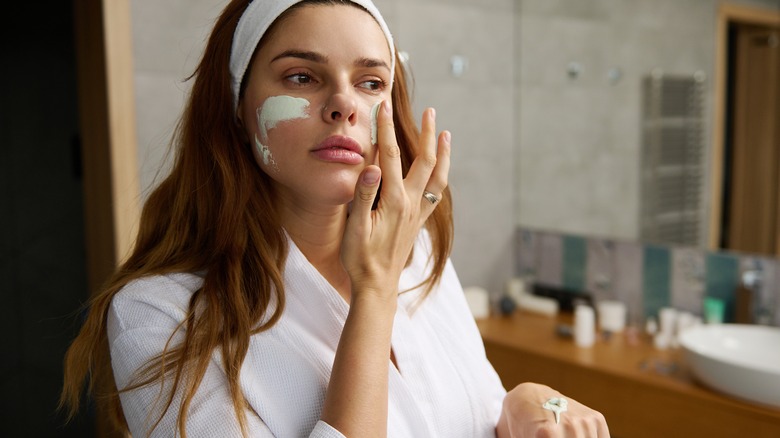 Taras Grebinets/Shutterstock
First, you will need to prep the skin with an oil cleanser to soften up the pores. From there, apply a 2% beta hydroxy acid (BHA) and let it sit on the skin for 15-20 minutes. NBC News explains that BHAs are great for exfoliating the skin and getting rid of any excess oil and sebum you may have, especially if your skin is prone to acne.
Afterward, apply a clay mask over the acid layer and let it sit on the face for the time specified in the product's instructions. Then, once the clay mask is thoroughly washed off, apply the oil cleanser used in step one and let it sit for up to 25 minutes. During this time, you may want to catch up on a few chores to pass the time more quickly. After this step, though, be sure to gently massage your face for a few minutes, allowing the "grits" to exit your pores.
Since the oil adds moisture back into the skin, you don't have to worry about following up with a moisturizer. This should be the last step in your routine, giving your skin the break it needs for the remainder of the night.
Concerns with skin gritting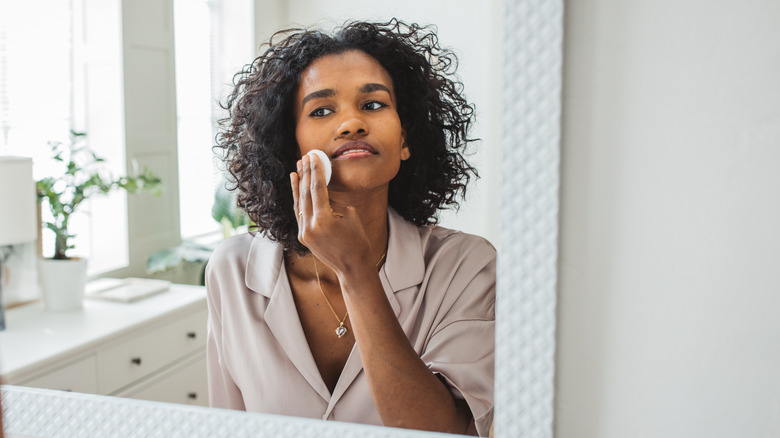 Svetikd/Getty Images
While the internet seems to swear by this time-consuming routine to get smaller pores, experts are not too confident in the method. Board-certified dermatologist Morgan Rabach, MD, told Ipsy that she is skeptical of the technique due to its potential downsides, such as "irritation from oils, acids, or masks and disruption of the skin barrier from using too harsh a product." Plus, she notes that the grits we see during the massage could just be a combination of all the different skin care products that were layered on.
Long story short, if you are a person that struggles with sensitive skin, it is wise to skip this routine altogether. Also, to avoid a negative reaction, only reach for products that you are aware work well with your skin type already. In other words, while skin gritting, it's not a good time to try out all the new products you picked up during your most recent haul.