The Fashion Evolution Of Jenna Ortega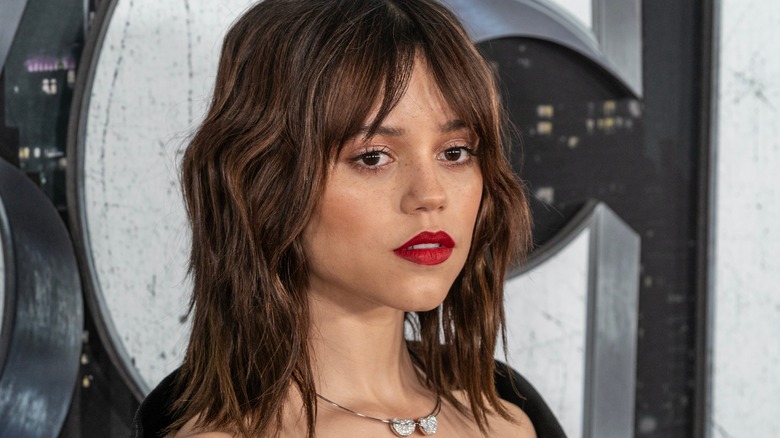 lev radin/Shutterstock
Lights, camera, fashion! When it comes to Hollywood's most talented young names, Jenna Ortega is undoubtedly on the list. The talented actor took the entertainment industry by storm thanks to roles in projects like the "Scream" franchise and the Netflix hit "Wednesday." Apart from her undeniable talent, Ortega is also known for her ever-evolving fashion choices. 
From her early days in the limelight to her current status as a style icon, Ortega's fashion evolution is as captivating as her on-screen presence. The California native, who is of Mexican and Puerto Rican ancestry, began working in the industry at age nine. Since then, we've gotten to witness the change in her personal style thanks to her maturation as well as the changing trends of the fashion world (which Jenna is always on top of).
From bohemian chic to sleek and edgy, Jenna Ortega fearlessly experiments with a wide range of styles, putting her own twist on everything she wears. Now, grab your fashion binoculars and get ready to embark on a stylish adventure through the fascinating world of Jenna Ortega's evolving personal style. Let's take a trip down memory lane, revisit some of her most memorable fashion moments, and uncover the influences behind her most iconic looks.
Jenna Ortega's colorful Disney Channel era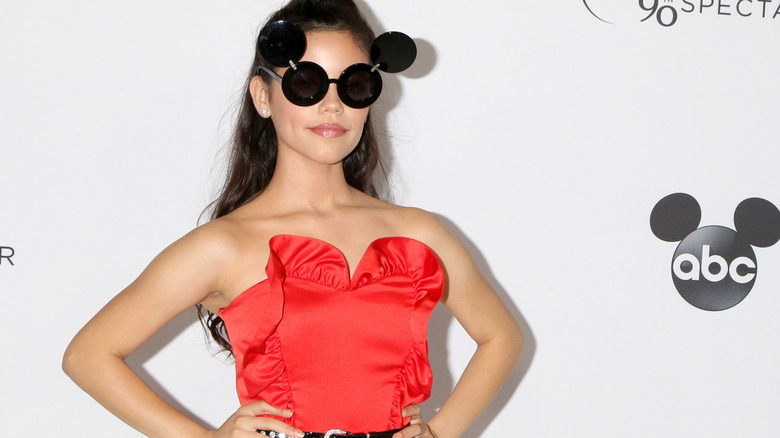 Kathy Hutchins/Shutterstock
Ah, the colorful world of Disney! We've definitely seen how working on Disney projects as a teen influences the fashion choices young actors make — and Jenna Ortega was no different. Those who followed the star's career from the beginning know that Ortega's big breakthrough was her portrayal of Harley Diaz in the Disney Channel show "Stuck in the Middle," a character she played from 2016 to 2018.
During that time, Ortega was known for embracing bold hues and playful patterns — and having a whole lot of fun with different red carpet looks. From her early days on the network, Jenna's colorful fashion journey mirrored the magical realm she was a part of. From electric blues to sunshine yellows, Ortega's choices made her stand out in a crowd. Now, if you aren't familiar with the actor's Disney Channel era, these fashion choices might surprise you as they are very different from what we see Ortega rocking nowadays.
While Jenna Ortega was a true fashion chameleon, it's clear that the star — who was in her early teens at the time — was still trying to find the style that she felt most comfortable in. As we move forward in exploring her fashion evolution, it's impossible to overlook the vibrant and joyful Disney Channel era that shaped her early career, especially as it contrasts the era that followed it so much.
Teenage rebellion meets fashion: Jenna Ortega's grungy and goth moments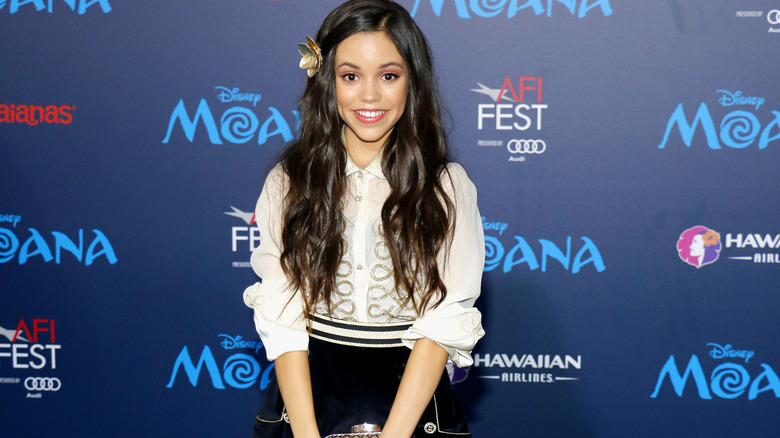 Tinseltown/Shutterstock
Jenna Ortega's fashion journey took an unexpected turn when she went from vibrant colors to edgy darkness. While still in her Disney Channel years, the actor slowly began exploring more alternative and darker aesthetics, with outfits that were giving a '90s punk and grunge vibe. As Ortega matured both personally and professionally, her fashion choices reflected a departure from playful and colorful ensembles. She incorporated elements of rebellion by adding edgier items into her wardrobe, whether that be black leather skirts or fishnet tights. For more casual looks, Ortega rocked leather jackets, ripped jeans, and band tees, giving us the essence of grunge fashion while staying true to herself.
At the time, it was evident that the young star had the ability to effortlessly blend edgy and feminine elements, and she was slowly but surely growing into a style icon. While still involved in Disney Channel projects, she expanded her repertoire to more mature roles, allowing her to explore darker narratives and characters. Projects like "The Babysitter: Killer Queen" and "Studio 666" helped her break free from the stereotypical mold of a teen star, and with that, Ortega visibly became more comfortable exploring fashion that challenged the expectations placed upon young celebrities. 
Soon, Jenna Ortega would become known for her fearless embrace of darkness and her unwavering commitment to authenticity. Even though her "Wednesday" era was still far away, Ortega slowly began foreshadowing the style she is known for today.
Jenna Ortega's casual cool: Embracing comfort with style
Between red carpet events, busy movie sets, and photoshoots, it's no wonder that Jenna Ortega prefers a comfy fit in her spare time. Of course, that doesn't mean the actor doesn't still look fabulous. If there's one person who can look cool while rocking a knit sweater, an oversized puffer jacket, and chunky headphones, it's Jenna Ortega. The star might be known for her edgy outfits, but Ortega is also living proof that feeling good in what you wear will definitely enhance your overall look, no matter what you're wearing.
When the now 20-year-old is spotted running errands, she most commonly rocks looks that allow her to move freely and feel at ease throughout the day — this means lots of cozy sweaters, relaxed jeans, and comfortable sneakers. But even in her most casual ensembles, Ortega manages to add some personal flair, whether that be by adding a perfectly layered jacket or finishing the casual look with a statement accessory.
Jenna Ortega's fashion radar never fails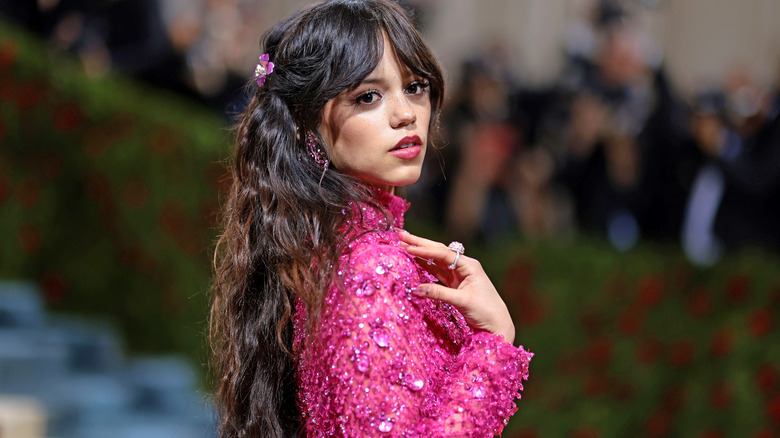 Dimitrios Kambouris/Getty Images
Jenna Ortega has been doing a stellar job staying on top of the constantly changing fashion world. In fact, the young actor is known as someone who rocks popular fashion trends very early on, which certainly cements her status as a true fashion trendsetter.
Jenna's ability to stay ahead of the fashion curve is evident in her red carpet appearances, and a great example of that is her 2022 Met Gala look. For the theme "In America: An Anthology of Fashion," Ortega rocked a hot pink Valentino look that foreshadowed the current Barbiecore trend. With Greta Gerwig's upcoming "Barbie" movie being one of the most highly anticipated Hollywood projects to premiere this summer, hot pink is a huge fashion and beauty trend. "A much-welcomed mood-booster after the last few years, 'Barbiecore' is all about embracing vibrant hues — particularly the doll's signature hot pink — in everyday life," Dayna Isom Johnson, Etsy trend expert, tells Good Morning America. 
One of the keys to Ortega's success in keeping up with current fashion trends lies in her engagement with the industry. The star clearly has one foot in the fashion world, and that's not surprising — the actor often attends the most renowned fashion shows, and she's no stranger to partnering up with big industry names like Adidas. By blending her personal taste with what's currently en vogue, Jenna Ortega effortlessly creates fashion moments that manage to inspire and captivate all of us.
Jenna Ortega's Wednesday premiere extravaganza: Fearlessly over the top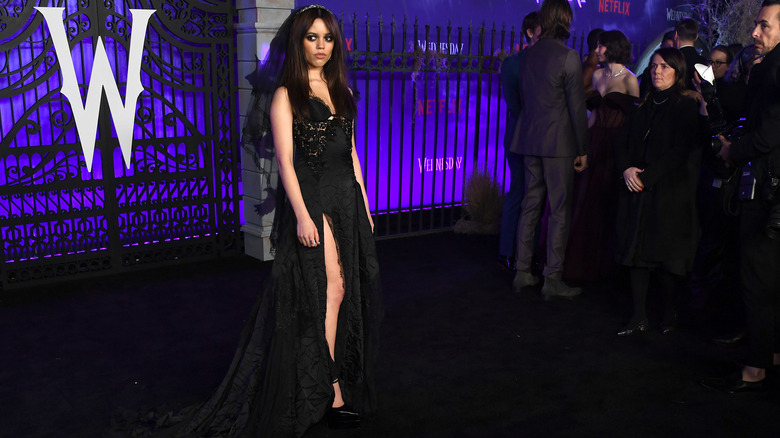 Albert L. Ortega/Getty Images
While Jenna Ortega was already known as a Disney Channel star turned scream queen, her portrayal of the whip-smart Wednesday in Tim Burton's hit Netflix show cemented her status as a goth fashionista. At the premiere of "Wednesday," the 20-year-old star turned heads on the black carpet with a look that gave us gothic glamor and unapologetic fierceness.
The actor wore a black Versace bridal-like gown with lots of lace and a sultry high slit, along with a delicate black veil that added an extra touch of mystery and drama to the gothic ensemble. "I felt like if I was gonna wear black like everyone else, I probably should make a deal out [of] it," Ortega tells W Magazine. "I put it on, and I just knew that this is probably what I should do." 
By selecting such a bold and unconventional outfit, Ortega once again showed that she isn't afraid to take risks and push the boundaries of traditional red carpet fashion. While the star rocked plenty of showstopping outfits over the years, this gothic glam look remains one of her most memorable fashion moments to date.
Embracing darkness: Jenna Ortega's all-black style after Wednesday
Starring in "Wednesday" had a strong influence on Jenna Ortega's style, igniting her passion for embracing dark and goth-like looks. After starring in Season 1 of the Tim Burton show, fans quickly noticed that Ortega's style became a lot more moody and dark. In fact, the actor is now most commonly seen in black head-to-toe, showcasing the power that darkness holds within the realm of fashion. Playing a character deeply rooted in gothic culture allowed the actor to explore a different side of her style identity. While Wednesday Addams' style is characterized as youthful and teen-appropriate (though still very goth), Jenna Ortega has skillfully taken inspiration from it and seamlessly merged it with her own personal style, which has since evolved into a more mature and sophisticated aesthetic.
"I do think that Wednesday changed my taste a lot. I have a hard time getting her off of me, at least clothing-wise," Ortega tells InStyle. "It's also something that I've always wanted to do. I just never felt like I could. I feel like there were always a lot of voices and opinions that I used to place too much value in." Through her dark and goth-like looks, Jenna conveys a sense of mystery, captivating both the fashion world and her dedicated and ever-growing fan base. By embracing darkness, Ortega also fearlessly challenges traditional beauty standards (especially those imposed on young Disney stars) and inspires others to embrace their own unique style.
Breaking boundaries: Jenna Ortega rocks masculine fashion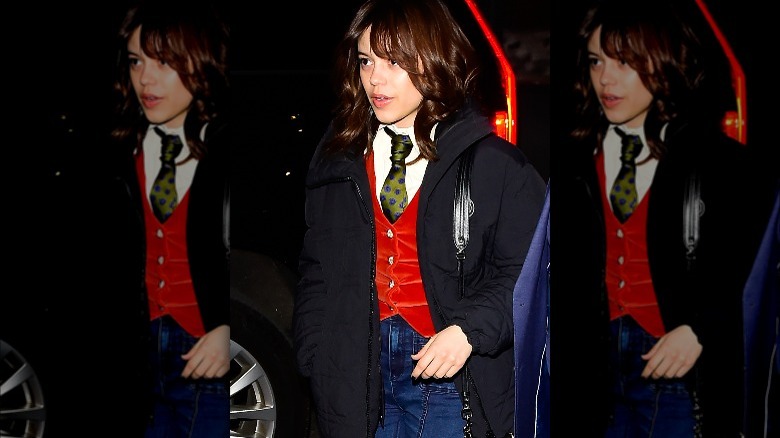 Raymond Hall/Getty Images
While we established that Jenna Ortega immersed herself in gothic fashion, that doesn't mean the star isn't experimenting with other styles. After all, if there's one thing her teen years proved, it's that the star is a fashion chameleon who can pull off lots of different aesthetics. A quick look at Jenna Ortega's professional outfits as well as everyday fashions, reveals that the star isn't afraid of breaking barriers when it comes to gender norms and fashion expectations.
Not only can Ortega effortlessly pull off a masculine look, but she also embraces androgynous fashion with total confidence. Whether she's rocking a tailored suit, oversized blazers, or classic button-down shirts, the actor shows us how fashion transcends traditional gender boundaries. And by embracing androgynous fashion, Ortega sends a powerful message of inclusivity and acceptance, encouraging others to break free from the confines of gendered clothing. This establishes the talented star as not just a fashion icon but also an exceptional role model for young people worldwide who frequently struggle to find representation within the realm of young Hollywood. In a world where gender norms are constantly being redefined, Ortega's bold exploration of androgynous and alternative looks paves the way for a more diverse and accepting fashion landscape.
Jenna Ortega's confidence in bold statement pieces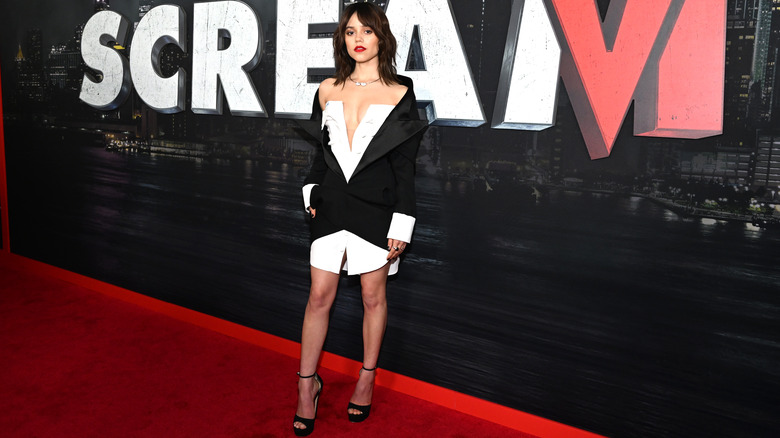 Slaven Vlasic/Getty Images
Apart from rocking goth pieces and exploring traditionally masculine fashion, Jenna Ortega's love for a fashion statement knows no bounds. In fact, the star is not only comfortable enough to rock statement accessories, but she also embraces wearing clothing items that make everyone do a double take.
For the "Scream VI" premiere in New York City, Ortega rocked a head-turning black-and-white Jean Paul Gaultier minidress that certainly isn't your regular red carpet choice. The deconstructed button-up and blazer combo perfectly showcases the actor's ability to push fashion boundaries and make an unforgettable impression. Ortega's choice of the Jean Paul Gaultier mini dress is the perfect example of a popular trend in the fashion scene: the art of reimagining classic clothing items. The deconstructed button-up and blazer combo presents a fresh take on traditional pieces, offering a unique twist that embodies the essence of contemporary fashion.
Jenna Ortega's classic Hollywood glamour takes center stage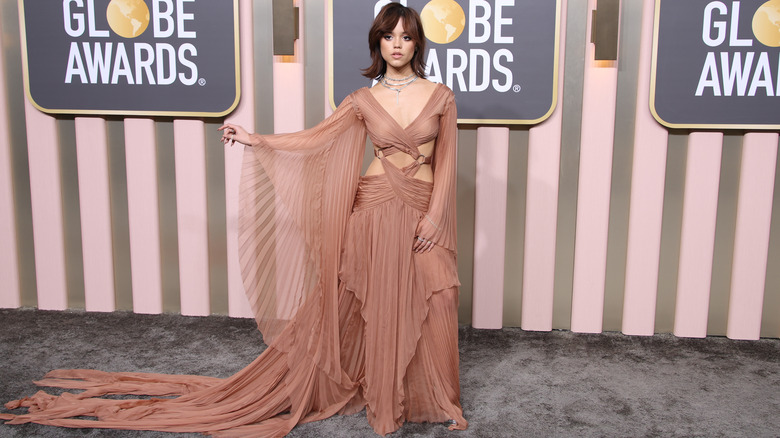 Daniele Venturelli/Getty Images
For many red carpets, Jenna Ortega loves experimenting with edgier looks, but when it comes to big Hollywood events and award shows, the young actor generally turns to classic and timeless old Hollywood silhouettes. At the 2023 Golden Globes, Ortega was nominated in the category best actress in a television series – musical or comedy, and for the occasion, the actor opted for an ethereal and whimsical look by Gucci. "What drew me to this look the most is it felt like enough of a departure from a lot of the darker looks I've been wearing lately," Ortega tells Vogue. "I've never worn anything like it before," she adds.
However, true to her youthful spirit, Ortega always makes sure to add some contemporary elements to her look. In this particular instance, the modern cutouts on the dress bring a fresh twist to the classic silhouette. While the star loves giving a nod to the golden era of Hollywood, Ortega always manages to seamlessly blend the past with the present, creating looks that resonate with her audience. With each red carpet appearance, Ortega continues to captivate and inspire, showing us that classic Hollywood looks can be reimagined for a new generation.
Jenna Ortega masters the art of casual cool for festival season
We all know that Coachella is not just a music festival — especially not for the rich and famous. Each year everyone talks about what their favorite celebs rocked to the Colorado Desert event, and this year we got to see Jenna Ortega's personal take on boho festival fashion. Ortega shared a couple of photos from Coachella with her followers on Instagram, and in them, we got to see that the star kept her outfit casual but edgy, and most importantly: She 100% remained true to herself.
The black mesh tee with tiny stars gave us some of that goth style we're so used to from the star, while the high-waisted denim shorts and a printed bandana around her neck are proving Ortega knows just what the staples of a music festival are. What sets Jenna's festival style apart is her ability to strike the perfect balance between edgy and casual without ever sacrificing comfort. Her choice of all-black Adidas sneakers with matching crew socks adds a touch of sporty chic to the ensemble while still reminding us that the Wednesday Addams influence lives on.
Jenna Ortega's Victorian glam: A Wednesdaycore delight for fashion's biggest night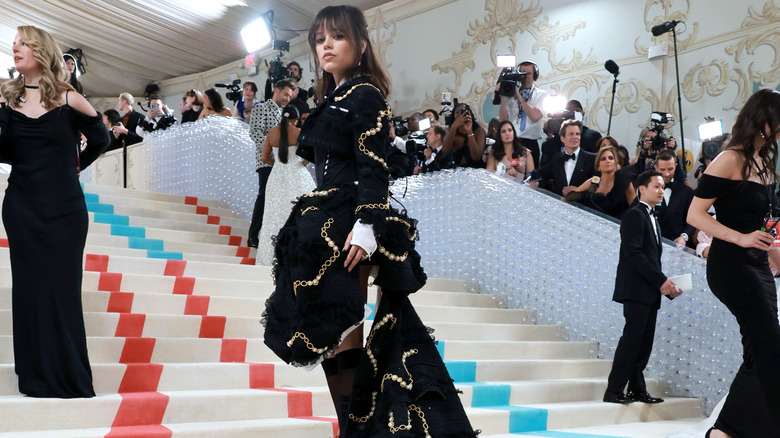 Theo Wargo/Getty Images
When it comes to fashion's grandest event, Jenna Ortega never fails to make a statement. While still embracing this year's theme of "Karl Lagerfeld: A Line of Beauty," the talented actor transported us to the realm of Wednesdaycore with her stunning Victorian-inspired gown. The visionary Thom Browne designed Ortega's dress, crafting a masterpiece that paid homage to the iconic character she brings to life in the Netflix show. 
From the intricate layers to the carefully selected accessories, every detail echoed the spirit of punk and goth fashion, complete with knee-high socks and platform shoes. "I've always respected goth culture," Ortega tells Harper's Bazaar. "I've always had a darker sense of humor, but I never felt like I was able to express that. Now I feel like I can embrace those qualities in myself." 
There is no doubt that starring in "Wednesday" has encouraged the actor to explore expressing herself better, and that certainly showcases in the types of outfits the star goes for. As we marvel at Jenna Ortega's Wednesdaycore masterpiece, it's a reminder that fashion is not only about trends but also about self-expression — especially at the Met Gala. By embracing the theme and honoring her character's legacy, she showcased the power of storytelling through fashion.
Jenna Ortega is turning heads with fashion show looks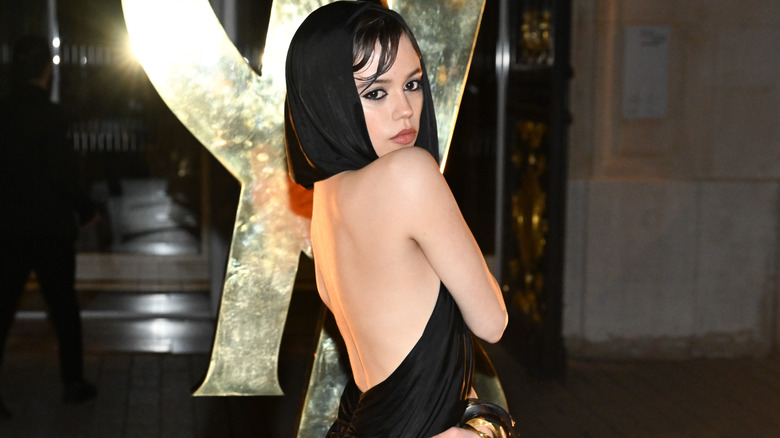 Stephane Cardinale - Corbis/Getty Images
Considering how quickly Jenna Ortega has evolved into a style icon, it comes as no surprise that she has earned her place as a front-row star at fashion week events. Most recently, she captivated the crowd at the Saint Laurent show during Paris Fashion Week. For the occasion, Ortega stepped out in a daring gown by the renowned French label, once again proving to everyone that she had shed her teen star image and emerged as a force to be reckoned with in the world of fashion.
The backless gown featured a wrap neckline and a hood, and some may even consider this Ortega's most daring and sultry edition yet. This look once again signaled her transition into adulthood and her desire to distance herself from her colorful, playful teen outfits. Stepping onto the Paris Fashion Week stage in this look, Jenna Ortega gave us a glimpse of what we can expect from the star in her 20s.
Jenna Ortega's style evolution continues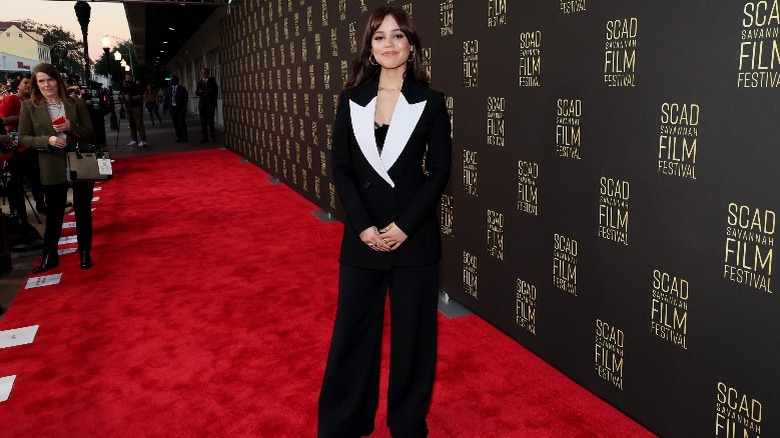 Dia Dipasupil/Getty Images
Even though Jenna Ortega recently entered her 20s, the star can already brag about the influence she has on fashion trends as well as the fact that she is brave enough to express herself through her looks. From her early days on the Disney Channel, where she showcased her vibrant and colorful wardrobe, to her more recent appearances in daring and dark ensembles, Ortega has proven her versatility and willingness to push boundaries.
What sets the star apart from other young actors with similar career paths are her unapologetic authenticity and her fearless approach to change. As she continues to grow and mature both as an actress and a young woman, we can only anticipate that her style will evolve even further. Jenna Ortega is definitely not one to settle for mediocrity. 
She embraces the changes she sees in herself, and she embraces them boldly. As she navigates her way through the entertainment industry and explores new roles, her personal style will undoubtedly reflect her journey — and we'll be watching and cheering her on every step of the way. And yes, just like the rest of the world, we can't wait for the looks that she will serve us in Season 2 of "Wednesday."