Is The Heart-Shaped Contouring Technique Genius Or Just Another Gimmick?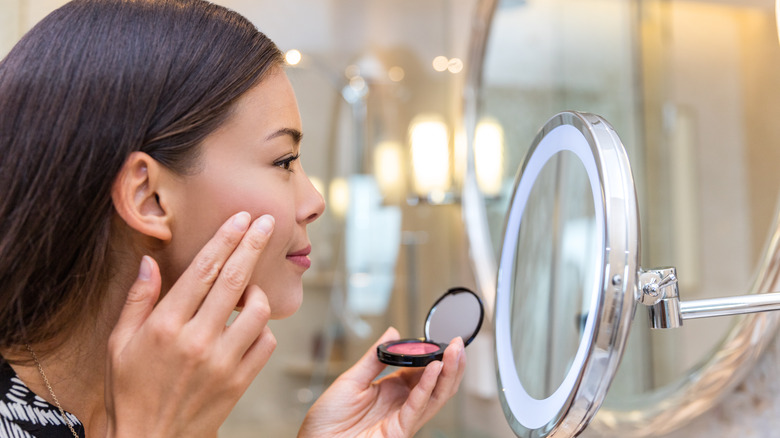 Maridav/Shutterstock
Contouring is the makeup technique that involves shading and highlighting the face to create the appearance of a more sculpted jawline, defined cheekbones, and slimmer nose (possibly making rhinoplasty obsolete!). From a beginner's guide to face contouring and JLo's lightbulb contour technique, there is a wealth of beauty information on the web regarding highlighting and contouring. However, contrary to what many fashionistas and beauty bloggers assume, this dernier cri makeup technique actually dates back to the 1920s and 1930s, when iconic actresses such as Marlene Dietrich would use makeup to accentuate the natural lines of their faces. Since then, makeup artists have been giving celebrities chiseled jawlines and cheekbones to die for, using a bit of shading and highlighting magic.
This makeup trend has evolved from cream and powder contouring to draping, strobing, and non-touring, giving users a natural, radiant glow; flawless skin; and fantastic facial characteristics. While the basic principles of contouring remain the same — shading and highlighting — several methods give different results depending on whether you're looking to accentuate or minimize certain facial characteristics.
The latest contouring trend getting all the buzz is the heart-shaped technique. True to its name, this technique involves drawing heart shapes on your cheekbones and under your eyes using different tones of concealer to create the desired contour. First introduced by beauty blogger Arshia Moorjani and replicated by several TikTokers, including @CharliePriestley, this hack seems to be more genius than gimmick. But how does it work?
I heart my look
A liquid concealer is all you need to achieve Arshia Moorjani's genius contouring hack. Moorjani advises using one in a shade that either matches your skin tone or is a couple of shades lighter. Then, as the name suggests, you use the doe-foot applicator to create small shaped hearts on your cheekbones and all the way under your eyes. Creating the hearts is easy — simply press the doe-foot applicator to create a small dot, pull it diagonally to the left and diagonally to the right in an upward movement, and voila! Mission accomplished.
Next up: the dots! Using a concealer two shades darker than your natural skin tone, create dots along the line of your cheekbone's hollow. Be careful not to draw the dots further down your cheeks or your face will appear droopy instead of chiseled and lifted. If you are unsure where to find this line, suck your cheekbones in, and you can feel the line with your finger. Alternatively, tilt a brush at a 45-degree angle, starting from the side of your mouth and going up toward your temples — this will show you the location of the hollow. You can use the brush as a guideline for drawing the dark dots.
Blend like a pro and slay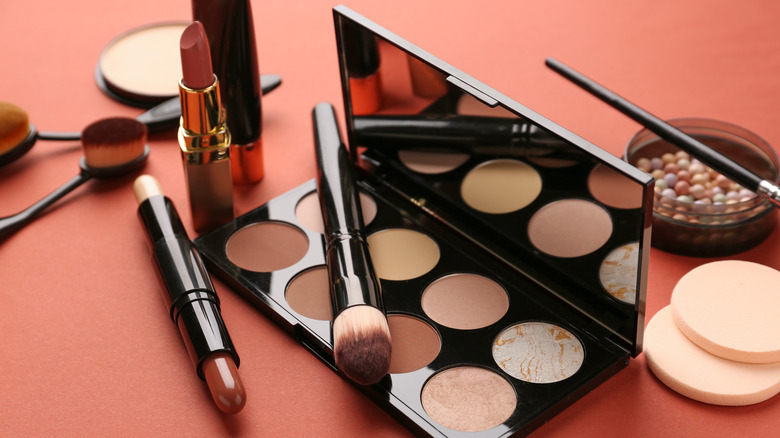 Pixel-Shot/Shutterstock
If you followed our instructions, you should now have a beautiful compilation of light-colored hearts across your cheekbones and under your eyes and a defined line of dark dots across the hollow of your cheeks. So, what's next?
Using a sponge, blend it like a pro. Make sure to start with the lighter concealer, and move your way down toward the darker dots. Otherwise, you'll bring the darker shade under your eyes, giving you the look of someone pulling an all-nighter instead of the fresh, radiant look you're after. Blend, blend, blend, and that's it — a genius hack at the tip of your fingers to make heads turn.
To finish the look, Arshia Moorjani uses a highlighter powder and brushes it from the corner of her eyes to her temples, giving her eyes an instant mini lift. Add a terracotta shade blusher to create rosy sculpting followed by lip gloss, and your look is complete! Even though the heart-shaped contouring technique is genius — and easy to accomplish — we are certain other hacks are popping up as we speak. All you have to do is try out each trend until you find the one that matches your style, accentuates your face's natural characteristics, and — why not? — steals your heart.