The 'Lightbulb' Contour Technique That Can Leave Your Face Snatched
The magic that comes with makeup is absolutely fascinating. It allows us to be able to highlight things we love and minimize the things we don't. One of the most popular ways of doing this is through the contouring method. To contour requires you to take a shade darker than yourself to create shadows on your face. This could be done with a cool-tone powder, concealer, or contour stick. According to Yahoo Entertainment, the method was originally created for stage actors during the Elizabethan era. However, many of the modern esthetics today could be credited to the trailblazing drag queens of the 1980s and 1990s.
Advertisement
Since then, we have revolutionized how we contour our faces. No longer does it take an extreme effort but is now just a simple concealer hack away. With a wealth of information, even celebrities are taking notes and adding tips as well. Recently Jennifer Lopez revealed her tips for a snatched contour, that will definitely upgrade your makeup routine.
Apply the concealer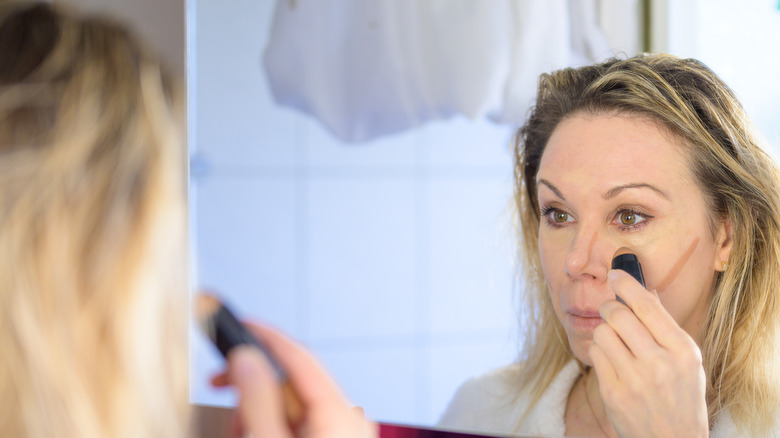 Mheim3011/Getty Images
Concealer is a big part of the contouring method. Concealer is mainly used to cover up blemishes or hyperpigmentation, to help create an even base. However, when contouring, it plays an even bigger role in creating a sculpted face. The highlighting method is the opposite of contouring and brings attention to certain features. To create a seamless look, it is important to choose the right concealer shade for you. The makeup is usually one or two shades lighter to create a flawless look.
Advertisement
When Jennifer Lopez featured her makeup routine on Vogue's YouTube channel, she made sure to apply her concealer two shades lighter than her face as well. She placed it in the inner corner of her eyes, around her nose, and anywhere she felt there was darkness. Adding the concealer will make the contour pop when she applies it as well as help create a lifted appearance.
The light bulb contour method
For those who want to contour like Jennifer Lopez, it is a really simple process. She starts off by mixing a few different contour shades from the Bobbi Brown collection to get the perfect shade for her. She applies the contour above her cheekbone to create a lifted appearance. She then goes on to add contour around her forehead, hairline, and jawline.
Advertisement
What creates the "lightbulb" effect is when she places the contour down her jawline and around the center of her neck. "I call this the lightbulb," she explains in the video. "We darken that so that it doesn't light up, like 'look at this chin!'" This technique is perfect for anyone who would like a sharper jawline and an overall angular appearance. From there, she takes a slightly lighter contour shade to add to her nose, before she can get to blend her makeup.
Blend with foundation
Blending is the most important part of any makeup routine. It is the difference between you looking glamorous and ridiculous. There are many ways to blend your makeup products including using brushes, sponges, or even your hands. Prior to blending you usually end up having stark lines of product on your face, which could be a little odd to look at. However, the Jenny from the Block singer has a specific way of creating a seamless look that could be easy for even a beginner.
Advertisement
After she did her signature lightbulb method, she decided to apply her foundation over the product. She started by mixing her three favorite shades to match her skin. She then dips the foundation brush into her foundation and starts blending everywhere. This creates the perfect glowing base before she even applies any extra product. Her makeup is completely seamless and could be used for any day or night look.