The Micro-Bob Is Taking The Short Hair Trend To The Extreme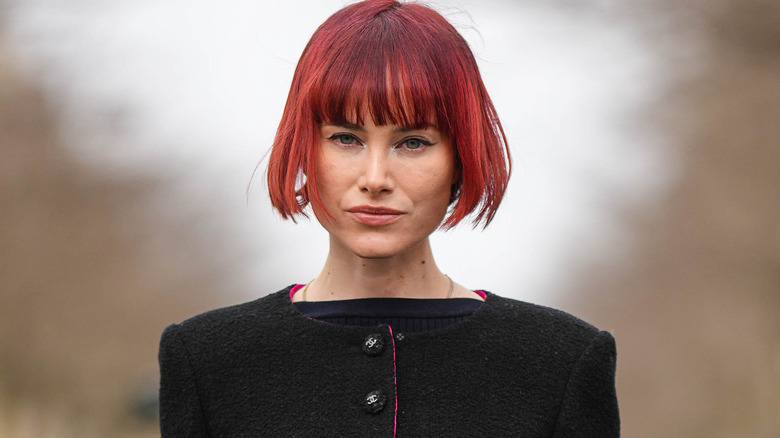 Edward Berthelot/Getty Images
Like every other hair trend enthusiast in 2023, the power bob embodies quiet luxury. If you think long or classic blunt bobs are too long for your taste, you should check out the trendy jaw-length "job" haircut bob style, as that sleek cut is a shorter bob variation exuding powerful vibes. But what if you want an even shorter bob, giving you a super cropped hairstyle that's still not quite as chopped as a pixie or bixie cut? Then, you need a micro-bob.
Micro-bobs are daring and trendy, as they're the shortest bob variations you can get. "Shrinking normal bob lengths up close to the nape of the neck is a great option for those willing to push the limits of the bob," celebrity hair guru and international color creative director at Evo Tom Smith told Bustle. "This bob is a very high fashion yet an extremely practical option for those with straight to slightly wavy hair." So, if you want the shortest bob available, 2023 is the year to explore the micro-bob.
Style it any way you want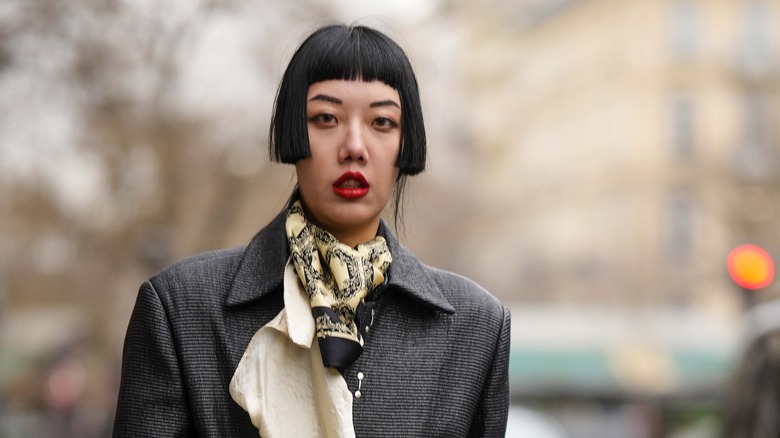 Edward Berthelot/Getty Images
Yes, the length of the micro-bob itself is somewhat high-maintenance, meaning you'll have to keep up with trims to maintain that short length. But regarding DIY styling, the hair is so cropped that brushing, straightening, and drying it will barely take any time out of your morning routine every day. And the micro-bob works with anything from straight to curly tresses.
Bangs will look beyond chic
Pairing the micro-bob with bangs will provide an arguably even more stylish spin on the classic French bob. If there's one hair trend we write about as much as bobs, it's bangs, so rocking bangs with a micro-bob will make you the trendiest person around. Moreover, we can't think of a bolder, more on-trend combo than micro-bangs with micro-bobs.
Bold hair colors will bring more edge
Exciting hair colors like pink, blue, green, and purple pair perfectly with micro-bobs, as the boldly cropped length will make the unconventional hues appear even more daring. Plus, those wild hair colors will likely require less maintenance — and money — than they would with long locks. Just think of how much more expensive and time-consuming it would be to dye belly-button length tresses pink or green than it would be to dye a short micro-bob.
Flaunt your eyewear
Everyone with long — and sometimes even medium-length — locks who wears glasses or sunglasses knows how frustrating it feels when your hair keeps getting in the way of your eyewear because the hair won't stay out of your face. But with the ultra-short micro-bob, you won't have to worry about your tresses constantly clashing with your glasses or sunglasses because the length should be too short to get in the way.
Part it anywhere
As we know, bangs look fabulous with a micro-bob, but the no-bangs look works, too. You can part your hair anywhere you want, and this style still looks chic. We're loving side parts and flipped bangs just as much as we love the micro-bangs and middle parts. 
Take some inspo from the red carpet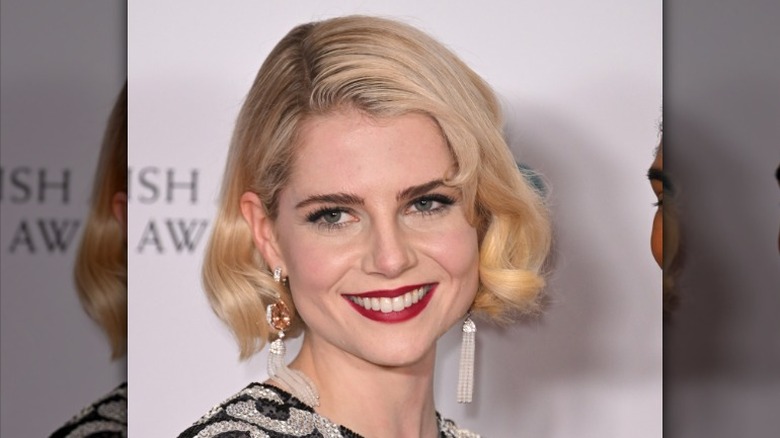 Karwai Tang/Getty Images
Do you feel like you've seen the micro-bob before we discussed it by name? That's because you have! We often see runway and commercial models flaunt these short bobs because they prevent hair from interfering with the clothes. Meanwhile, many celebrities have made headlines by chopping their tresses into these short bob variations.