Our Best Tips For Rocking A Classic Gold Chain Necklace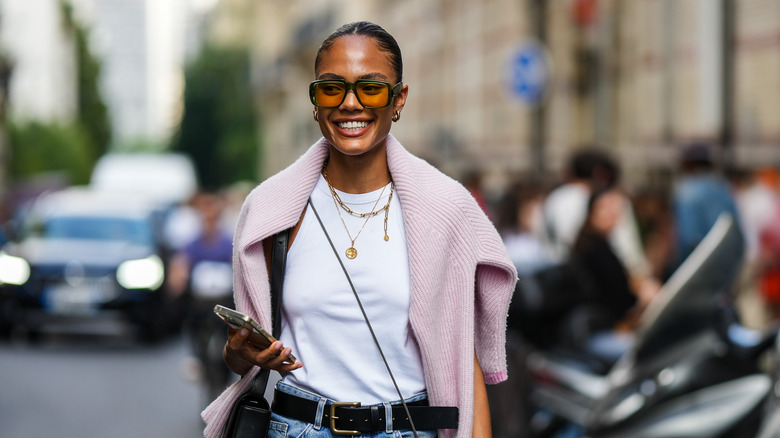 Edward Berthelot/Getty Images
What better way to express our creativity than with jewelry? Gold jewelry, in particular, is steeped in historical references most commonly associated with status and luxury, and can add touches of affluence to the most basic of outfits. Retired psychotherapist Caryn Hacker-Buechel revealed that gold jewelry has been reported to provide protection to the wearer, and may even impact our mood, so it's no surprise that gold is associated with being the best. 
Wearing a classic gold chain, in particular, conjures up quite a few different personas we can embrace. Worn by many notable figures, from royals to rappers, gold chains can give dainty and elegant vibes, or an edgy and bold aesthetic. They never go out of style, but how this piece of jewelry is styled determines whether or not it feels fresh. So if you're looking to rock a classic gold chain this summer season, here are a few tips to help you wear it in a way that feels current.
Stack it with different chains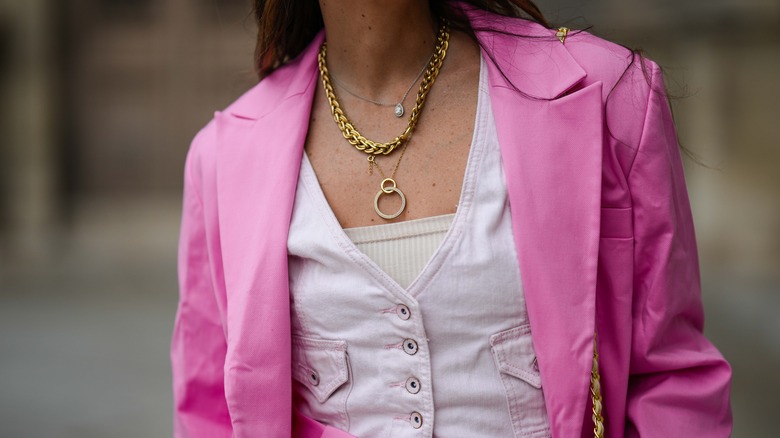 Edward Berthelot/Getty Images
Stacked gold chains are a pretty tried-and-true way of creating drama and opulence with your jewelry. And while you may opt for stacking delicate gold linked chains with pendants (which we love), it's a whole other energy to stack your gold chain with different chain links, sizes, and colors. If you have a chunky braided gold chain, try pairing it with a more delicate chains in gold or silver. Adding different pendants creates even more visual interest for an energizing look.
Try a thick, flat gold chain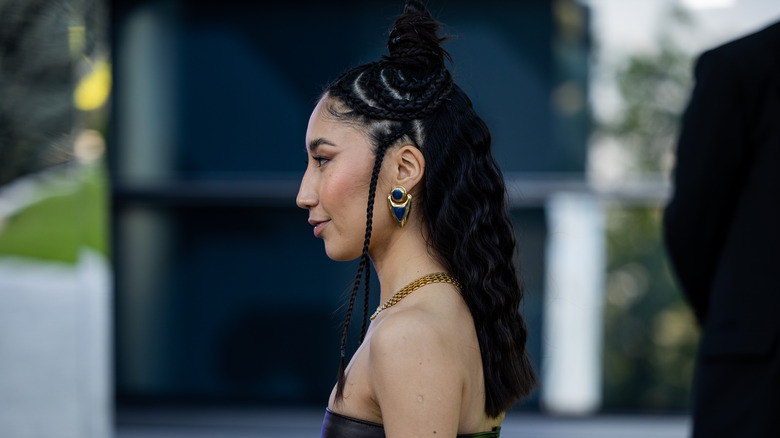 Christian Vierig/Getty Images
Thick, flat gold chains feel more like statement pieces, especially when worn alone. When paired with large geometric earrings, this piece has a very '80s vibe. You can either match the necklace and earrings for a throwback formal feel, or mix and match to keep it more eclectic. When worn with other necklaces, a flat gold chain will be less obvious while still standing out.
Wear a thin long chain with an unexpected pendant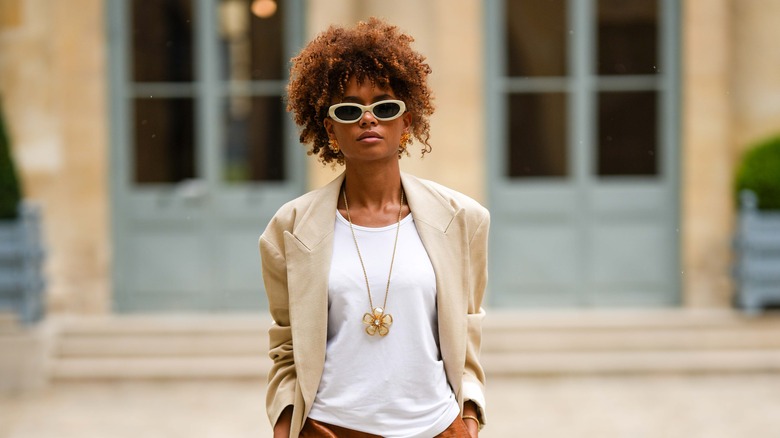 Edward Berthelot/Getty Images
A thick long gold chain typically has a pendant that offers opportunities to add a little creative flair. While you may opt for a more understated pendant, wearing a light-colored floral pendant adds some unexpected prettiness into the mix, especially with floral earrings to match. It feels modern when paired with a neutral toned minimal outfit.
Pair it with a ribbon bow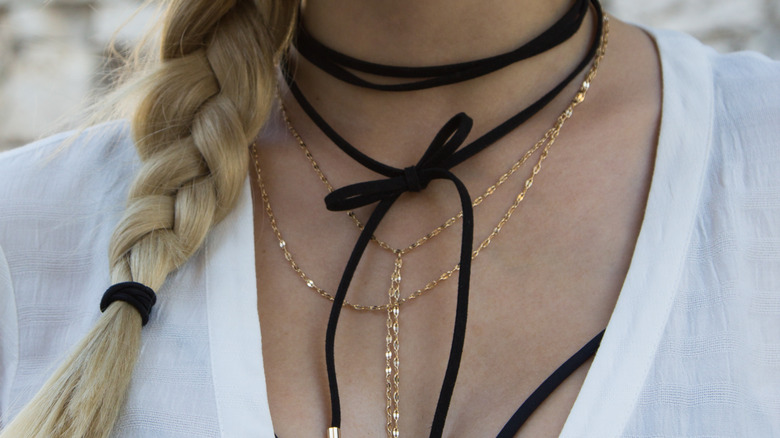 Andry5/Getty Images
It's okay to adorn your neck with both metals and fabrics. Try pairing your gold chain necklace with a ribbon bow around your neck for a kind of boho look. The shiny metal with the fabric ribbon bow gives off a carefree vibe that makes the gold feel less precious, and elevates the ribbon.
Add brightly colored, feel-good pendants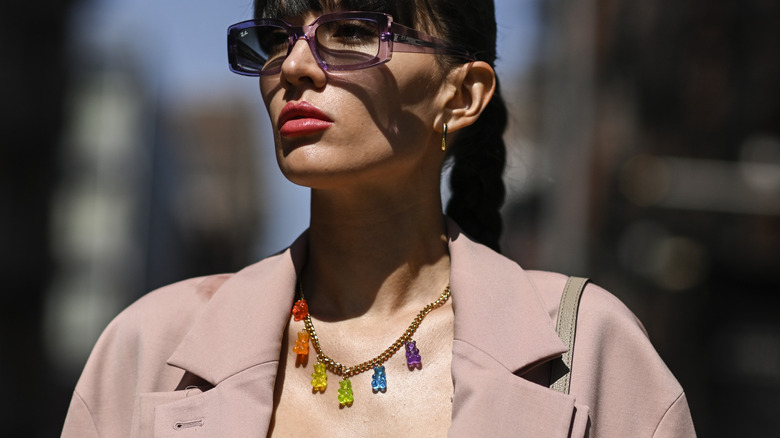 Daniel Zuchnik/Getty Images
Add a little dopamine surge to your day with gold chain gummy bear pendants. This motivating chemical is responsible for the dopamine dressing craze — that's using brightly-colored clothes or clothes that trigger positive emotions as mood boosters. And if you're looking for your jewelry to do the same, colorful gummy bear gold chain pendants are sure to bring a smile to your face, or a least make you smirk a little.
Try a multi-size link gold chain necklace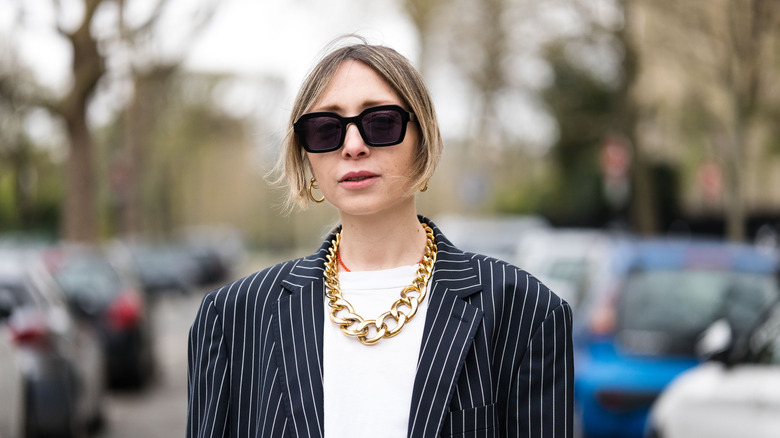 Edward Berthelot/Getty Images
Chunky twisted oval links, referred to as Cuban link chains, are quite popular and come in varying sizes. However, combining multi-sized oval links in one necklace, with the smaller chunky links closer to the clasp, feels out of the ordinary. While some necklaces are made up of smaller chain links close to the clasp of the necklace, these smaller chain links are typically not meant to be seen. Exaggerating a similar concept using chain links that increase in size adds interest and feels modern.
Wear a gold chain with athletic gear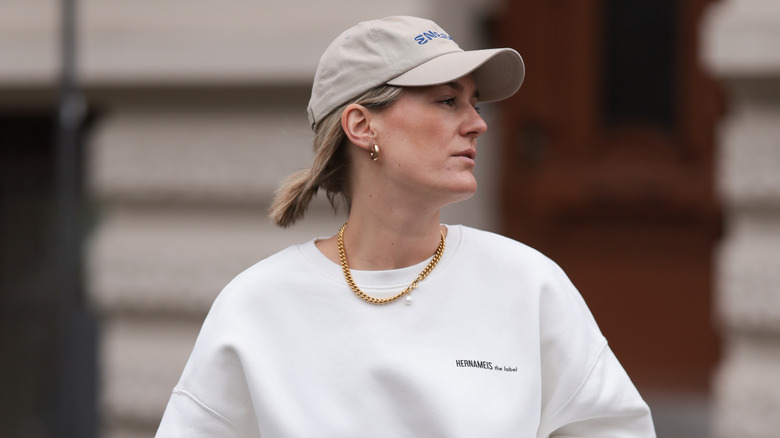 Jeremy Moeller/Getty Images
One small chunky gold chain can feel elegant, especially with a pearl pendant attached. And when paired with athletic gear, such as a sweatshirt and baseball hat, if gives an elevated casual vibe. Mixing luxury with casual wear has become a hallmark of modern dressing, as it reflects a more relaxed approach to formality, subtly hinting at a preference for authenticity and sincerity over pretension.