'Cinnamon Girl' Is The Moodier Answer To The Vanilla Girl Aesthetic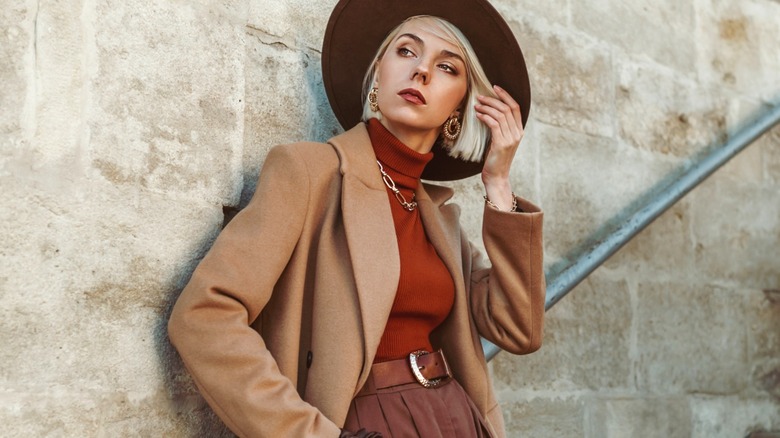 Victoria Chudinova/Shutterstock
TikTok's popular vanilla girl aesthetic walks the line between warm and airy with a monochromatic palette of white, cream, and beige shades, exuding luxurious minimalism and a fresh, clean vibe. But while this style looks universally classy on pretty much everyone, some people prefer a more cozy, atmospheric vibe. Enter the cinnamon girl aesthetic, which is quickly rising through the ranks. In fact, #cinnamongirl already has more than 250 million views on TikTok.
Where a vanilla girl's style aptly evokes the pure, palate-cleansing sweetness of its namesake, a cinnamon girl doubles down on coziness and spice. Like a dose of straight autumn, the cinnamon girl aesthetic embraces the simplicity of earthy colors, chunky sweaters, and a gently moody vibe. On a rainy day, you might find a cinnamon girl nursing a chai tea latte while reading a bittersweet book by the window — all while a Lana Del Rey album plays on vinyl in the background.
If this lifestyle resonates with you, then you might be a budding cinnamon girl yourself. So how do you fully embrace the look? As you can imagine, this trend plays well with other styles like dark academia, cottagecore, and the old money aesthetic, incorporating timeless fashion classics and alluring yet understated makeup choices. In fact, you probably have a few cinnamon-spiced ensembles and beauty products already in your collection. To get started, explore the following ways to leave vanilla girl behind and adopt the inviting melancholy of the cinnamon girl aesthetic.
A warm, earthy color palette
First and foremost, nothing screams cinnamon like the earthy comfort of a brown color palette — especially when you choose colors with a warm undertone. For a quintessentially cozy look, you can't beat a long brown cardigan or the pairing of a plaid skirt with a brown top. Of course, this doesn't mean you have to wear all brown all the time. Expand your wardrobe to include other tones that serve spice and warmth, like rust, burgundy, mustard, or even a toasty tan. The ultimate point is to embody a spirit of introspective comfort, no matter the season.
Soft and oversized knits
By now, the oversized sweater trend is well-established. But its place in the cinnamon girl aesthetic proves that big, chunky knits aren't going anywhere anytime soon. Add a baggy sweater to any outfit for instant snuggle vibes, from simple jeans to a cute miniskirt. Or throw on a bulky grandpa cardigan over a shorts and thigh-high socks combo. As any cinnamon girl knows, comfy knits are perfect for lounging around drinking coffee and reading poetry in bed.
The cool but cozy elegance of turtlenecks
Cinnamon girls are in their natural habitat surrounded by glowing candles and fluffy blankets, but that doesn't mean they can't be chic. On the contrary, cinnamon girls make coziness cool by pairing earth tones with sleek silhouettes and timeless fashion staples. One great example is the ever-versatile turtleneck. From sleeveless mock turtles to bulky, thick-yarned cowl necks, turtlenecks sing against the homey warmth of a cinnamon girl's overall aesthetic.
Subtly sultry makeup
While a vanilla girl loves a minimal, barely-there makeup style, a cinnamon girl wants something just a little more sultry to accent her earthy fashion. The ideal cinnamon girl makeup look is a muted day-to-night aesthetic that puts you equally at home kicking through leaves in the park, picking up coffee for the office, or cuddling up in a blanket fort with your S.O. Add just enough subtle glamour to your ensemble with techniques like a smoky eye, winged black or brown liner, and matte lippie in shades of nude, plum, or mulberry. 
Richly autumnal hair colors
When putting together your unique cinnamon girl look, hair color can also play a role. While pale or cool-toned locks may set the wrong tone for your overall aesthetic, more earthy and autumnal shades will naturally radiate an inviting aura. For example, tawny tints of caramel, vibrant russets, and even warm chocolate hues all provide a gorgeous counterpoint to any cinnamon girl's simple and folksy outfits.
A perfectly-spiced manicure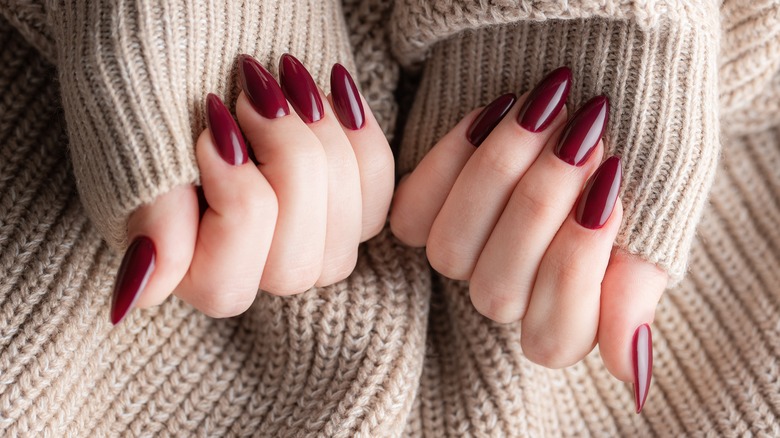 Olena Rudo/Shutterstock
For the icing on any cinnamon girl's spice-cakey aesthetic, look no further than a deliciously appropriate manicure. While the shape of your nails doesn't matter so much, the right manicure color is an extra opportunity to compliment your outfit with a pop of cozy charm. To find a harmonious match, consider picking shades that remind you of hot tea, mulled wine, or a classic pumpkin spice latte. If you can imagine your freshly polished fingers wrapped around a steaming mug, you've probably found the right finishing touch for your cinnamon girl look.