Capes Are The Wedding Dress Trend For The Theatrical Bride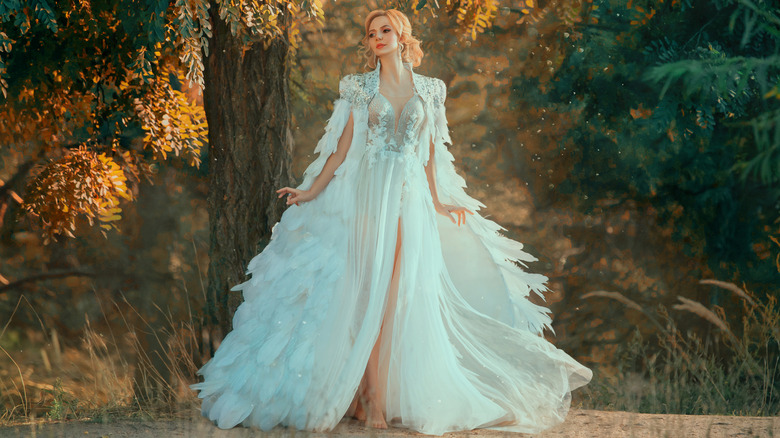 Kharchenko_irina7/Getty Images
From Meghan Markle's memorable cape dress at the funeral of the late Queen Elizabeth II to celebrities on the iconic Met Gala and Cannes Film Festival carpets, capes have made their way to the forefront of fashion this year. Now the classic-meets-chic style is making its way down the aisle as brides are opting for cape gowns or wedding dresses that can be perfectly paired with a complementary or matching cape. In the age of modern wedding culture, capes may even be challenging the traditional veil worn during wedding ceremonies. Theatrical and non-theatrical brides alike are turning the wedding aisle into their personal runway with awe-inspiring cape styles.  
Wearing a veil with a wedding dress has been a tradition since ancient Roman times. As wedding season 2023 is in full swing, brides are forgoing standard veils for capes and eye-catching headpieces. Just think about how spectacular the Princess of Wales, aka Kate Middleton, looked in her shimmering silver floral headpiece at the coronation of King Charles III. Pair a headpiece with an equally breathtaking cape, and you'll look phenomenal on your wedding day. 
If you're in search of the perfect gown, or if you're just a fan of weddings who loves to soak up the latest trends in bridal fashion, here's what you need to know about the emergence of capes coming down the aisle to the tune of "Here Comes the Fashion Icon" in a vogue rendition of "Here Comes the Bride."
Incorporate all of the bridal fashion elements
Edward Berthelot/Getty Images
Wearing a cape at your wedding can be as individualized as you want it to be in terms of its design and aesthetic. Whether you opt for a cape attached to your dress or one that can be removed, you'll still be able to choose from the noteworthy array of traditional bridal designs including handsewn beading and handmade lace. You could also choose from pearls or colorful embroidery sewn across your cape. Without a doubt, bridal capes are a way to let each bride's personality shine.
Bring your bridal party together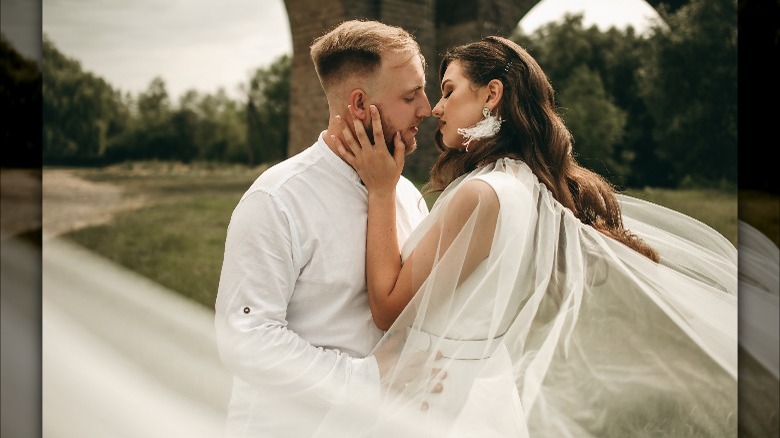 LL_studio/Shutterstock
Wearing a long cape can be akin to wearing a flowing veil or lengthy train, as it requires members of the bridal party, usually a prominent bridesmaid or a group of children included in the ceremony, to help keep it in line for the ceremony or pictures. But the modernization of wedding dresses with capes takes this process to another level. Since your bridal party is comprised of your closest friends, relatives, and those whom you trust the most, wearing a large cape with your wedding dress is the perfect opportunity to create stunning keepsake photographs of your loved ones holding up your cape. 
Embrace capes and gowns that aren't white
Though white wedding dresses have been the norm for centuries, wedding trends are finally catching up with the times, and more variety of wedding gown colors have come to the forefront, from blush pink to red to blues of all hues. In particular, black wedding gowns can signal elegance and a fierce confidence in shattering the status quo with an awe-inspiring look. Combine your dark gown with a matching black cape, and you'll be an unstoppable icon at your wedding and beyond.
Be bold with bridal cape fashion
It's clear that wedding trends are moving away from the traditional white gowns worn by brides for centuries and toward allowing brides to fully express themselves on their wedding day. Should you want a bolder or more unique style of cape to go with your dress, the addition of feathers in bridal fashion has been increasing over recent years. A feather-adorned, short cape (or capelet) can become extremely chic when paired with a simple gown, allowing both the gown and the cape to stand out on their own while blending together with the perfect amount of vibrancy. 
Don't forget to accessorize
Wearing a cape with your wedding gown is a statement piece in its own right, but amazing wedding accessories are still welcome. With the use of a cape instead of a veil, you can opt for striking headpieces like crystal headbands, flower crowns, or sparkling tiaras because if there's one occasion for you to be a queen, it's on your wedding day. No matter the accessories, gown, or styles you choose, pick the bridal cape that makes you feel the most magical as you marry the love of your life.