The Essentials You Need To Be Prepared For A Summer Full Of Concerts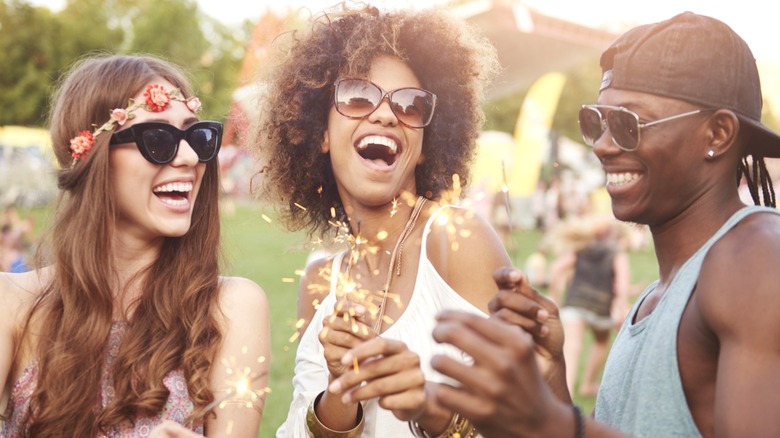 Gpointstudio/Getty Images
We may receive a commission on purchases made from links.
Live music is always a treat, and there are a lot of extra perks to attending a summer concert in the great outdoors. At outside events, you get to have fun in the open air, soak up some sun with your friends, and show off your airiest, most freewheeling ensembles. But outdoor venues also present their own set of unique challenges and considerations that must be taken into account when you're getting ready to take the summer concert season by storm.
Before you start ticking off all the festivals and tours dominating your summer vision board, it's important to think through all the details, from the clothes you wear to the toiletries you carry with you. That's why we've compiled a list of mandatory items for any concert-goer to keep close all summer long. Ready to live your best life at every outdoor gig and music festival this year? Set yourself up for a great experience and get the most out of each magical moment by packing these summer concert essentials.
A clear tote bag, purse, or backpack
First and foremost, you need a handy container to tote along all the essentials for your summer concert adventure. But not any old bag will do, no matter how cute it looks with your outfit. In a nod to modern security concerns, many concert venues and music festivals now prohibit any large bags unless they are clear — and, thus, easily searched. For instance, the bag policy for Bonnaroo states that any bags larger than 6 by 9 inches must be transparent to be allowed inside the main festival grounds.
Fortunately, accessory manufacturers have rushed to meet this growing need, and there are a number of clear concert bags now available for purchase. Many of them are also inexpensive, making it easy to replace your usual purse with a clear crossbody like the compact May Tree Clear Crossbody Messenger Bag or a more roomy option like the Bagail Clear Tote Bag.
If you're a light traveler and a transparent bag doesn't suit your style, you may also be able to get away with a small, non-clear bag like a clutch or a fanny pack. But if you go the tiny bag route, you'll be very limited as to what else you can bring in, so consider your needs carefully. And be sure to visit the official website of your event venue to review their specific rules on bags and purses. Not every venue follows the same guidelines, and no one wants to kick off a concert by having their stuff confiscated at the ticket gate — especially due to an honest mistake.
Hand sanitizer wipes or mini-bottles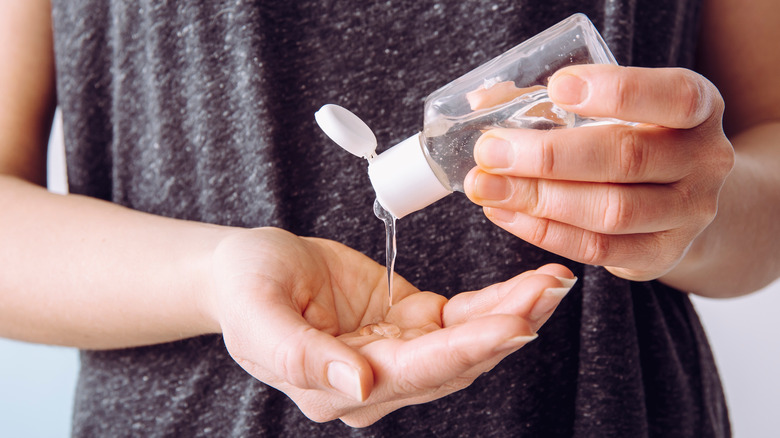 FotoHelin/Shutterstock
We may not be in the middle of a pandemic lockdown anymore, but good hygiene should still be top of mind when you go to any crowded public space, up to and including your lineup of summer concerts. Outdoor festivals and venues can sometimes verge on the Wild West, hygiene-wise, and you don't want to risk getting caught in a pungent porta potty with no soap available to clean up afterward.
Of course, this doesn't mean dragging along an industrial-sized container of anti-bac. Even if you wanted to, many concert venues restrict gels and liquids over a certain amount. Rather, go for mini-bottles of hand sanitizer, which are eminently portable and more widely accepted at events.
Anti-bacterial wipes are also a solid choice for your concert-going needs. Not only can you use them to clean your hands before eating or after touching something questionable, but you can also use them to wipe down surfaces. That might not seem like a major consideration at outdoor venues, but you never know when you might set down your bag or drop your phone into an unsavory substance. It doesn't hurt to have wipes available as a quick way to sanitize your stuff in a pinch.
Sunscreen above 30 SPF
Claire Greenway/Getty Images
When you're headed to an outdoor concert with your squad, you probably apply a cute summer makeup look to immortalize in all your selfies. But makeup isn't enough to protect you from UV rays on its own. Even if your foundation and other products contain a certain level of built-in defense, your daily sun protection strategy should include more than just SPF from your cosmetics. And you absolutely need to include a more concentrated form of sun protection in your summer concert kit.
To choose a suitable sunscreen, aim for any SPF north of the 30 mark. While 50 or even 100 SPF products may seem tempting, it isn't strictly necessary to buy the highest SPF on the shelf, as there are diminishing returns on their effectiveness. What's more vital is a thorough application. "Although I tend to recommend an SPF of at least 30, I think it's more important to consider how often you reapply the product instead of the number," dermatologist Dr. Erum Ilyas tells Real Simple.
Begin by creating a good foundation of SPF across your body. Apply it not only under your makeup but also on any other exposed skin, from arms and legs to your decolletage and the tips of your ears. But don't leave the bottle at home — during the summer concert season, it's important to bring your SPF with you. As the common wisdom goes, you'll need to reapply a coat of sunblock every two hours to maintain peak UV defense and keep lobster-red skin at bay while you enjoy the show. It can be tricky to add additional layers of sunscreen on your face, but there are tips for reapplying SPF over makeup, such as dabbing it on with a cotton ball.
Sunglasses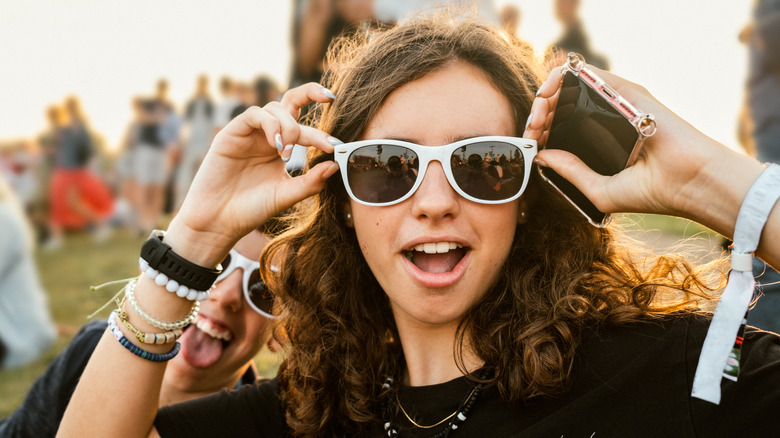 Ferrantraite/Getty Images
You've probably paid a lot of money for your summer concert tickets, so wouldn't you like to see everything clearly? That's not always easy with the sun's bright light blazing down on you. But the answer is simple: Minimize glare and protect your peepers with a cute pair of sunglasses.
It may surprise you to learn that UV rays impact your eyes as well as your skin, but it turns out that it's equally important to prevent your eyes from getting sunburned. Alas, spending all day squinting into the light may not be enough to protect your eyes from the glare. And all those facial contortions may even contribute to fine lines and wrinkles down the line (per Cutis Medical Laser Clinics). Surely donning a pair of sunglasses would be preferable!
As a bonus, embracing one of your favorite summer sunglasses trends is an easy way to add a little extra flare and personality to your outfit. Bring the drama with oversized cat eye sunnies, breeze through the day with always-fashionable aviators, or get quirky with chunky rims. And if classic black isn't your style, why not try a pair with color-tinted lenses? Colorful sunglasses are totally trending this summer, and there's a whole rainbow of shades to choose from.
A portable rain poncho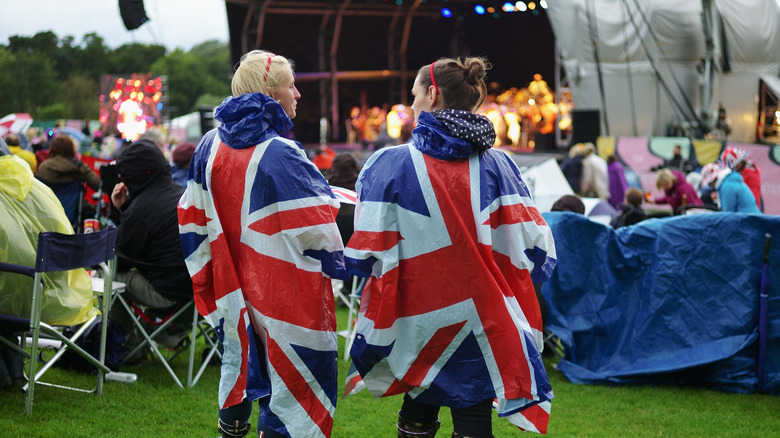 Ian Forsyth/Getty Images
In an ideal world, every summer concert and music festival would be graced with perfect weather. But the reality isn't always so convenient, and it pays to be prepared for a sudden downpour so you don't end up bedraggled and soaked to the bone. For outdoor events, no rainy-day gear is handier than a pocket-sized poncho. Usually made from thin plastic or waterproof fabrics, portable ponchos fold up to fit in your concert tote or even a large pocket.
There are many so-called disposable poncho options, which you can purchase in multipacks. Because these plastic ponchos are designed to be discarded, though, they may be a little shoddy and delicate. In a crowded venue, you can't always tell how they'll hold up, so be sure to read customer reviews before you purchase. Or, for a more long-lasting and eco-friendly alternative, look for lightweight, foldable ponchos in reusable fabrics like polyester. For instance, the Women's Rain Poncho from Krespuka folds up into a clutch-sized pouch and even comes in an array of fun patterns.
You can also pack a small umbrella, if it fits into your clear bag, but bear in mind that umbrellas are awkward at an event. For one thing, using an umbrella can be distracting as you try not to batter the person next to you or poke out anyone's eye. And the bulky silhouette of even the smallest umbrella will probably end up blocking someone's view. So, if possible, be a good concert neighbor and leave the umbrella at home in favor of sleeker rain protection.
Bug spray wipes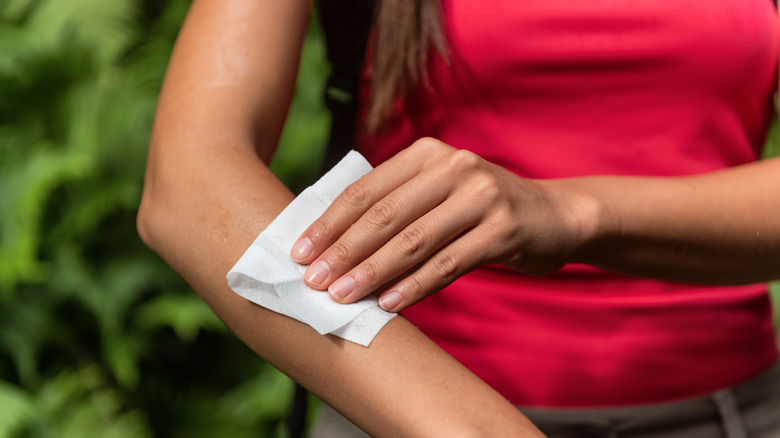 Maridav/Shutterstock
Another oft-overlooked essential for outdoor concerts and events is the need for insect repellent. Just because you'll be in a crowded area doesn't mean that Mother Nature is pausing her activity for the day. Depending on where you are, your concert experience could be plagued by all kinds of pests, from wasps and yellowjackets to the ever-present threat of mosquito bites.
To avoid pesky bugs distracting you from the music or outright ruining your concert experience, consider applying a coat of insect repellent before you enter the venue. And if it's going to be a long day — say, a music festival with multiple headliners — you may need a top-up before the concert is finished. In that case, be sure to toss a few handy bug spray wipes into your clear bag. Whereas concert security would likely confiscate an aerosol can of insect repellent, options like OFF! Deep Woods Mosquito and Insect Repellent Wipes are widely accepted, easy to carry, and convenient to apply on the go.
Nourishing snacks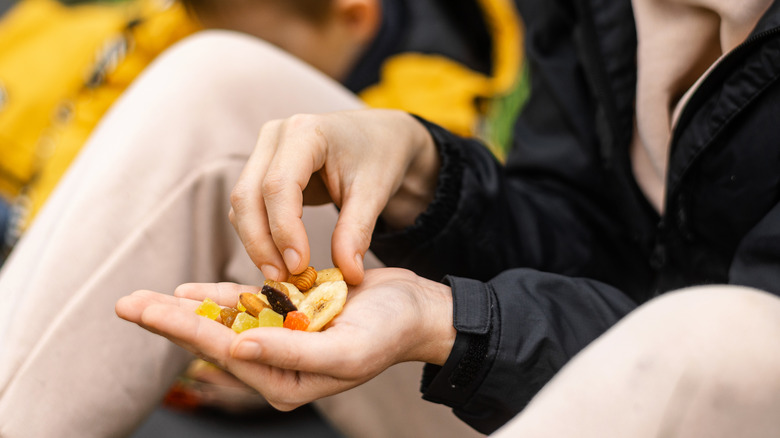 Zapylaiev Kostiantyn/Shutterstock
Attending summer concerts can be a hungry business. Unfortunately, not all venues provide food at their concession stands — and those that do tend to jack the prices up into outer space. What if you're not made of money? Or what if you have special dietary needs? When in doubt, consider packing some snacks to power you through a day of dancing and singing along with your favorite summer jams.
First, though, check your venue's rules to find out whether they allow outside food. Some events have very lax rules around snacks, while others can be incredibly strict. If you find that snacks are A-OK for your concert plans, stock your bag with a few calorie-dense options like nuts, dried fruit, protein bars, or jerky. They should also be shelf-stable. Remember that you may be spending a lot of time outside, so skip anything that might go bad in the heat. Sorry, cheese sticks — next time.
Electrolyte drinks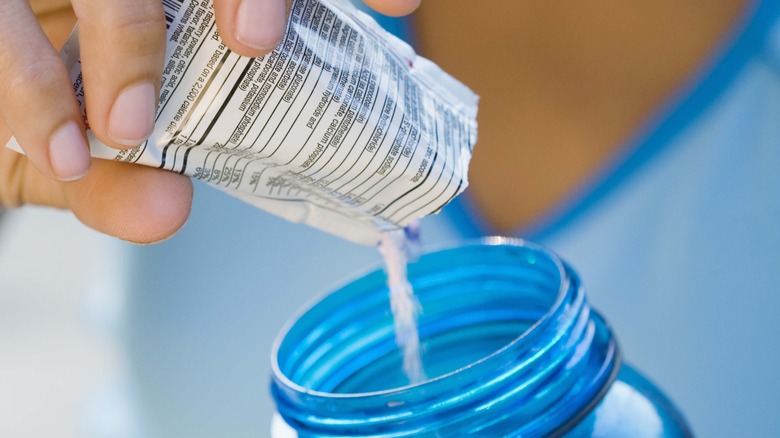 Jupiterimages/Getty Images
Hydration is a summer concert must, especially if you're going to be spending hours outside in the sun. These days, you can't carry your own liquids into most event venues — which is a shame, considering the extortionate prices at many concession stands. But even if you can't sneak in a full beverage, there are still ways to jazz up that $5 bottle of water and help keep your body hydrated at summer concerts or music festivals.
Powdered electrolyte drinks are one tasty solution to flavorless H2O, and many brands are even available packaged in individual servings that resemble sugar packets. Simply tear open the packet, add the powder to your water, and give it a good stir or shake for an instantly flavorful drink. The tempting sweetness will encourage you to consume more water, and the electrolytes will help you absorb all that much-needed hydration more efficiently. In fact, without sufficient help from electrolytes in your diet, water can pass straight through your system (via Chopra). So if you're worried about getting dehydrated in the middle of that long-awaited summer show, be sure to tuck a few sachets of powdered electrolyte drinks into your bag.