The Simple Way To Create A Sleek Low Bun In Less Than A Minute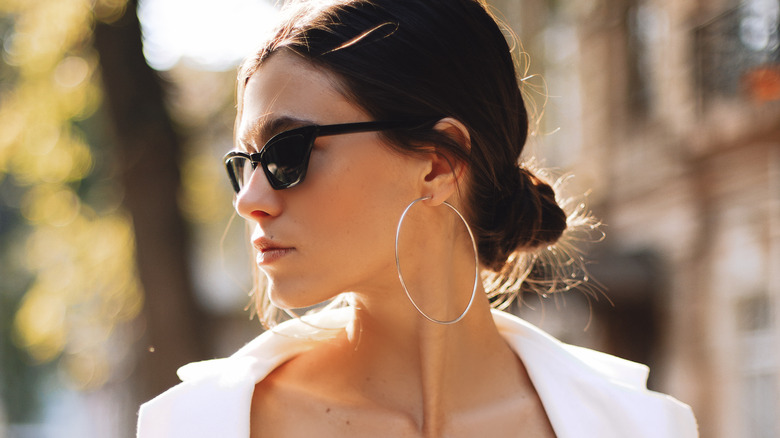 Ekateryna Zubal/Shutterstock
A sleek low bun is one of those hairstyles that seems like it takes real effort to achieve. Though the look is simple, it can be a challenge getting hair to co-operate at the best of times, let alone when you want it to stay in such a neat and precise style. This is amplified for curly or thick-haired gals, who undoubtedly know the struggles of trying to tame strands that want to do their own thing. 
But TikTok user @sabi01521, otherwise known as Sabina, is coming to our rescue with her super easy sleek bun hack that takes literally seconds to complete. In her video shared to the platform, Sabina demonstrates how to create a pretty bun (that doesn't have a hair out of place, mind you) with nothing but a hair tie. It's simply a matter of flipping and looping at the right points, and you'll have a Disney Princess hairstyle you can rock at any formal event — or a casual brunch.
If you're sick of using a million pins to secure your buns, and you're over the trendy flipped bun with the tail of hair sticking out of the tie, then Sabina's trick could be for you.
Mastering the hack
In her video that goes for a total of eight seconds, TikTok user Sabina shows her viewers how to craft the perfect easy sleek bun. It's a blink-and-you'll-miss-it hack, but it creates a flawless result.
She starts by combing her hair with her fingers into a ponytail. Before tying it, she flips the ponytail back up against the back of her head. Then she takes her hair tie from her wrist and bunches it around the majority of her ponytail, from the base of her head nearly to the tips of her hair. At this point, the ponytail is still sitting flat against her head.
Without taking anymore hair into the loop she's created, she twists the hair tie once to tighten it and then pulls the ponytail from her head and folds it over the first bunch of hair, securing it by bunching the twisted hair tie around it. She then pulls this second loop so the hair tie is tightened close to her scalp, and the bun becomes full.
You may have to watch this one a few times to get the hang of it (with a few pauses thrown in!), but it really is a hack that will take just seconds once mastered.
Other ways to create a sleek bun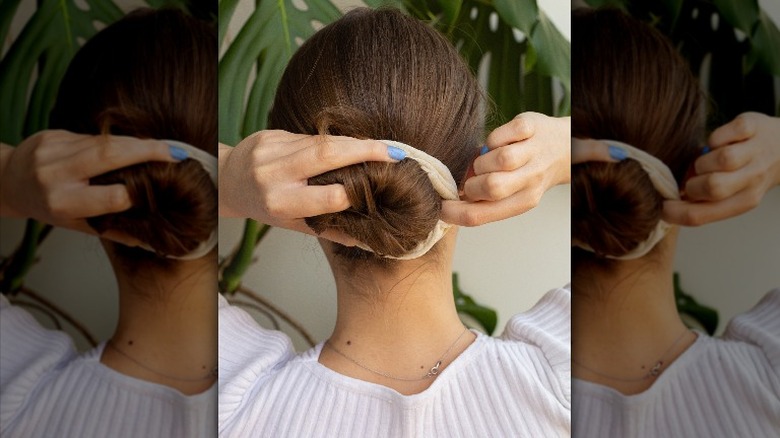 Jan Cieplik/Shutterstock
If, for whatever reason, this hack doesn't work for you, there are still other ways to create a sleek bun with little effort. TikTok beauty guru @casualgirlstyle posted a video to the platform which shows another method of achieving a similar look. 
She creates a normal ponytail and loops it into a bun on the final twist of the hair tie. She then ties a smaller elastic at the end of the tail of hair sticking out beneath the loop, and then folds the hair into itself from the elastic to create a fishtail-like effect. From here, she twists the tail around the loop and tucks the ends in beneath the loop, securing with just a few hair pins.
TikTok users in the comment section of Sabina's video have pointed out that her eight-second hack may not work on everyone's hair. "I feel like this only works if [you] have pin straight hair," wrote user @nyushka_lo. Another user @sincerelybubblesx commented, "Layers could never." 
These issues might also stop you from pulling off @casualgirlstyle's method to the same effect, so if push comes to shove, the regular old bun process is a classic for a reason. Create a ponytail, then twist it around itself to fashion a bun, securing with a second hair tie and pins.
But if you can get away with it, these two quicker bun hacks may become your go-to moves!