Our Tips For Achieving And Styling The Trendy Flipped Bun Look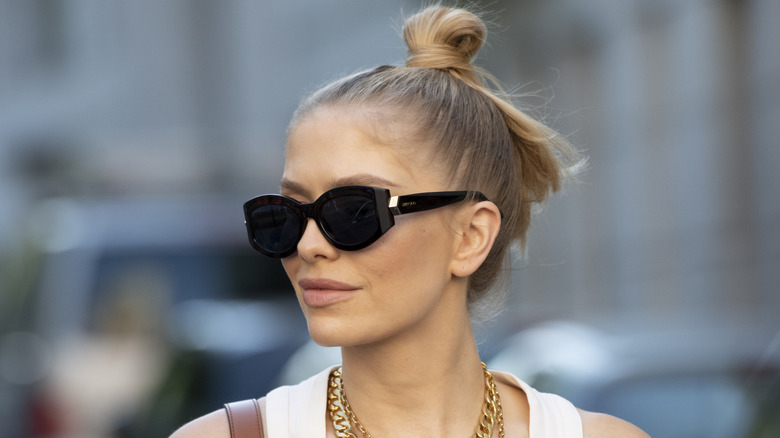 Kirstin Sinclair/Getty Images
The hairstyle you may have very well been rocking since middle school is now officially trending. They're calling it the flipped bun (or flip bun), and while there are variations of this, it is basically an unfinished bun. 
Advertisement
"Instead of making a ponytail [and] then wrapping the ends around the base to create a bun, [hair is] pulled through the elastic fully the first few wraps, and on the last wrap, you only pull through a bit of the root area and leave the ends to be free," Dyson global styling ambassador Matt Collins explained to InStyle. The end result should feature your ends hanging downwards, towards your neck. 
For the best results, Collins recommends beginning with smooth hair, achieving this result either through a flat iron or using a diffuser. You can decide how tightly you'd like to do the bun, so play around with different looks until you find your ideal style. 
This is essentially a minimalist, modern look that is quick and easy to pull off. Here are some ways to wear it.
Advertisement
Slick it back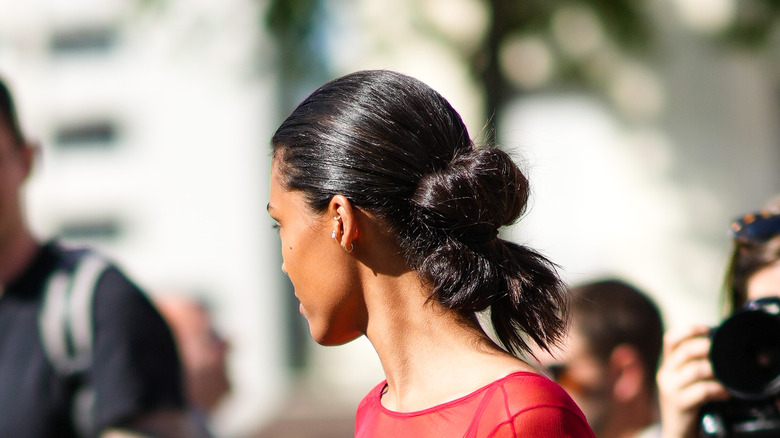 Edward Berthelot/Getty Images
If you slick the bun back, it gives the impression of a strapped ponytail. You can create this look by pulling your hair back with a comb rather than your fingers, and then securing it in place with hairspray or gel. The combination of an unfinished prim and proper bun and sleeked back crown creates an elegant yet relaxed look that would work in both casual and formal settings.
Advertisement
Add accessories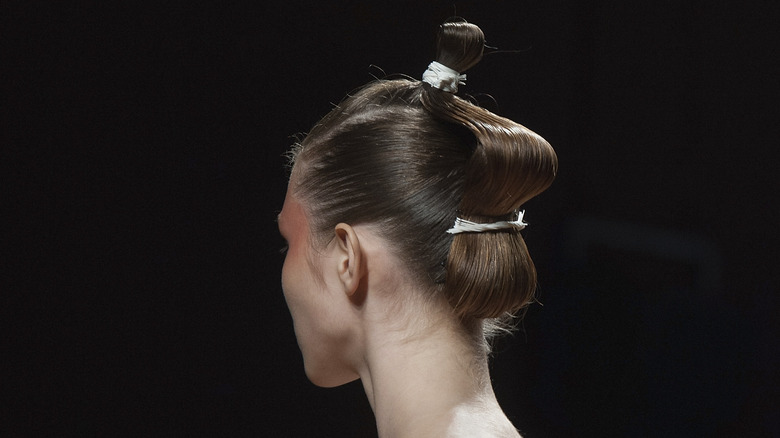 Kay-paris Fernandes/Getty Images
If you choose a very sleek flip bun, adding accessories gives the modern look a dose of maximalism. And if you're up for a challenge, you can create one smaller bun at the top, and keep a second bun or ponytail hidden under the remaining untied hair for a sculptural aesthetic. While ties are used to accentuate this style (in an almost literal strapped ponytail), you can always add barrettes to complete the look.
Advertisement
Make it super casual
For a casual flip bun, don't bother to slick it back. Instead, let the sides just hang, and create a loose bun. One way to do this is to hold your hair from the nape of your neck, and put the tie around your hair as if you are going to create a ponytail, but do not complete the ponytail. Instead, tuck it in the tie and pull it through to let the hair hang. This look has a romantic feel, and you can amplify it by letting loose a few hair strands in the front. 
Advertisement
Try two flipped buns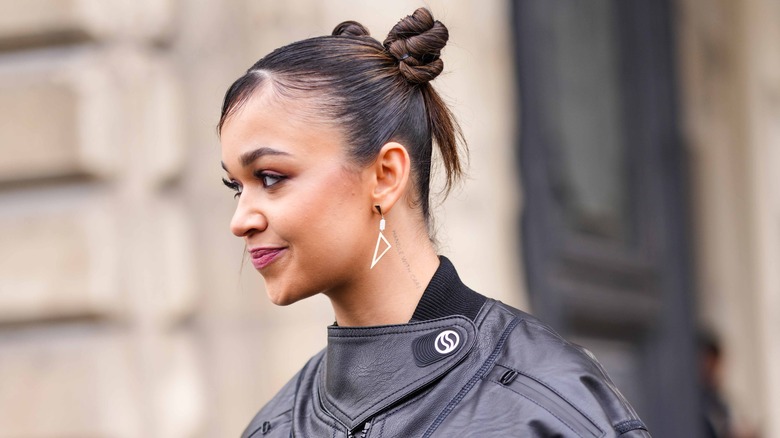 Edward Berthelot/Getty Images
If one flip bun is not enough, how about two? Here, the look resembles two top knots, yet the ends are free, a hallmark of the flip bun.  Shown here, the two top buns are very secured and controlled so the free hair loosens it up some, and is balanced by the bangs in the front.
Advertisement
Try a half-up, half-down flipped bun look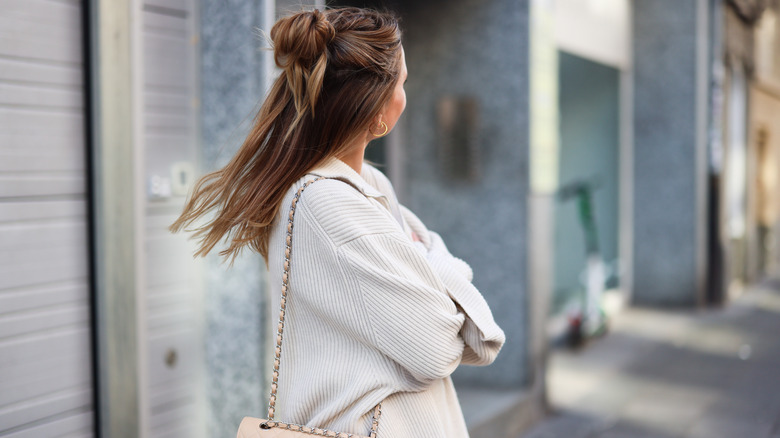 Jeremy Moeller/Getty Images
If you don't feel like pulling all your hair back into a flip bun, try the half-up, half-down look. For this, you put the top half into a flip bun, and wear the rest of your hair out. You could go either sleek or loose with the flip bun. Here, it feels just as relaxed as the casual flip bun with a little extra volume on the bottom for a more free-flowing look.
Advertisement