Wedding Day Makeup Prep You Should Be Doing Weeks In Advance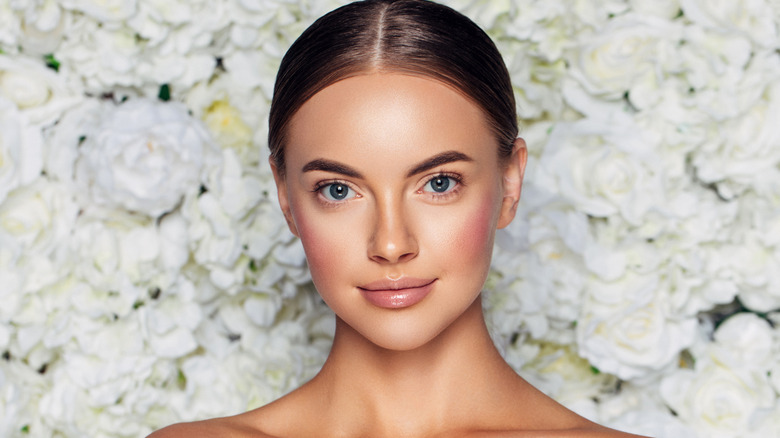 Coffeeandmilk/Getty Images
Considering how much time and money goes into planning the perfect wedding, it's natural to want flawless skin for the big day. But even armed with the best possible makeup artist by your side, your look could fall short if you don't start preparing your skin weeks — and sometimes months — in advance. Unfortunately, getting nuptial-ready doesn't happen overnight.
If you have specific skin issues that you're worried about, it may even be worth working with a skin therapist in the months leading up to your wedding. But even when there's nothing specifically wrong, introducing a fool-proof skincare routine with premium products will have your skin looking its best. 
Allow plenty of time for your skin to get used to new ingredients, ruling out any potential allergies, and keep your skin as healthy as possible. Also, you'll want to give some thought to which makeup artist you're using, and what look you'll go for. Plan these details in advance, and you'll be good and ready for the wedding-day skin of your dreams.
Routine exfoliation, serums, and facials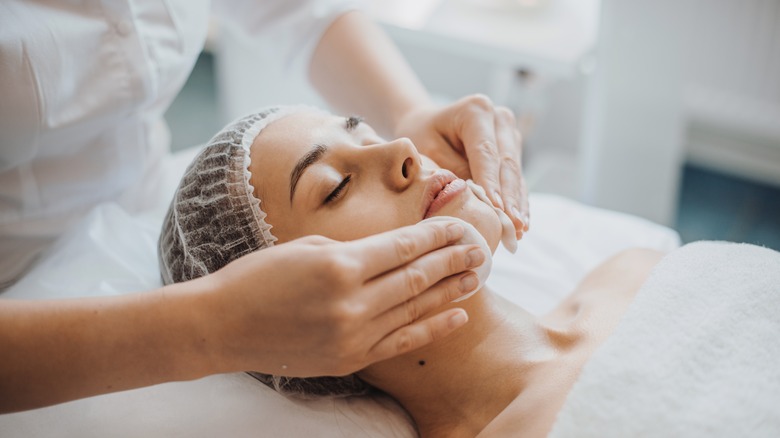 dekazigzag/Shutterstock
There are a few key treatments to incorporate into your skincare regimen at least a few weeks before your wedding. Speaking to Glamour, makeup artist Adeola Gboyega advises using an exfoliator "maybe once or twice a week to even out any texture and give a really smooth base." By eliminating dead skin, an exfoliant will unclog pores and stimulate cell turnover. Chemical exfoliants, in particular, are also hydrating and reduce pigmentation, per Be Minimalist. These are your alpha hydroxy acids and beta hydroxy acids.
It's also a good idea to introduce serums containing power ingredients, such as retinol. Along with decreasing hyperpigmentation, retinol also increases collagen, which will have your skin looking plump and firm. It usually takes several weeks for the effects of retinol to become noticeable, so make sure you get a head start on this (via Cleveland Clinic). Other effective ingredients to look for in your serums include hyaluronic acid, niacinamide, and glycerin.
Finally, make facials with a qualified skin therapist a regular habit. There are several kinds of facials you can get, all targeting different issues, from deep-cleaning to detoxifying. Getting one once a month before your wedding will have your skin in its best possible condition, and it will also give you a chance to discuss any concerns (and pick up any insider tips!) from your therapist.
Book a trial with your makeup artist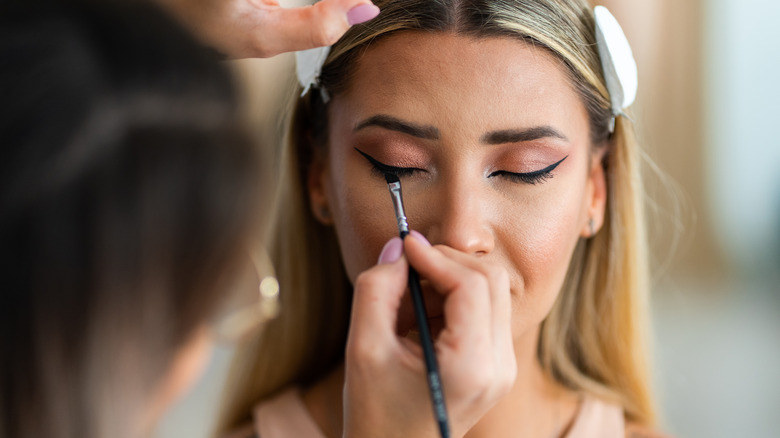 Georgijevic/Getty Images
A skin therapist isn't the only professional you'll need to bring on board for your wedding prep. Secure your makeup artist as early as possible, not just because the most reputable ones book out quickly, but also because you want plenty of time to have a trial.
A makeup trial will give you the chance to test not only the makeup artist but the particular look that you'll be going for. You may need a few trials to make a final decision, or if inspiration for something different strikes you after you've settled on a makeup style. Bring photos to your trial so your makeup artist knows exactly what you have in mind.
If you're doing your own makeup, have plenty of practice sessions to make sure you know how to pull off the look you want, and you can do so without stressing yourself out on your special day.
Along with a makeup trial, decide what hairstyle you'll have well in advance, and allocate time to trial that, too. The way your hair sits may end up changing how your makeup looks, so make sure you take it all into consideration.
Test out all new products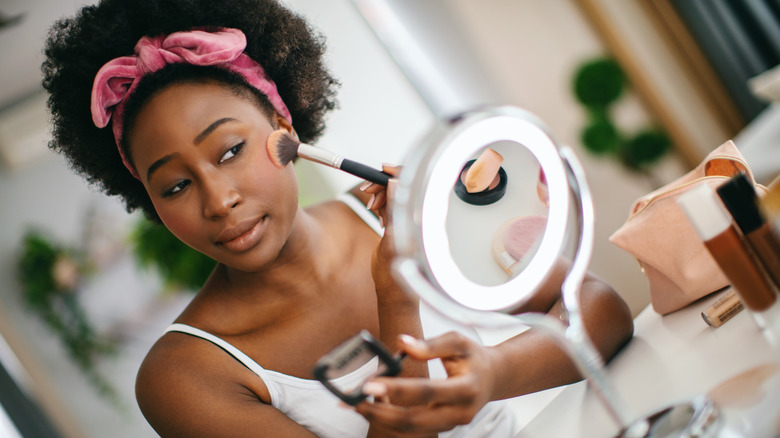 Aja Koska/Getty Images
The other major benefit of a makeup trial is that it will give you a chance to test out the exact makeup products that will be going on your skin. The last thing you need is to suffer an allergic reaction to a new lipstick that your makeup artist just ordered in, so have a blanket rule that you don't try any new makeup products on the day of your wedding. Absolutely anything can give you a reaction, even those products that you'd think would be harmless.
Though most allergic reaction symptoms last just hours, more severe cases can last a few weeks (via Wyndly). To be extra-careful, don't try out anything new in the three or four weeks leading up to your wedding. Get your makeup trials out of the way early, and also avoid introducing new skincare products in those final weeks.
For the same reason, you should also test out your wedding fragrance in advance to ensure that it doesn't make you feel ill on the day of your wedding.
Stay hydrated and sun-smart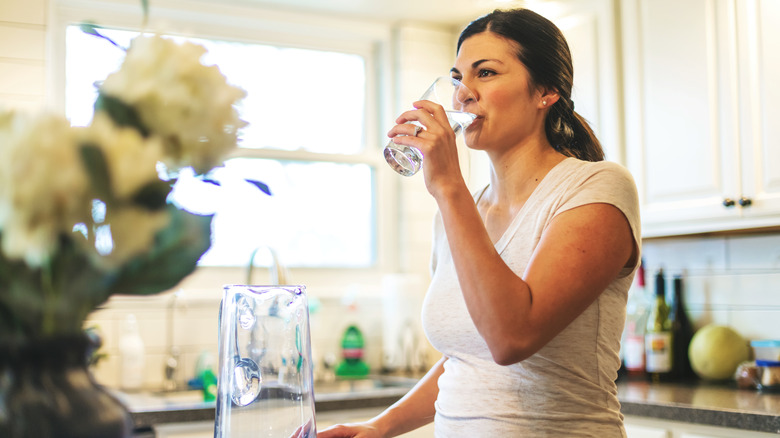 Eyecrave Productions/Getty Images
Consider your skin's health as one of your top priorities in the weeks before your wedding. That may be stressful when you have endless other wedding-related things to worry about, but you'll thank yourself when you have a flawless canvas upon which to apply your wedding makeup!
Staying hydrated is essential to glowing skin, so ensure you're getting your 2.7 liters of water per day (via Mayo Clinic). This will reduce the chance of dry patches on your skin and peeling lips. It's also vital to be sun-smart to avoid sunburn and dehydration. Apply your SPF every morning as part of your skincare routine — even if you're indoors — and reapply every two hours if you're outside or in direct sunlight. Be aware of other environmental factors that can leave an impact on your skin, too. If you're getting married in winter, avoid sitting directly under the heater as much as possible, and counteract that dehydration with extra moisturizer.
Of course, proper nutrition is one of the best ways to guarantee glowing skin, so enjoy a diet that has an abundance of vegetables, fruits, and healthy fats, per Healthline. Among the best foods for skin health are sweet potatoes, broccoli, and sunflower seeds. Antioxidant-rich dark chocolate is another winner that can leave you with more hydrated, less sensitive skin. Nourish your skin from the inside out, and your wedding makeup will look phenomenal.