How To Get Brigitte Bardot's Iconic Hair To Live Your '60s Volume Fantasy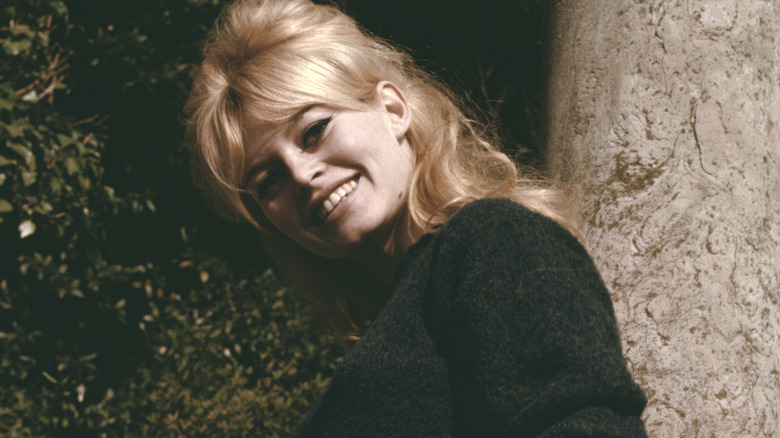 Fox Photos/Getty Images
From the varsity trend to the malt shop bob, this summer is truly the season of retro style. And when it comes to vintage beauty, you can't leave out the iconic Brigitte Bardot hair. Bardot, the French model and performer who became synonymous with '60s fashion, had a fabulous hairstyle that continues to have an influence today.
Bardot hairstyles — voluminous crowns and long bangs — make regular appearances on both the red carpet and in street fashion, and the look is feeling particularly on-trend these days with the popularity of curtain bangs and retro blowouts. If you look at pictures of Bardot and wonder why you can't look like that, think again: Bardot's hair is much more attainable than you might assume. To get the romantic and retro Bardot aesthetic, all you need to do is get the right haircut and then spend some time curling and teasing your hair. Once you achieve enough volume, you can experiment with all kinds of gorgeous Bardot-inspired styles.
Get the Bardot haircut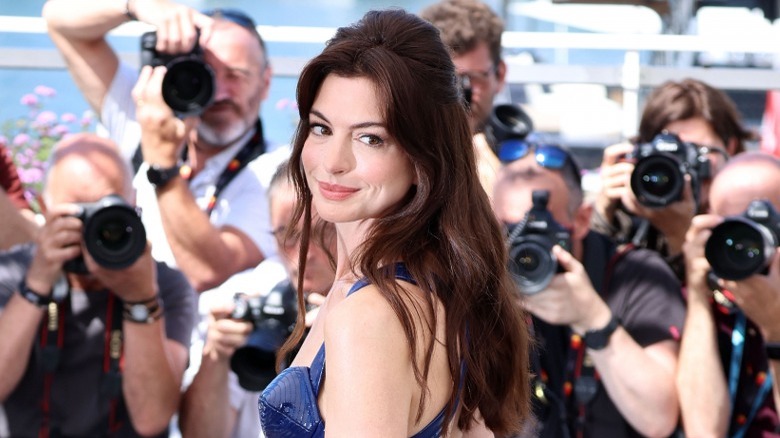 Daniele Venturelli/Getty
If you really want to commit to a Brigitte Bardot vibe, you'll need to get the Bardot haircut. Bardot's iconic haircut is characterized by flowing swoop bangs and long layers that encourage volume. Usually, this style is worn on medium-length or long hair, but if you have short hair, you can get a modified Bardot cut with texturized layers and curtain fringe.
Now, any kind of fringe can feel like a bold move, but the face-framing curtain bangs associated with the Bardot look are easy to style and blend seamlessly into the rest of your length, making them perfect for anyone new to fringe styling. Likewise, the layers for a Bardot cut will help enhance the body and texture of your hair, but they typically get longer in the back of your hair to create a curved silhouette and maintain your hair's density. 
Most stylists will understand what you mean when you ask for a Bardot look, but if you're having trouble, just ask for curtain bangs and long layers. And if you have a passion for DIY haircuts, you can check out this TikTok tutorial from stylist Caroline Stahl, who goes through all the technical steps of how to do a Bardot haircut.
Prep your hair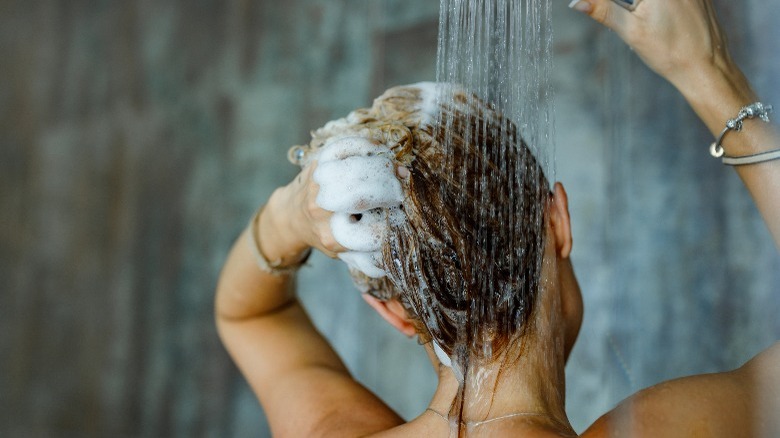 Skynesher/Getty
If you want a good hairstyle that can last you several days, always start with properly cleaned and prepped hair. For a voluminous Brigitte Bardot hairstyle, that means thoroughly shampooing your roots. Oil and grease weigh your roots down and diminish volume, but if you use a volumizing shampoo, you can clean that gunk out and give your roots a helpful boost.
Aside from a nice volumizing shampoo, you should also apply a generous amount of conditioner to your hair. Most strategies for getting a Bardot-esque look involve heat styling, so your hair will benefit from the extra nourishment and protection of a moisturizing conditioner. Focus on the ends of your hair, as this is where you're most likely to get breakage and split ends. If you have particularly fragile strands, you should also consider using a protein-rich hair mask after washing your hair. This will help strengthen your hair before going in with all those styling products and heat tools.
Use volumizing products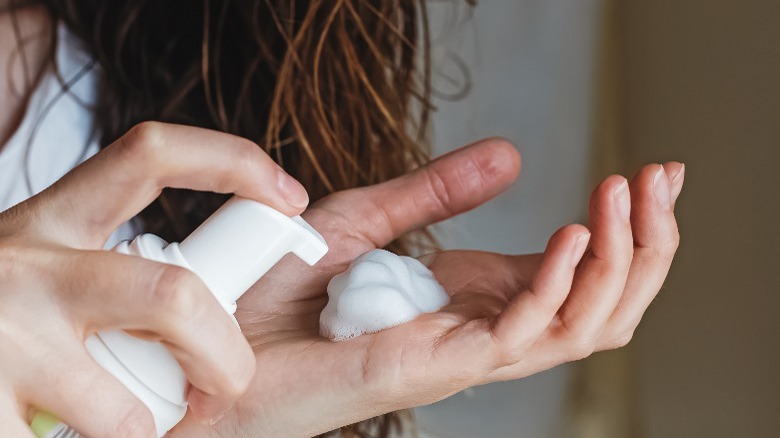 Chiociolla/Shutterstock
Once you have clean, damp hair, you're ready to begin the styling process. Brigitte Bardot's hair is all about volume, and that means it's time to turn to that classic foamy product: mousse. Mousse is fun to play with in your hands, but it's also a reliable way to get big volume with a decent hold. Apply some mousse to your roots for extra bounce, and distribute the rest down to the ends of your hair. If you have a natural wave or curl to your hair, you can scrunch the mousse in to encourage some more texture to develop.
While mousse is your best choice for a big hair moment, it can also leave a sticky feeling in your hair that's undesirable for some people. If mousse is a dealbreaker, you can experiment with a curl cream or even a salt spray. These products won't give you the same level of lift as a mousse, but they will play up the texture in your hair and contribute a bit more volume, all while leaving your hair softer and more manipulable than a mousse would.
Aim for big, bouncy volume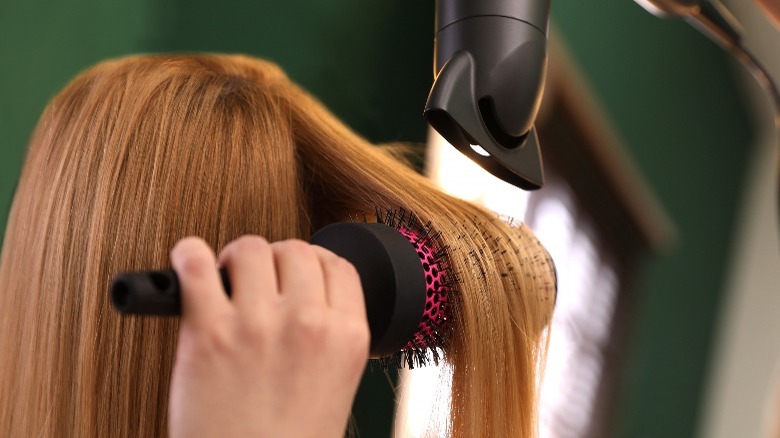 New Africa/Shutterstock
After you've applied styling products to your wet hair, it's time to dry it. For a Bardot style, you'll want to give your hair some big, bouncy volume and curls. Generally, there are two ways you can go about getting the high-volume glamour you need for Bardot hair. The first is to give yourself a blowout. Dry your hair section by section with a blow dryer, using a round brush to smooth your hair and twist the ends for a curved, loose curl result. If you opt for this method, be sure to apply a heat protectant to your hair first, as the blowout process involves prolonged exposure to high heat. When you're done blow drying, you may want to put your bangs into a Velcro curling roller to maintain some extra volume while you style the rest of your hair.
If you don't want the heat damage of a full blowout, or you want a more traditional retro look, try out Velcro rollers instead. An old-school Velcro roller set should do the trick to get you gorgeous volume and texture. All you have to do is put the curling rollers into damp hair that's been prepped with mousse, and wait for it to dry. Use the largest roller size to get the most volume, and remember to wait until your hair is fully dry before removing all the rollers.
Remember to tease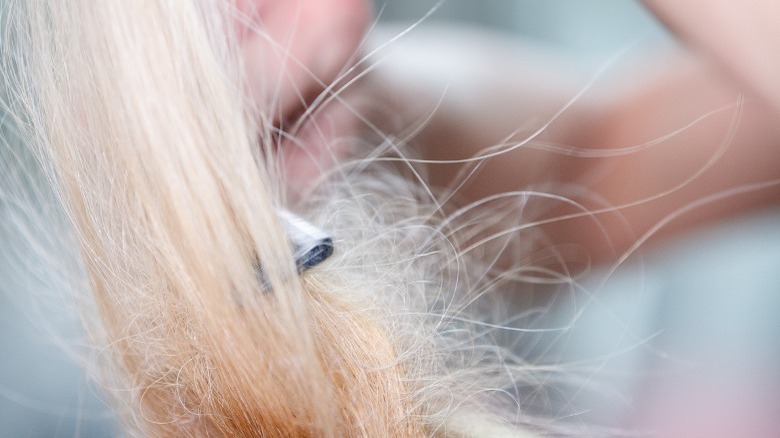 Zoranm/Getty
Much of the volume from a Brigitte Bardot hairstyle comes from the drying process, but your post-drying styling techniques will make a big difference, as well. If you want that authentic '60s look, you'll need to tease your hair. Folks who are inexperienced with retro hairstyles may be weary of teasing, but never fear, teasing your hair is super easy and effective for getting big volume.
To tease your hair, all you need is a fine-toothed teasing comb. You'll recognize a teasing comb by its "tail," a thin handle that you can use for parting and manipulating your hair. Bardot's hairstyle has a lot of volume at the crown of the head, so this is where you should focus your teasing. Take a small section at the crown and begin combing the hair towards the root. To avoid getting your hair tangled or matted, start by only backcombing an inch away from the roots, and slowly work your way outward until you're backcombing several inches from the root. As you are teasing, take pauses to see how much volume you've created — a little bit of teasing can go a long way. When you have enough height at the crown, use your comb to smooth out the front, and secure the shape with a light spritz of hairspray.
Choose your hairstyle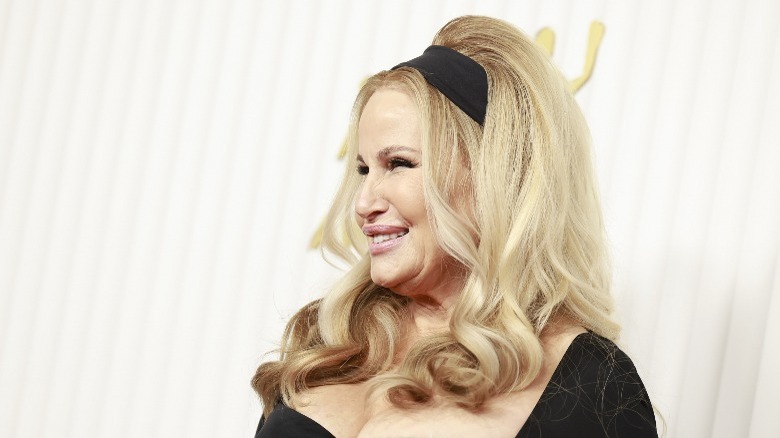 Emma Mcintyre/Getty
When going for the Brigitte Bardot aesthetic, you actually have lots of hairstyle options to choose from. The swooped bangs and volume at the crown are the key features of the Bardot look, but there are several '60s-inspired hairstyles that you can incorporate those elements into.
One option is an upscale updo, such as a French twist or chignon. Pin your hair in place at the crown and play around with twisting and pinning the rest of your hair into a cute, slightly messy updo. You can do a variation of this look with a half-up chignon or twist, as well. For an extremely '60s vibe, try out a bouffant. To get this iconic round style, tease the sides of your hair as well as the crown. Then, put your hair in a low ponytail and roll it upwards, pinning it at the base of your neck.
If a fancy updo isn't your style, you can also sport a simple Bardot-inspired high ponytail or half pony. And if you just want to wear your hair down, a cute scarf headband can help emphasize the voluminous style without requiring a lot of fuss. The Bardot look is ultra-versatile, so you can make this haircut and style work for virtually any mood or occasion.
Mind the details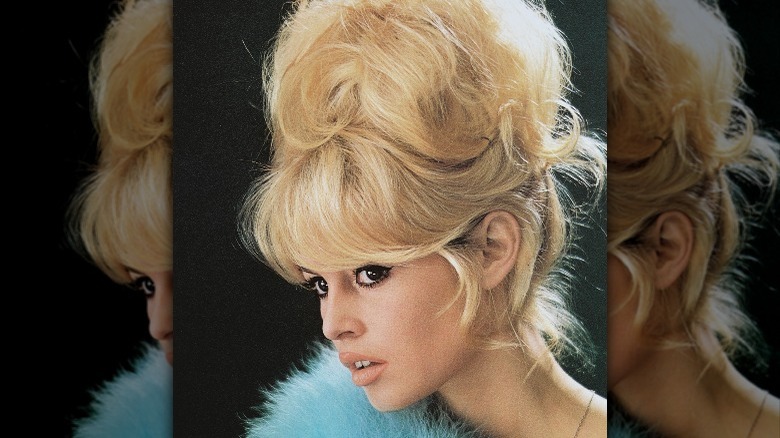 Silver Screen Collection/Getty
If you really want your Bardot hairstyle to feel like a '60s throwback, you'll need to pay attention to the details. For your hair, don't be afraid to play around with the shape, teasing your hair and manipulating hair pins to get that rounded '60s shape and pulling out loose tendrils to soften the style. Hair accessories can make a big difference, as well. Aim for wide headbands, feminine bows, and pops of bright color.
Your makeup and jewelry will also help to complete the '60s Bardot look. To mimic Brigitte Bardot's makeup style, wear dark eyeshadow and eyeliner around the eyes, and go for a pale pink on the lips. If you want to elevate the ensemble, incorporate a nice pair of earrings, either simple hoops or a chunky '60s mod style.
If you prefer to have a more modern take on the Bardot hairstyle, be more minimal with your hair teasing, and pull in some '90s and early aughts influences, such as styling a baby part or trimming your curtain bangs into a skinny fringe. And if you want an updo that feels a little less formal, swapping out the hair pins for a claw clip will give you an effortlessly messy look.
Maintaining the look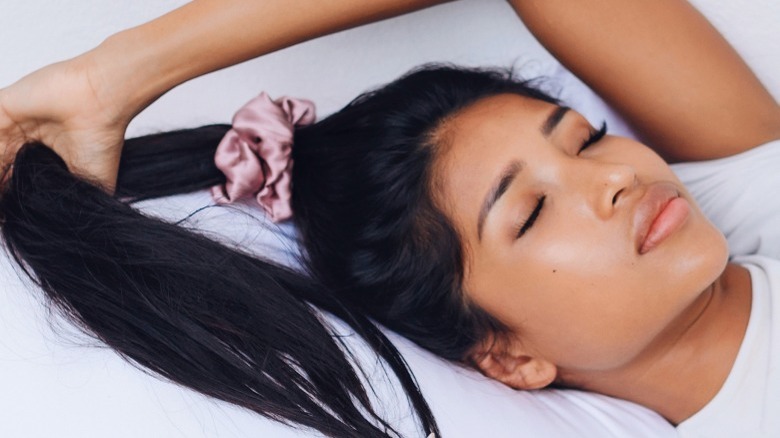 StockFamily/Shutterstock
Getting your perfect Brigitte Bardot hairstyle takes some effort, so there's no reason to completely undo the look after one day. You can keep your voluminous texture for several days with a few simple hair care habits. When you go to sleep at night, put your hair up in a satin scrunchie, being careful not to disrupt the teased section at the front of your head. You can give your hair extra overnight protection with a satin scarf and pillowcase, as well. 
In the mornings, refresh your Bardot hairstyle with a texturizing spray and a gentle smooth-over with a comb. You may also need to revive the volume at your roots with a dry shampoo. If you want to stretch your hairstyle an extra day but your hair is looking a little tired, opt for a Bardot-inspired updo, such as a chignon, bouffant, or ponytail.
For long-term maintenance, protect your Bardot haircut from heat damage by always using a heat protectant and limiting your heat styling to once a week. If you find that your hair is starting to look worn out and frizzy, swap out your blow dryer for curlers and incorporate protein treatments into your shower routine. Taking care of a classic '60s Bardot hairstyle requires more work than a modern style, but with a little extra attention, your hair will be both healthy and fabulous.