Pulling Off Electric Orange Blush Is Easier Than You Thought
These days, bright orange blush has taken center stage in the beauty world. Gone are the days when we'd opt only for muted pink tones for that cheek glow. Folks aren't afraid to venture out for bolder colors such as orange, and you shouldn't either! The new trend is, in fact, catching up quite quickly. Even celebrities such as Ginnifer Goodwin, Khloe Kardashian, and Emma Stone have been spotted rocking the trend. So, take this as your sign to invest in orange blush for a brand-new look.
We guarantee it looks great and makes a statement. Especially for warmer skin tones, orange can give you a warm, ethereal, sun-kissed glow. However, it must be done just right. With a color like orange, it's easy to go overboard and have it look bolder than expected. If executed correctly, however, your makeup game is about to get an upgrade like no other.
Picking the right shade
The first step to achieving the perfect orange blush look is to make sure you've picked the right shade of blush. For example, if you have a darker skin tone, opt for a brighter, bolder shade of orange for the perfect pop of color. Also, orange blush works best on warmer skin tones. If you have extremely cool-toned skin, you might want to stay away from this trend unless you don't mind a bolder, edgier look that might not appear as natural.
The halo effect
There is no one way to apply blush. For example, try creating a halo effect with your orange blush by placing it on your face from your temples to the top of your cheeks in a "C" shape to give yourself that perfect sun-kissed glow. You can pack the product on, layering for a bolder style, or keep it to a couple of layers for a softer, more muted look.
Apply the W technique
Another technique to try with golden blush is the "W" technique. This straightforward technique involves applying the product across your cheeks and nose in a "W" shape. Go from the top of your cheekbones, close to your temples, to the apples of your cheeks and then to the bridge of your nose. The orange shade is perfect for mimicking a light suntan with this genius approach.
Create contrast
Don't be afraid to try a fun look with lots of color to complement your orange blush. We recommend a pop of green or blue on your eyes for contrast. The complementary colors can make you appear more youthful, and a vibrant makeup look like this is guaranteed to have you looking and feeling great.
Monochrome orange
Another interesting way to complement your orange blush is with a monochrome orange look consisting of bronze, orange-toned eyes. This look is especially ideal for the summer months, giving you that sun-kissed glow without having to go on vacation to achieve it. However, this does not mean it won't work for the rest of the year. Try it out and have fun with it to find out how best to cater it to your needs.
Draw some freckles
Another trend growing in popularity is the faux freckle trend. Use a light brown eyeliner pencil to dot little freckles on your cheeks and nose to complement your orange blush. Make sure you go at it with a light hand to keep your freckles looking as natural as you can. The result will be an effortlessly summery makeup look.
Pink and orange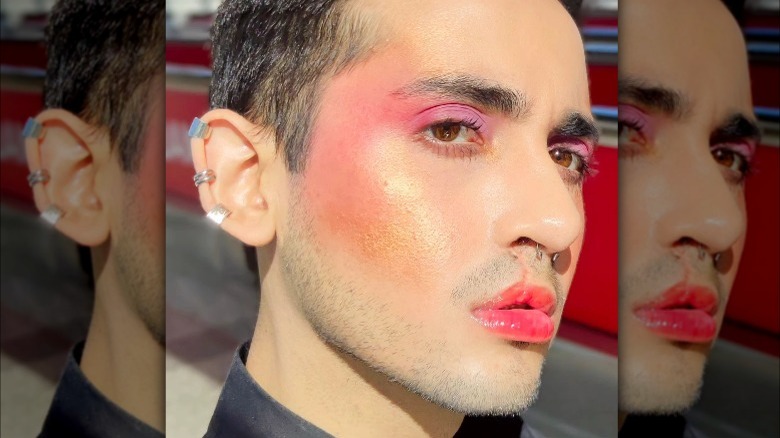 Orbon Alija/Getty Images
Pink shades are guaranteed to look great paired with orange blush. You can opt for a muted pink lip, pink-based eye, or both! Pink and orange are a match made in heaven, and this color combination is ideal for everyday wear. It's also not too bold — unless you want it to be, making it perfect for dressing either up or down.
Which formula?
Lastly, you're going to want to pick a blush formula you enjoy. Blush products now come in a range of consistencies and formulas, including powder and cream. Powder blush is great if you want a bolder look since you're able to pack on the product and make your cheeks as colorful as you like. On the other hand, cream-based blush is ideal for a more natural look and is both easy to apply and mess-free.