Using Concealer For Warmer Undertones Can Give You An Effortless Summer Glow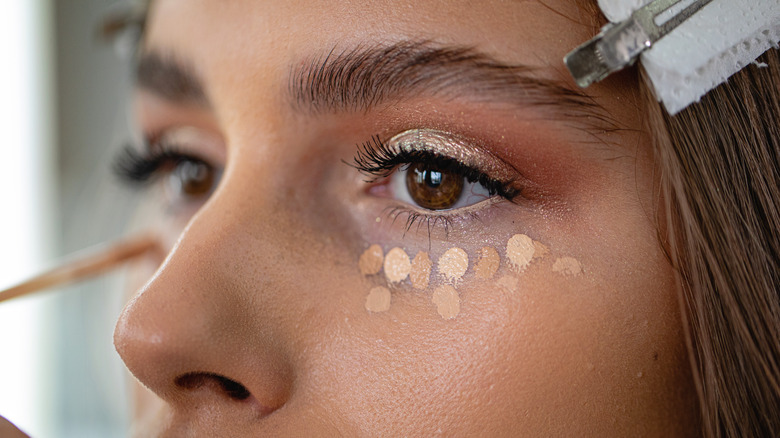 Fluxfactory/Getty Images
Concealer is probably one of the most useful makeup tools to have for the summer. There are so many ways to wear it to create the look that you want, from sculpted and lifted to barely-there with minimal products. With constant innovation, makeup artists and novices alike are finding new ways to wear their concealer every day, and this hack might be one of the best for the summer.
The next time you go to pick up a new concealer, consider switching things up a bit. Instead of getting the normal color, makeup artists are now recommending that we pick up our favorite concealer with a warmer undertone. While this might sound scary (because no one wants to look orange), this is the perfect concealer hack for warm weather. Sometimes, choosing the right concealer shade for you is about making an informed choice to complement your skin tone rather than matching it. Within minutes of applying, expect to have a beautiful sun-kissed look with very low effort.
Applying warm undertone concealer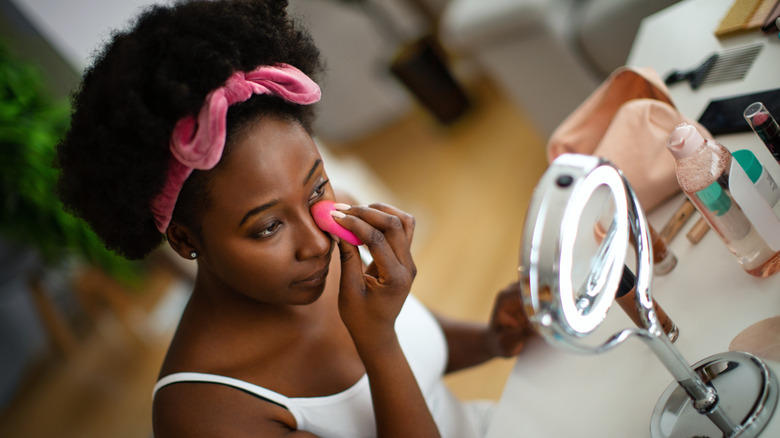 Aja Koska/Getty Images
In the summer, you might notice that your skin tends to take on a warmer complexion, especially when you start to tan. Naturally, it makes sense to switch up your product shades to reflect this change, and that of course includes your concealer. "In the summer, if you want to have a really subtle sun-kissed effect to the skin, going warmer with your concealer will add that warm glow," makeup artist Shain Kish explained to Refinery29. You will notice that when you switch the concealer, you will suddenly get a glowing look that makes you look like you've spent days at the beach (without the long-term damage!). 
It's important to note that you should only go a single tone darker. If you apply concealer that is too dark for the skin, it will ruin your under-eye makeup, and give an unnatural appearance to the face. It is always best to shade-match your concealer before leaving the store to avoid any issues when applying.
Concealer tricks for the best results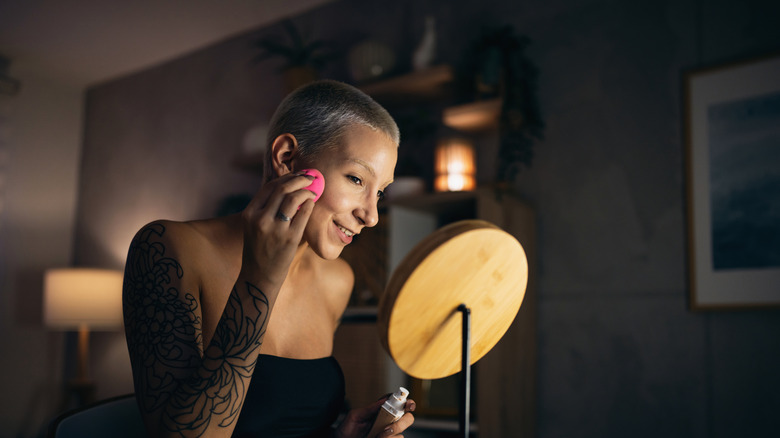 Srdjanpav/Getty Images
While concealer is clearly a staple, whether you're going for your usual shade or something darker, application is key to looking your best. When picking up your new warm-toned concealer, the best option is to let the product sink in before blending. While this might sound strange, there is a strong case for marinating your concealer. According to Gabriel Cosmetics, it's the perfect way to get full coverage from your concealer because it allows the product to become thicker as it dries. To do this, dab the concealer on all of your problem areas and then let it sit for two to three minutes. Once it's dry, take your makeup sponge and blend the concealer out for the perfect look.
Before applying concealer in any shade, the skin always needs to be prepped. This means doing your skincare routine to leave your face hydrated before applying the makeup. This way, the concealer not only adheres to your skin better, but it also holds better so you can maintain your look throughout the day or night.