Tips For Pulling Off A Crochet Dress Without Baring It All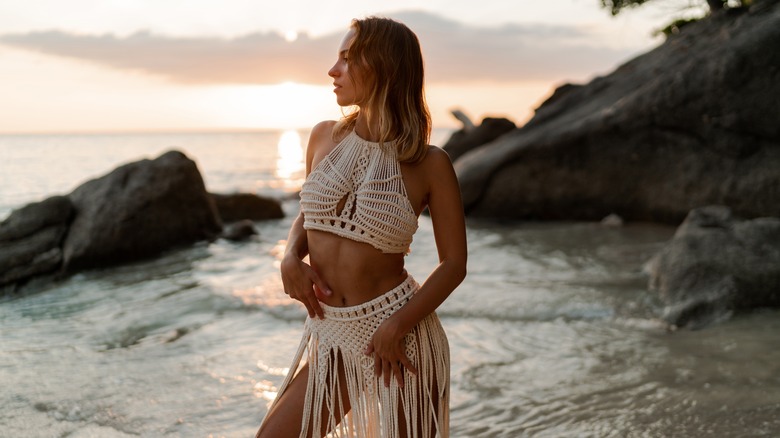 Svitlana Sokolova/Shutterstock
When it's hot outside and you're in no mood to wear anything much at all, a crochet dress is your best friend. Not only is it easy and comfortable to wear, but it's also a fashionable outfit for 2023. Styling yourself in a crochet dress is no longer just a summer thing; it's become a fashion statement. As long as you know how to handle the revealing aspect of the fabric, crochet dresses, skirts, tops, and bralettes (which are just as important to have as bras) can be worn any time of year for any occasion.
The intricacies of the stitching in a crochet dress definitely make it more interesting, but, at the same time, all of those holes are baring skin from all over. So, with a crochet-style dress, you're bound to show a lot of skin. Want to show some skin but also play it safe? Dying to wear a crotchet outfit but want to be modest about it? Well, we've got you covered (pun intended), so follow these tips to pull off a crochet dress without baring it all.
Layer up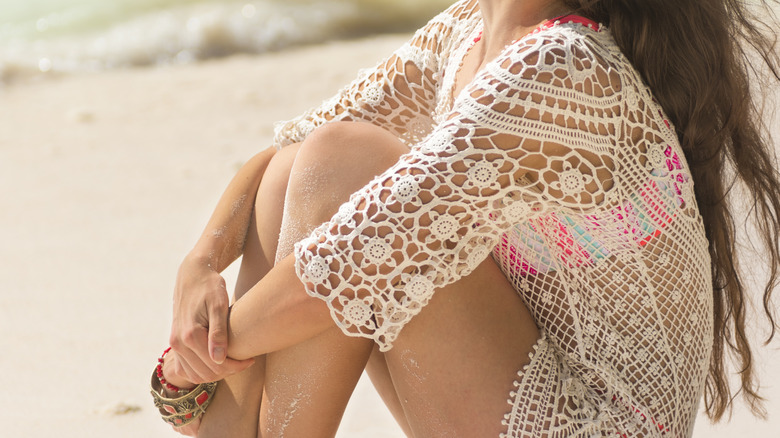 Rocky89/Getty Images
The best and most obvious way to pull off wearing a dress that's full of holes is to wear something underneath it. It's all in the layering. And the fun part about layering is you can be as flexible as you want with it. There are so many options, and you can pick the ones you're most comfortable with.
This is a no-brainer, but wearing a bodysuit underneath is the easiest way to cover up the areas you want. Since bodysuits come in different shapes, colors, forms, and sizes designed to cover various parts of the body, we can pick and choose freely depending on the fit and style of the crochet dress.
Another great option for layering is a bathing suit. Wearing a bathing suit underneath will not only accentuate the beautiful stitching on your crochet but also bring out the cut and style of your bathing suit. Plus, you'll sport the perfect carefree poolside outfit for a sunny summer day.
If you're wearing your crochet dress for a nighttime event, layering it with a slip dress underneath is your best choice. Not only will this highlight the stitching, but it will also make your outfit more elegant and sophisticated. So, depending on the occasion, choose your layers wisely to bring out the best in not only the crochet dress but also your body.
Choose the right underwear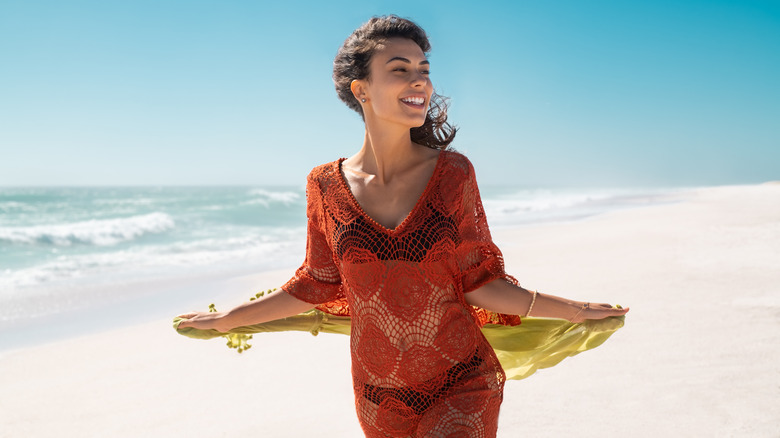 Ground Picture/Shutterstock
The right underwear choice can make all the difference when it comes to looking elegant and modest while wearing a crochet dress.
High-waisted briefs take away the revealing aspect of your crochet dress and put in its place a more retro vibe. In addition to providing the appropriate aesthetic, it also helps keep your tummy in check, unlike a regular pair of low-rise underwear.
To give the top part of your outfit more coverage, a bralette or sports bra is ideal. A bralette enhances the chic, sexy look of a crochet dress, while a sports bra provides you with more comfort and flexibility.
Going for nude-colored underwear works marvels if you don't want other colors interfering with your dress. This comes in handy when you want to cover up in a subtle way. And it's also a great success when wearing underneath tightly-fitting crochet dresses.
Cover up with accessories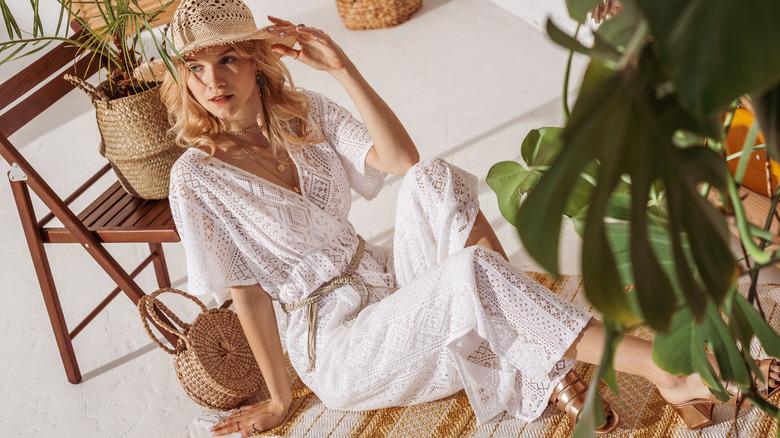 Victoria Chudinova/Shutterstock
The accessories you wear can make or break your outfit. Your crochet dress can go from a casual summer dress to a fancy ballroom gown depending on how you accessorize it. The same rule applies to crochet dresses.
If you want to cover up the upper half of your dress, try styling it with a scarf or a shawl. Make sure the colors of the scarf and dress are not clashing. For those who are not the biggest fans of scarves, especially during the summer, a flashy statement-piece necklace or a simple, trendy hair accessory should do the trick. While the scarf will literally cover you up, the necklace will draw attention to your neck, giving the holes in your dress a free pass.
To cover the bottom half of your dress, go for a chunky belt that accentuates your waist or hips. Choose accessories according to your sense of style and to satisfy your censoring needs.
Go for a complementary fit and length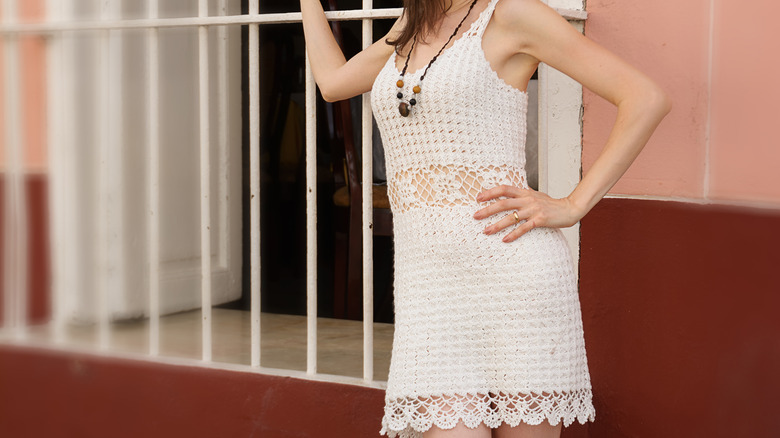 Angelo D'amico/Getty Images
Our outfit should complement our body shape and accentuate our best features. There is actually a correlation between the fit and length of a dress, our body shape, and the level of elegance. Depending on the fit of our crochet dresses, how revealing they are can vary, but your personal preference and body shape also come into the equation and should be regarded along with several other factors.
Loosely-fitted crochet dresses provide more comfort, are far easier to style in a modest manner, and give off a relaxed aesthetic. Tightly-fitted crochet dresses, on the other hand, are worn to show off one's curves and best features. And, instead of a relaxed vibe, they give off a more elegant, sophisticated look.
So, to pull off a crochet dress that looks modest, it's important to find the fit and length that best suits your body shape and features.
Coordinate colors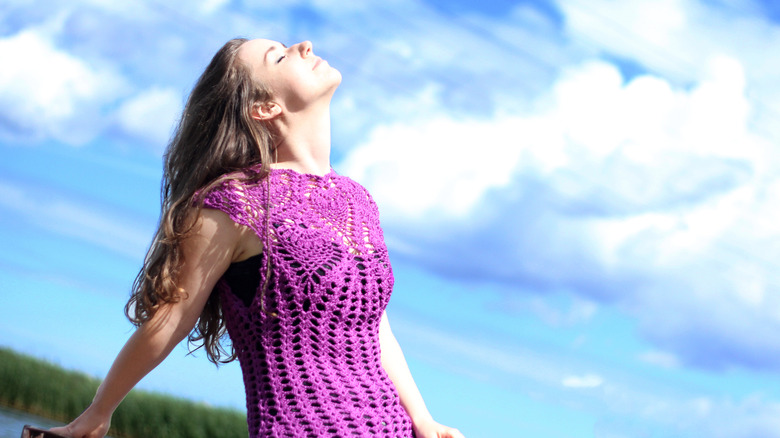 DianaDeluxe/Shutterstock
When pulling off an outfit, matching the colors of every component is an important step you should not ignore. Always try to wear nude or neutral-colored underwear that matches your skin tone, especially if you're styling your crochet piece in a manner that reveals your underwear.
When layering with jackets, shawls, or scarves, make sure the colors complement each other. Feel free to refer to the color wheel or color theory. You can even attempt to find your personal colors. Making sure your outfit looks balanced color-wise is important when presenting a modest, elegant look.
To style your crochet dress without baring it all, you can layer up, wear the right underwear, accessorize, choose your perfect fit, and manipulate colors. So, you can now wear your crochet dress not only to the beach but also to meet your in-laws — you just need to know how to style it right.