Sequins Are Trending: How To Rock Them As Everyday Glam (Without Overdoing It)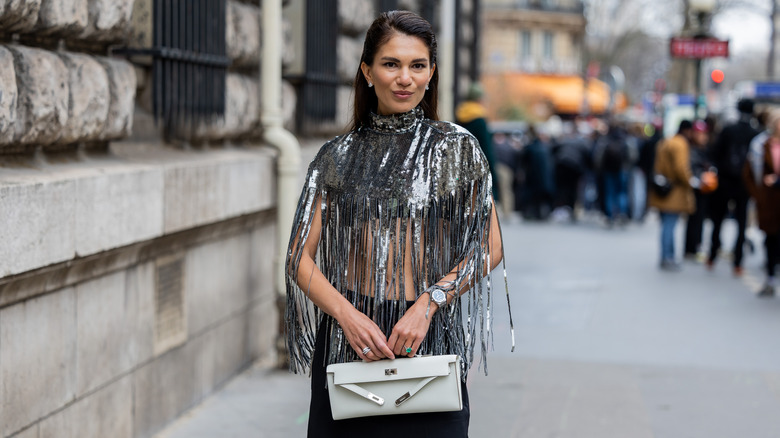 Christian Vierig/Getty Images
Most think of sequins as the go-to embellishment for nights out. Although sequins remain the best way to add shine and sparkle to your outfits, they're no longer reserved for nighttime events. Instead of keeping these glamorous pieces locked up for certain looks, it's time to bring them into your everyday wardrobe. With trends like dopamine dressing creating a new dynamic between clothes and your mood, it's easy to see how bright and uplifting sequins are becoming more of a daily go-to instead of being saved for occasional moments of glam.
Although you can never go wrong with a sequined piece, it can be challenging to turn this into the perfect addition to your daily outfits. Considering sequins are mostly used in party settings, translating this embellishment into the daytime can be overwhelming. Thankfully, there are plenty of ways you can dress down a sequined piece to turn it into your new favorite go-to item. 
Sequined blouse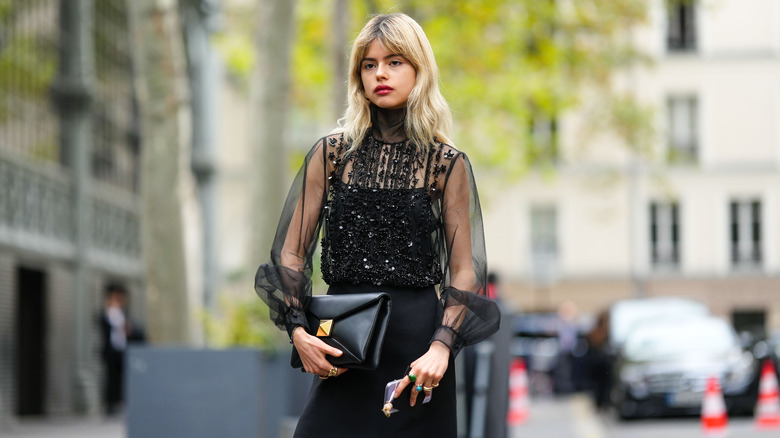 Edward Berthelot/Getty Images
By far the most common way of sporting sequins is through a blouse or top. Not only do sequined blouses come in a variety of designs and colors, but they're also easy to style with jeans or shorts to create a more casual vibe. Typically, you'll see sequined blouses with other fun fabrics like feathers or sheer mesh, which adds a more dressed-up feeling to them. Counteract this with a pair of denim jeans and sneakers for a balanced look that you can take anywhere.
Glimmering pants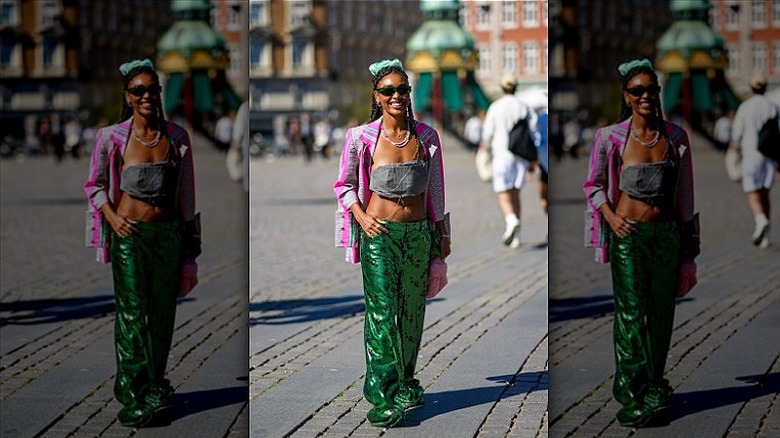 Edward Berthelot/Getty Images
If you're looking to create a more sparkling moment in your day-to-day, look no further than a fun pair of sequined pants. Sequined culottes or wide-leg pants are the perfect way of bringing this fun trend into any season. Pair them with a basic top to create some balance between dressy and casual. Finish it off with sandals, boots, or sneakers and you are ready to lighten up everyone's day.
Sequined boots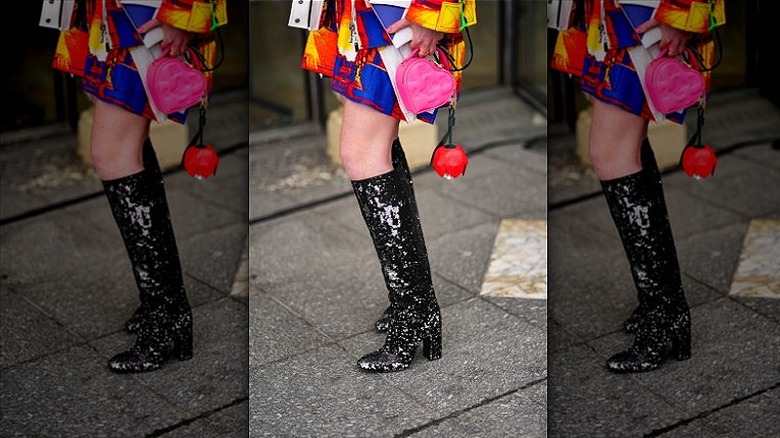 Edward Berthelot/Getty Images
Boots might be seen as the quintessential fall footwear, but they can also shine during other seasons of the year. Whether it's a classic ankle boot or a thigh-high boot, a sequined pair of booties can elevate any casual outfit. Pair it with a denim bottom and your favorite top and you're set for a glamorous day out.
Sparkly dresses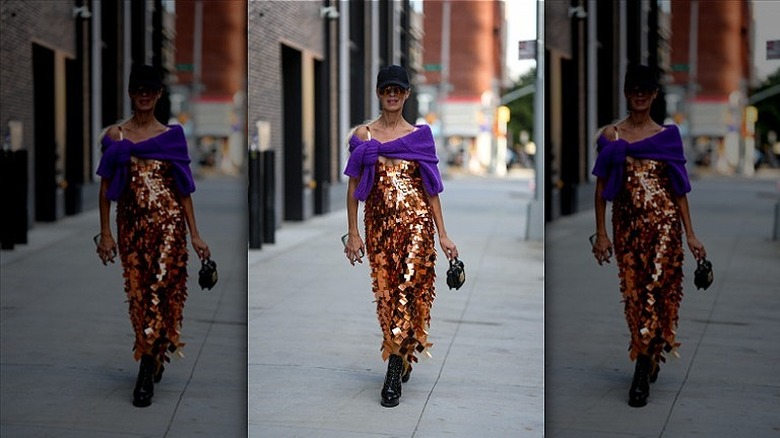 Edward Berthelot/Getty Images
While this is a common item to buy during the winter season, sequined dresses can also be fun and vibrant every other day of the year. Dresses with larger sequins can help give you a retro '70s-inspired style, while still being comfortable for everyday use. You can also opt for form-fitting dresses with smaller and tighter sequins for a chic and almost sheer-inspired look. 
Shiny outerwear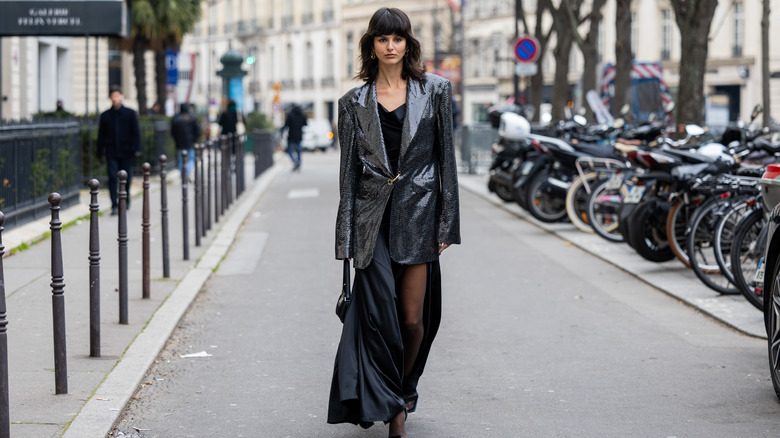 Christian Vierig/Getty Images
If you want a one-off sequined piece that you can easily remove at any point of the day, you can't go wrong with sequined outerwear. Whether it's a sequined vest, jacket, or blazer, these pieces can quickly add a sparkle to your outfit, but you also have the flexibility of removing them if you wish. Sequined blazers can help elevate any minimalist wardrobe and still work with the main pieces of your outfit. As we've seen blazers turn from an officewear staple to a wardrobe must-have, there's no reason why you can't add some sparkle to these classic pieces.
Sequined jumpsuits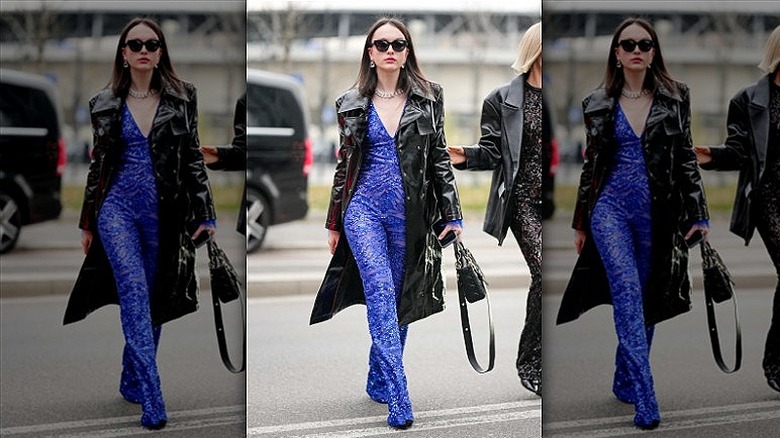 Edward Berthelot/Getty Images
There's always an option for those looking to go above and beyond with their fashion choices. Although sequined jumpsuits may be more challenging to conceal or dress down for the day, they are fun statement pieces that deserve to be worn throughout the year. They can easily be styled with a pair of sneakers or neutral boots for a more casual touch, as well as with a plain outerwear garment like a blazer. Combining neutral and simple accessories with a fun sequined jumpsuit is key in wearing these eye-catching pieces for your day-to-day activities.
Glittery skirt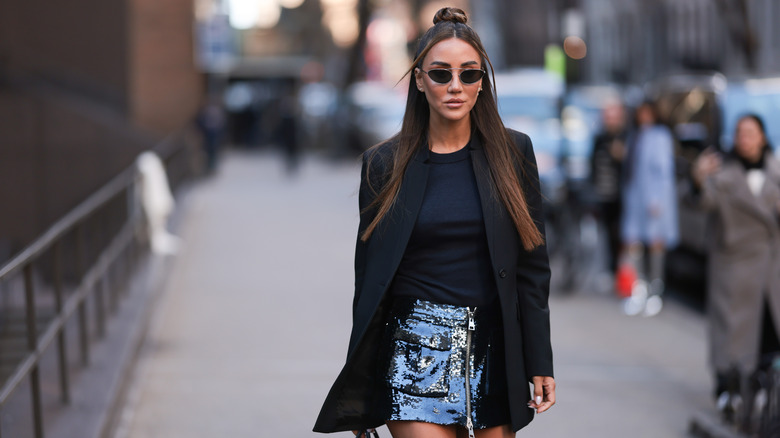 Jeremy Moeller/Getty Images
What better way to bring fun and movement to your daily look than with a sequined skirt? Not only are skirts a great feminine piece, but they're also the perfect item to wear with sequins. If you're looking to spice up your brunch outfits or dressed-up daytime events, opt for a sparkly sequined midi with your favorite plain top. Or if you're leaning towards a miniskirt, throw on your favorite leather jacket for a bit of glam and grunge.
Sequined bags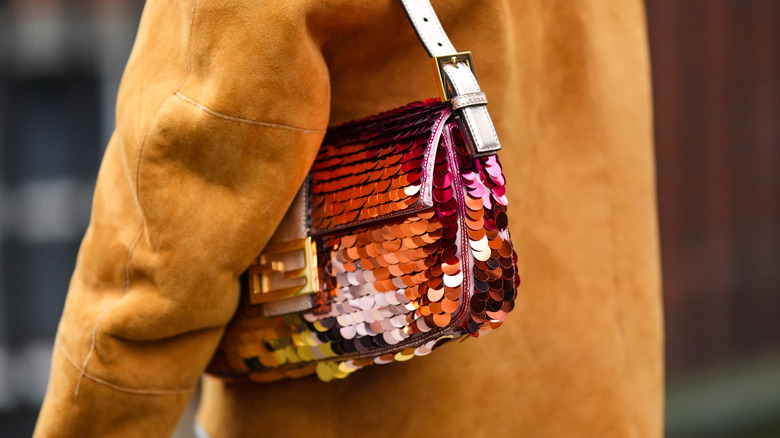 Edward Berthelot/Getty Images
If wearing sequins is too out of your comfort zone, you can always go with bedazzled accessories only. Sequined bags can contain hints of sequins or be fully engulfed in sparkles. Either way, this is a great option for adding a touch of fun to your look without having it take over your outfit.