Why Dancing Shoes Are A Wedding Reception Must (Yes, Even As A Guest)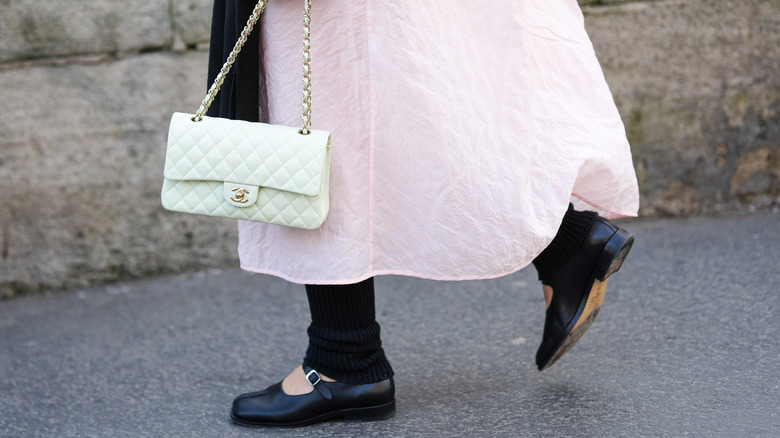 Edward Berthelot/Getty Images
Wedding season is upon us, and many of us who are attending are already making the finishing touches to our outfits. While the goal is to be the best-dressed wedding guest, the problem is clear as day — our shoes. Footwear can make or break an outfit, however often the pair you feel would suit your look the most is usually the worst for your feet. While this may seem like a big conundrum for a wedding guest, the solution is surprisingly simple.
To keep yourself in pleasant spirits all night, it's best to keep a pair of flats in your bag. "While ladies will want to wear a fun pair of heels for the ceremony, it is important to bring another pair of shoes a bit more comfy to dance the night away," explained Heather Balliet of Amorology while talking to Brides. Having this backup might seem trivial at first, but once you spend a few hours at the wedding your feet will definitely thank you.
The perfect flats are a must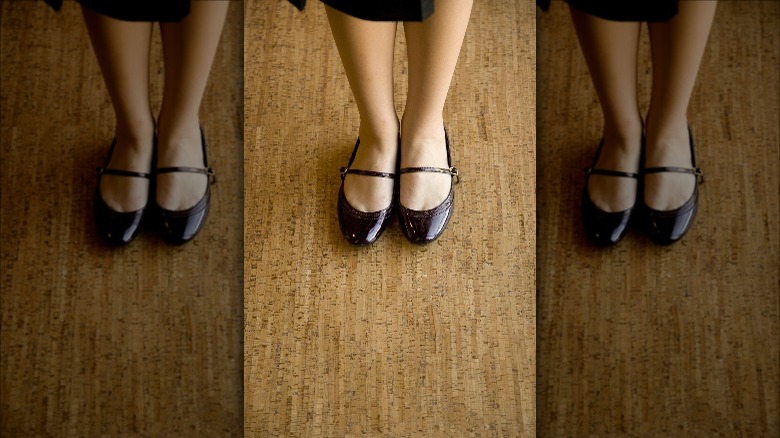 Stevecash/Getty Images
The problems that come with wearing cute, but ill-fitting shoes at a wedding are never worth it. After a few hours, it's common for blisters to occur on the feet, usually due to tight shoes rubbing against your foot. If these blisters aren't treated soon, they can often lead to infections and other ailments that would likely be harder to treat. Not only that, but spending a long time in heels can exasperate pre-existing foot conditions. Foot Health Institute explains that ailments like bunions can get worse when wearing heels like stilettos, or ill-fitting shoes.
We at Glam aren't telling you to throw out all of your heels, but instead pack an extra pair of flats. They can be easily stored in your bag and transitioned into your outfit during the reception. To get the best look, opt for ones that still look formal in order to not disrupt the dress code. You can easily change in the bathroom and get back to your night of dancing and celebrating the festivities.
Options if flats aren't your thing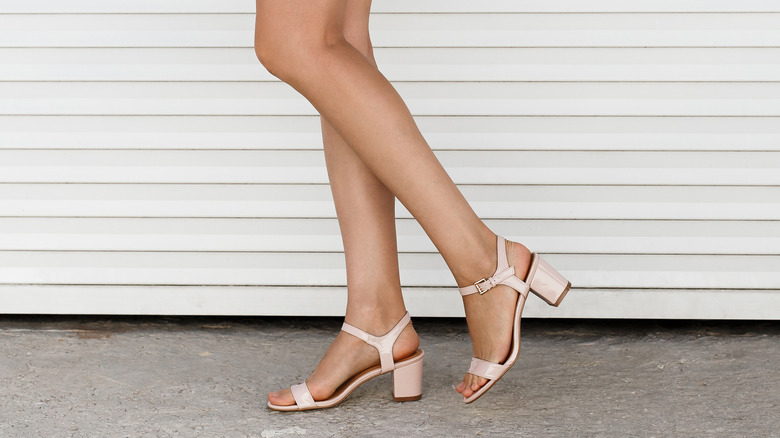 Nesolenaya Alexandra/Shutterstock
If you don't want to bring flats, don't worry, there are still comfortable shoes for you. Consider wearing a chunky platform instead of the high stiletto heels you were thinking of opting for. Thick heels are amazing as the added lift allows your feet to sit in a more natural position than the average high heel. Chunky shoes are a huge footwear trend, so you will surely make a statement wearing your '90s callback heels.
Another option to choose from is simply getting a kitten heel. "With lower and block heels trending, you can surely find something comfortable," wedding expert Kaeleigh Testwuide tells Martha Stewart. "You won't need to carry along a change of shoes, or feel uncomfortable all day long." These options come in many different colors and variations, so you are bound to find the right shoe to go with your ensemble.