In A Reading Rut? 7 Tips To Break Out And Explore More Books
Lechatnoir/Getty Images
Between work and life obligations, it can be difficult to carve out time to curl up with a good book. In an age where both to-do lists and "For You" pages are endless and desperate for our attention, it can be hard to truly lose yourself in a story, especially if you find yourself in a reading rut. 
You've likely experience this phenomenon at some point, even if you didn't know its name. Ruts are so common that the foremost experts on books across the web — from NetGalley to Epic Reads – have tried to help address what Urban Dictionary calls "a reader's worst nightmare." With so much discussion surrounding the topic, it's easy to view reading slumps as complicated and unsolvable issues. 
Fortunately, these problems are fairly simple — at least in origin. Reading ruts are exactly what they sound like: a low point in your reading life where even the most intriguing stories can't seem to capture your attention. Whether you're experiencing a "book hangover" from your last enthralling read or struggling to engage with the hobby after some time away, you might find yourself questioning how you ever enjoyed reading in the first place. Fortunately, ruts don't last forever. Just when you think your reading journey has come to an end, we've got all the tips you need to help kick-start your sequel. 
Know the signs of a reading rut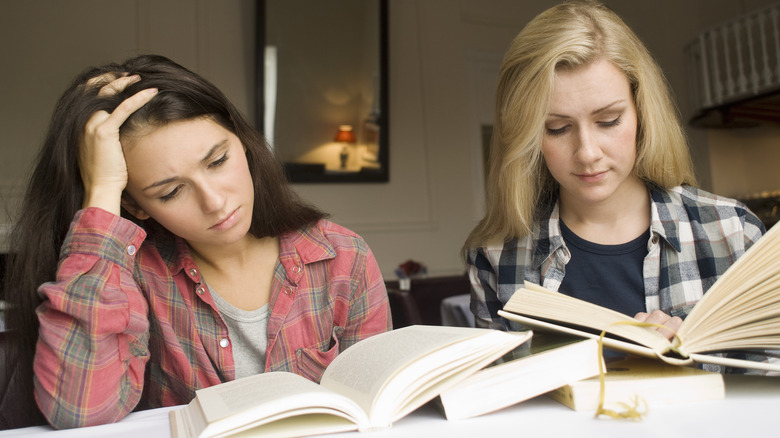 James Darell/Getty Images
It can be easy to beat ourselves up when we're struggling to read. Reading is held up as an intellectual and worthwhile hobby, and when our brains keep pulling us toward Netflix instead, it can be discouraging. First and foremost, you need to remember that reading is not a competition and there's no shame in falling into a slump. The reading experts at Book Riot point out that slumps are often the result of factors outside of your control — be it fatigue or cognitive overload. Readers with dyslexia or ADHD may also become more frequently and quickly drained by the activity. 
Sometimes a rut is your brain taking the reins and steering you towards a break. It's perfectly okay to pull your nose out of a book and smell the roses for a bit instead. Basmo identifies feelings of boredom, distraction, or burnout while reading as signs that you've fallen into a slump. 
It may be worthwhile to honor your slump-y feelings for a while and pour into another hobby. When you're ready to jump back into a good story, however, we have some steps you can take to reignite your reading spark, start reading more, and tackle that to-be-read pile.
Consider a new format or type of story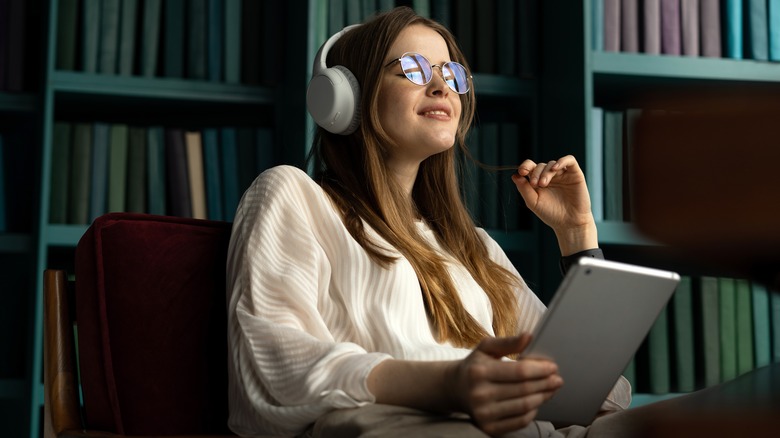 muse studio/Shutterstock
Beyond just finding the right book to read, those hoping to break out of a reading rut should also consider the best format and type of story to take on. If your brain has grown weary of the traditional novel, exploring short story collections, nonfiction essay anthologies, or even a story in verse could help to keep things fresh. 
If you're having a hard time sitting with a book for an extended period, audiobooks can help suck you into a story while you're completing chores or taking on your morning commute. Audiobooks and ebooks are easier to take on the go, so you can dive into a story whenever the reading mood strikes. Apps like Hoopla and Libby allow you to take advantage of your local library's digital collection, meaning that you can explore new formats for no additional charge!
Consuming audiobooks absolutely counts as reading, and this format helps to make reading such a fun and accessible hobby. The auditory aspect of these books also helps to reduce the eye strain that can accompany reading, while still allowing you to take in words, engage with a story's narrator, and activate your imagination. Psychology Today also shares that the intimate listening experience can help distract from negative thoughts that may accompany anxiety or depression, combatting the struggles that may have pulled you away from reading in the first place. 
Find slump-busting book recommendations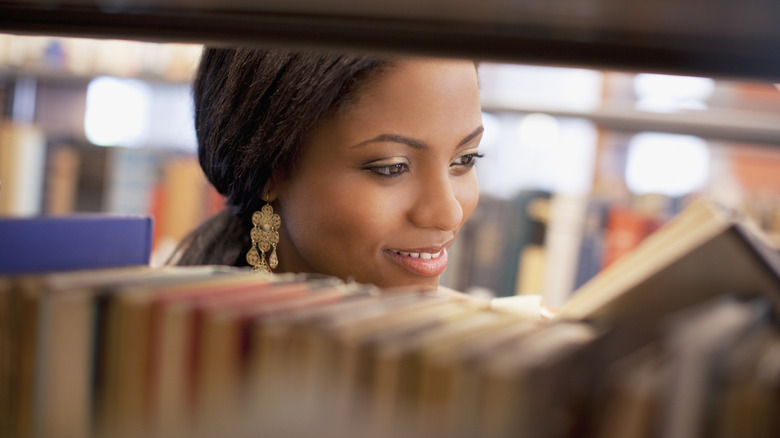 Sam Edwards/Getty Images
Reading slumps are a very common problem among book lovers. Fortunately, communities of readers exist to share their favorite book recommendations and resources for getting back into your groove. Book-cataloging websites like Goodreads have user-generated lists of recommendations, tailored specifically for your mood or problems. If you think the anticipation of a surprise ending could keep you reading, you may want to check out "Books with Most Unexpected Plot Twist." Or, if you'd like to get super specific, there's even a resource titled, "Best books to get out of a reading slump." 
There is also a strong community of bibliophiles to be explored on YouTube. Dubbed "BookTubers," this group of creators dedicates their channels to providing recommendations and sharing books they love. As you might expect, many of them have fallen victim to reading slumps, and are more than happy to help pull you out of one! In just one example, the Fun Fantasy Books channel compiled 17 book recommendations from creators across the platform to help end your slump. Consuming BookTube content in general is a great way to find a virtual community of readers, hear about the latest titles that might pique your interest, and get excited about reading again. 
As you take on your rut, you can never have enough books on hand. If one's not working, put it aside and move to the next! Here are a few more recommendations to build your slump-busting stack. 
Dive into a twisty mystery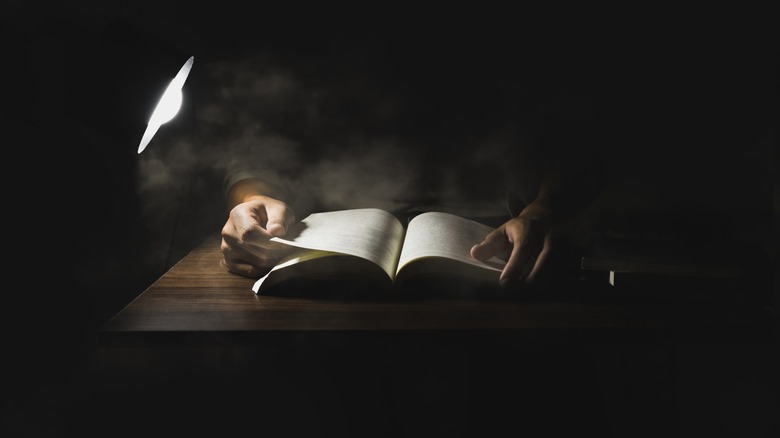 Jirasak JP/Shutterstock
Mysteries and thrillers often get dubbed "page-turners" for a reason. The promise of a pay off and all the pieces finally falling into place can be great motivation to power through a book. When getting to the final chapter is the only way to know if your hunch is correct, your curiosity may overpower your reading slump. 
The familiar structure of mysteries — from crime to clues to confrontation — can also make these books feel like comfort reads ... despite their often spooky topics. Classics, like those by Agatha Christie, or the childhood favorite Nancy Drew series can be quick, punchy adventures that keep you glued to the page and guessing. 
Many modern mystery and thriller stories have also been adapted to the screen. After picking up Gone Girl or The Last Thing He Told Me, you can check out their respective adaptations. Revisiting these stories in a new format could help readers who have been struggling with brain fog or comprehension. Seeing your favorite characters brought to life can help to fill in any gaps that may have been left by your reading experience.
Fall in love with a romance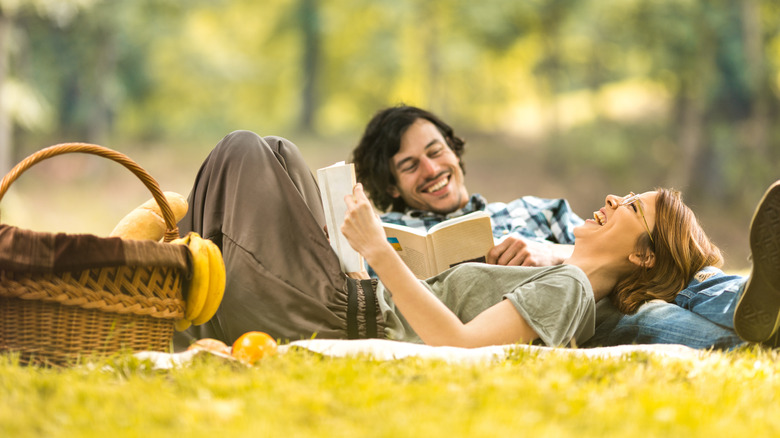 Skynesher/Getty Images
Is anything more tantalizing than the promise of "happily ever after"? There's a reason that romance novels are the highest-earning genre of fiction. They're quick reads and highly addictive. Even if you know that the main characters will end up together in the end, you'll have to read to experience every swoon-worthy moment that makes them fall in love. 
And while the trade paperback, classic romance novel is alive and well, the market has also gotten a lot more diverse. You can find a sweet, relatable love story no matter your sexual preferences (or willingness to be seen with a shirtless male on your book cover). When you find a trope that works for you — whether it's friends-to-lovers, second chances, or affiliations with the mafia — there are endless lists and #BookTok recommendations to keep your bookshelves well-stocked. 
It's a perfect and happy coincidence that reading romance is good for your heart — in more ways than one. These little bites of escapism can help to reduce stress and give new life to your romantic relationships. If you're using the summertime to try to kickstart your reading, romance perfectly suits the sunshine-y weather and serves as the perfect beach read. 
Revisit an old favorite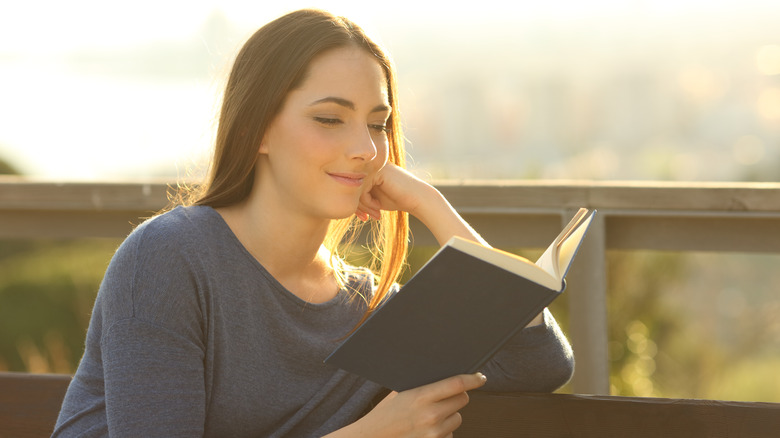 Antonio Guillem/Shutterstock
When your brain has grown tired of keeping up with the latest fantasy series or tackling the classics that so frequently litter "100 Books to Read Before You Die" lists ... it's time to go back to basics. A reading slump can be the excuse you need to reread a childhood favorite. While the "so many books, so little time" mantra may keep you from lingering on one book for too long, the fast-paced simplicity of a book you've already read can help to rest up your brain for new adventures. 
The Artifice also notes that, once a first read helps you understand the basic plot, a rereader can better focus on the nuances and subtle meanings they may have missed the first time around. You may walk away from a reread with a new appreciation for an old favorite and a renewed sense of wonder for the power that stories can hold. 
The books that you deemed favorites as a child were also likely written with a younger audience in mind. This means that the plot and writing style could be more simple, allowing you to fly through the pages and spend time with a less intimidating read. A one-sitting adventure could be the confidence boost you need to return to your fresh TBR. 
Join a book club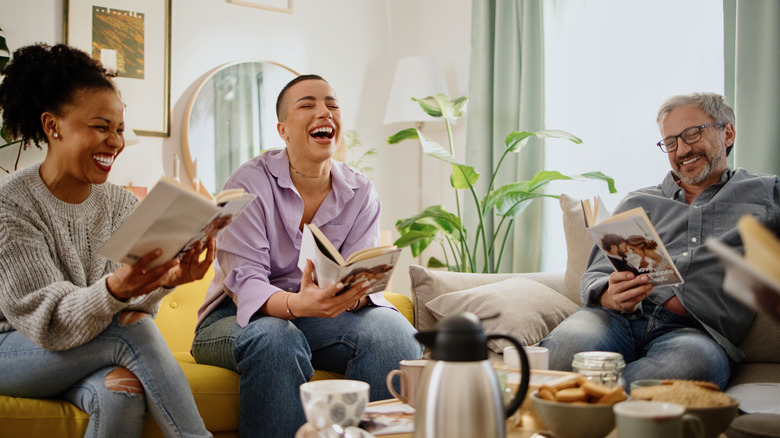 Anchiy/Getty Images
Getting involved with a local or virtual book club could introduce you to new favorites and provide motivation to keep reading. These groups typically assign books with manageable milestones to ensure that you're getting through a story every month. You can start your own with friends or join an online group! The Literally Dead Book Club takes on a new horror or thriller read each month, culminating in a YouTube livestream discussion. 
Some of your favorite celebrities also host book clubs and discussions. While browsing your local bookstore, you might notice cover stickers that advertise endorsements from the likes of Oprah Winfrey, Reese Witherspoon, or Jenna Bush. Each of these A-list reading groups comes with its own online community and discussion groups, which can be a great way to stay motivated and integrate your reading interests with your typically distracting social media feeds. 
If you'd like to start your own group, reaching out to co-workers or friends is a great way to learn who the readers are in your life. Members of the club can take turns pitching and picking the month's books and, as long as you have snacks on hand, the discussions are sure to be great. If you're not interested in a month's pick or find yourself falling into a slump, you can easily honor your feelings and tap out until the next round. Happy reading!