What Makes A Book The Perfect Beach Read?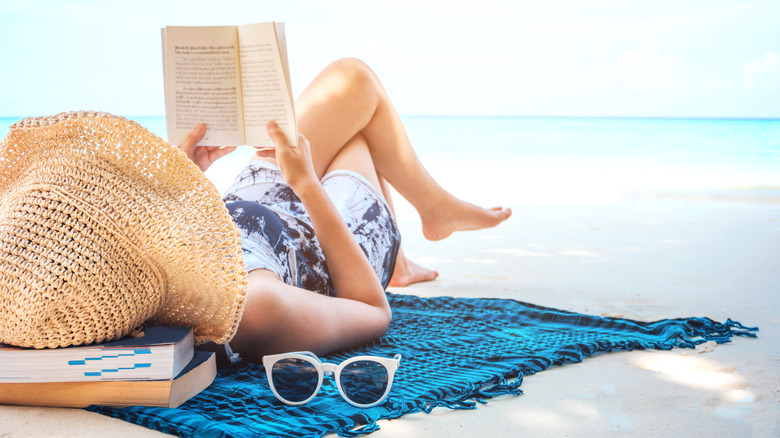 JomNicha/Shutterstock
We may receive a commission on purchases made from links.
The beach read is something most are familiar with and have likely found themselves hastily purchasing in the airport before boarding a flight to a sunny destination. There's just something about a vacation book that sets the mood for leisurely relaxation and a carefree, off-the-clock mindset. Typically devoid of harsh themes or devastating storylines, beach reads are meant to grab your attention — and yet, they don't require too much thinking. Coined in the '90s (via Book Riot), beach reads are pleasing escapes and indulgent fantasies. Some might even call them guilty pleasures or brain candy.
Advertisement
You may have packed yourself a beach read in the past, not realizing it's the type of novel you'd only read on vacation and probably not in a coffee shop. Those books are obviously in a different genre, right? Let's take a closer look at what exactly makes a book the perfect beach read and why it's totally okay to indulge in one on your next beach trip.
Not all beach reads are romances, but they totally can be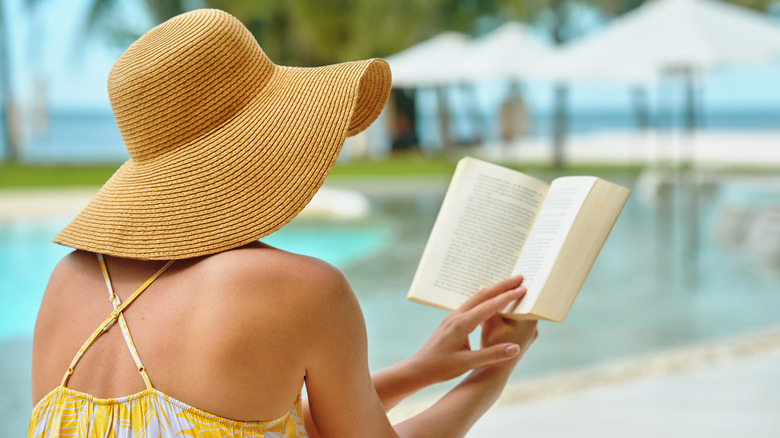 soft_light/Shutterstock
There's some room for interpretation when it comes to concisely defining a beach read (much like the hot girl book trend), and many will associate the term with the summer romance novel. While we don't agree with the vastness of women's interests being condensed to a single, stereotypical genre, we acknowledge that many beach reads are romantic escapes — as they should be. The best beach reads plant you in the midst of something alluring, desirable, and dreamy. This could be a psychological thriller or a whodunit, but it could also very well be a predictable and satisfying love story with a happy ending. A good beach read typically leaves you feeling content and not too heartbroken over a character's turmoil or loss — sort of like watching your favorite rom-com might.
Advertisement
The perfect beach read is easy to digest, but this isn't to say it doesn't also make your heart pound. Essentially, beach reads tend to mirror the readers themselves and their specific tastes, yet they're also an easily identifiable category.
Summery settings are ideal for beach reads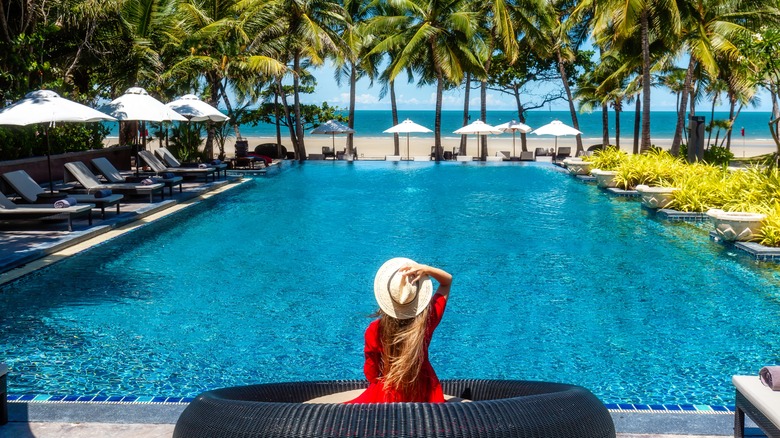 Molishka/Shutterstock
Most will agree that a picturesque seaside setting is ideal for beach reads. We aren't saying you couldn't bring a moody vampire romance to the beach, but saving that for fall weather seems more fitting. Beach reads carry the essence of summertime, and the characters may be on vacation themselves. The relaxing vibes of lounging poolside are what we're after in a beach read, and there's no shortage of novels out there that fit these criteria. You can typically find a collection of recommended beach reads in the spring, with plenty of time to prep your summer reading list.
Advertisement
Quaint coastal towns, pristine sandy beaches, summery nostalgia. This is essentially what makes an ideal backdrop for a beach read. Jasmin Iolani Hakes's "Hula" delves into the traditions and culture of Hawaii through the tales of three generations of women and is sure to satisfy you during your beach reading hours. Chelsea Fagan's "A Perfect Vintage" is another summery story brimming with drama and romance that's sure to please. Don't forget to peruse the year's top beach reads before you hit the shores this summer.