We're Skipping Hot Girl Walks In Favor Of 'Kendall Roy Stomps' (Don't Forget The Sunnies)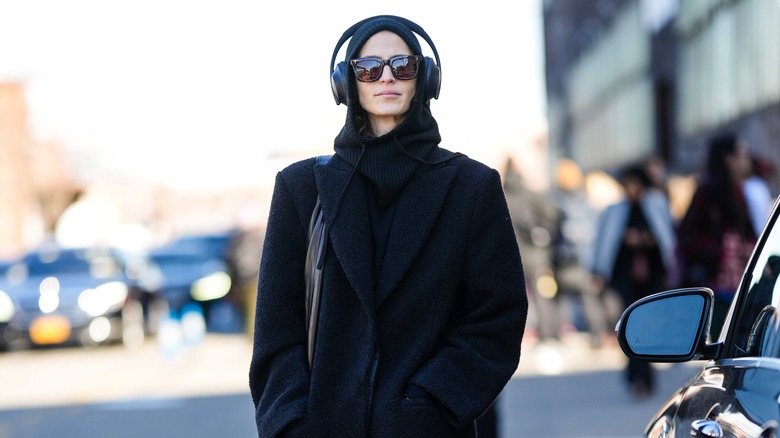 Edward Berthelot/Getty Images
Although TikTok is most frequently consumed while procrastinating and curled up in bed, the app has long been a source of inspiration for watchers to get outside and move their bodies. From the treadmill strut to the shy girl workout, TikTok has proven that there's a workout for everyone. Now, that sentiment has even become true for fictional characters.
Since the finale of HBO's hit show "Succession," viewers have been reliving their favorite show memories in the only way that the internet knows how to: making memes. The Twitter account "No Context Succession," which tweets screen-caps of unhinged lines from the show, has garnered over a quarter million followers. With that much popularity, the show's chaotic characters weren't going to stay contained to the internet for long. In a new wellness trend that pokes fun at one of the lead characters, TikTok users are taking "Kendall Roy stomps" to the streets. 
That's right — hot girls walked so that trust fund babies could stomp. With the right outfit and attitude, you too can swap your boring boardwalk meander for a ball-busting, boardroom strut. 
The new wellness trend is taking over TikTok
Kendall Roy may be cunning and intense but, like the rest of us, he can't help but appreciate a walkable city. The character, portrayed by Jeremy Strong, is showcased throughout the three-season series on many intense prowls throughout New York — stewing over family drama or making his way to an important meeting. Now, fans of the wrapped-up show are keeping the protagonist's memory alive through their own stomps. 
"[E]njoy your hot girl walk," said one TikTok user in a viral video. "i'm on a kendall roy stomp." The video shows the creator sporting a hat and large headphones, power-walking with a purpose through her town. She clearly wasn't the only one who resonated with the moody main character. The topic "my Kendall Roy stomp" has garnered over 3.4 million views on the platform. 
It's really no wonder that the stomps have gained such widespread popularity. While Kendall Roy may have resources far beyond what most of us could imagine, very little is required to partake in this feisty fitness trend. 
Required fashion for stomping outings
If you're ready to master the Kendall Roy persona, grab your mood board and look no further than the Instagram account @KendallRoyLookingSad. The account, which serves as the ultimate memorial to the moody man, also has captured some of Kendall's signature walking accessories — like his large headphones and dark sunglasses. 
One TikTok video also outlined guidelines for creating the perfect Kendall Roy outing: walk at a speedy pace, have your business phone in hand, wear dark sunglasses, and have a chronic RBF. Though she doesn't include them in her list, the creator also sports some chunky headphones, a prerequisite for shutting out the world and focusing on the boardroom. 
Headphones can also help you to set the perfect stomping mood. Fortunately, "Succession" fans have made their way to Spotify to create many options for Kendall Roy stomping soundtracks. In one, aptly titled "kendall roy stomping through the streets of nyc to get somewhere," a user curated over three hours of stomping songs. Although we can't confirm whether or not Kendall was also a fan of Phoebe Bridgers and Gracie Abrams, we fully approve of the sassy, somber moods.