Pantsuits & Bra Tops Are The Proportion-Skewing Trend We Can't Get Enough Of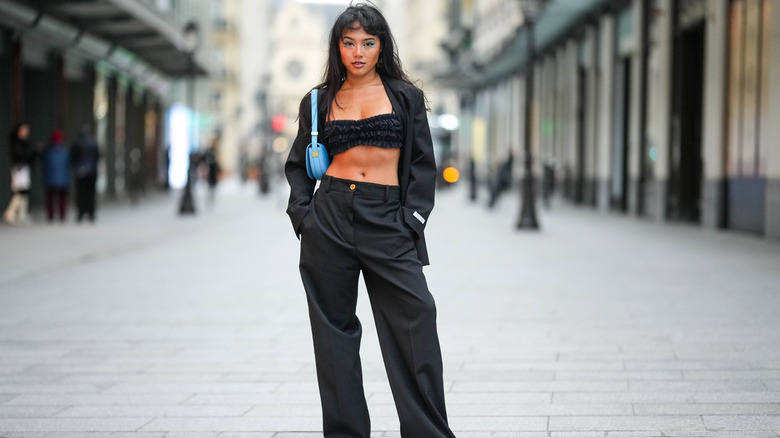 Edward Berthelot/Getty Images
When it comes to planning out your outfits, you always need to consider your proportions. The best looks strike a balance between oversized and form-fitting, rather than leaning too much in one direction. Having an oversized look from head to toe will only swallow up your figure and make you look smaller, while an entirely tight outfit can feel uncomfortable. One outfit combination that gets the best of both worlds involves a workwear piece paired with a much less commonly seen garment.
The bra top and pantsuit outfit combo is typically seen on those going to and from the beach, but it has quickly become a favorite of style influencers and celebrities. Although a bra top might be too revealing for your daily activities, wearing it as part of this look transforms the vibe from barely-there to chic. Whether you wear it in the heat of summer or want to make a statement in the colder weather, this combo is set to be everywhere over the next couple of seasons.
Neutral bra top and pants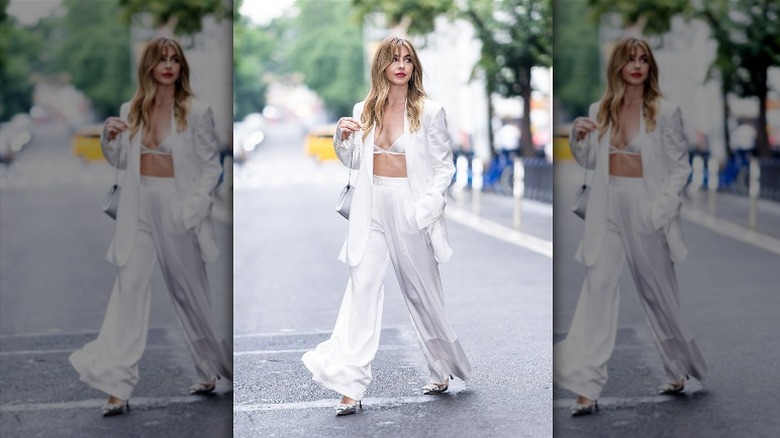 Gotham/Getty Images
Incorporate neutrals into your bra top and pantsuit outfit combination for colors that will keep you cool in the summer. If you're concerned about looking elegant or sophisticated while wearing a more revealing outfit, a neutral shade will automatically elevate your look. You can also add a pop of color to your bra top while keeping the rest of your fit neutral for more contrast.
Vibrant suit with bra top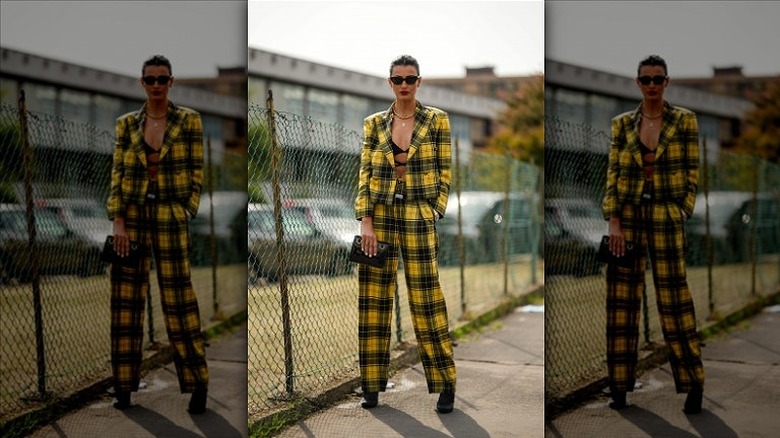 Edward Berthelot/Getty Images
Go fully bold in your look with the help of a vibrant suit in a saturated color or print. Match the color of your bra top with the suit or opt for a neutral shade that will blend in nicely with the suit, which is the stand-out piece. In the end, you'll have a statement bra top and pantsuit outfit that will turn heads.
Cozy bra top and pants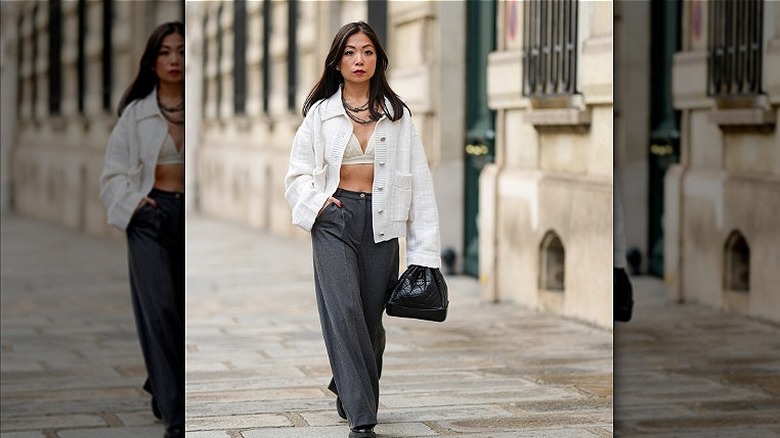 Edward Berthelot/Getty Images
Just because you're wearing a bra top and pantsuit doesn't mean you can't be comfortable as well. Using fabrics like knits on your bra top, rather than the blazer that comes with the suit, can help make you feel more cozy and less constrained, especially when the weather isn't that hot. Adding soft fabrics and textures will also give you more dimension and add interest to your look.
Layer on top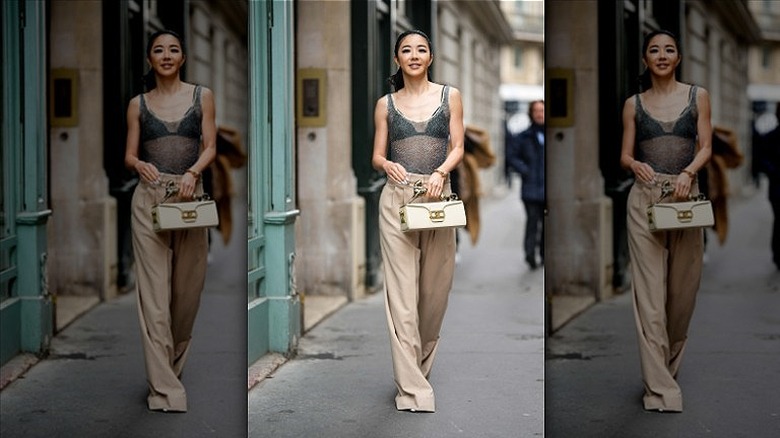 Edward Berthelot/Getty Images
Wearing a bra top can be overwhelming for some. If you're concerned about showing too much, you can always add a layering piece on top that will give you some more coverage. Sheer clothing is currently ruling the fashion world, so this can be your go-to, especially when it's too hot to rock the blazer or suit jacket. 
Bikini bra top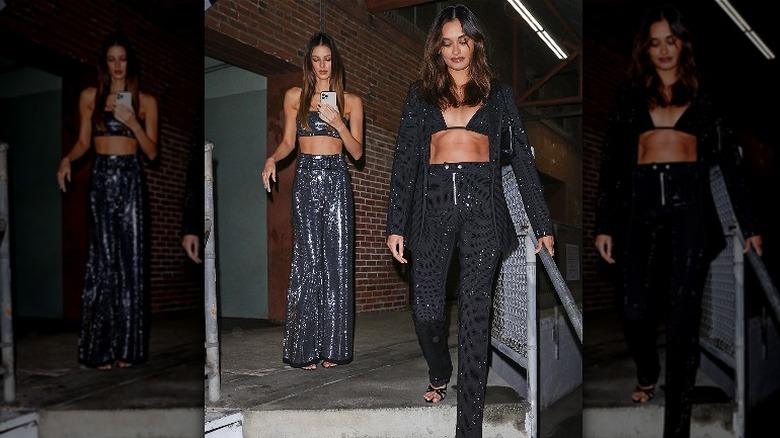 Rachpoot/bauer-griffin
Typically, the pantsuit and bra top outfit can be achieved with a bra or crop top. However, there's no reason why you can't bring in your string bikini top to add some summer vibes to your look. Although this is usually just a vacation staple, a bikini top can pair wonderfully with your favorite lightweight pantsuit to create a chic warm-weather combination.
Workwear bra top and pants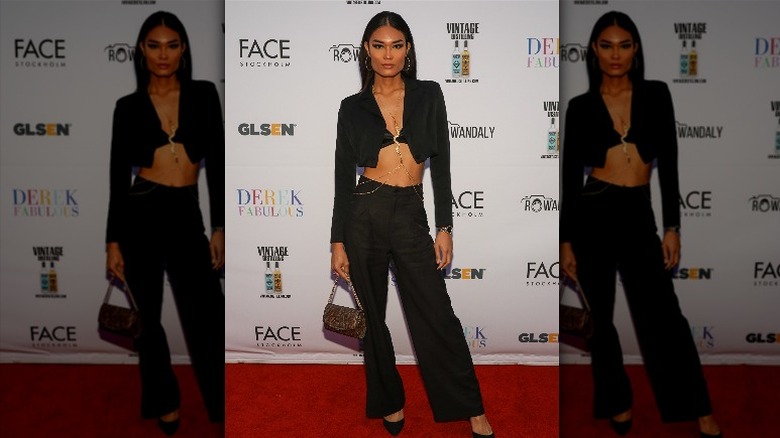 Paul Archuleta/Getty Images
Although this pairing may not be work-appropriate, it takes its inspiration from the office. Wide-leg pants are often must-haves for the corporate world, and in this combination, they serve to bring some elegance into your outfit. Match your work trousers with a cropped blazer to get the ultimate business casual vibes. Underneath, your bra top will fit perfectly in a matching hue or neutral color.