The Blush Hack Jenna Ortega's Makeup Artist Swears By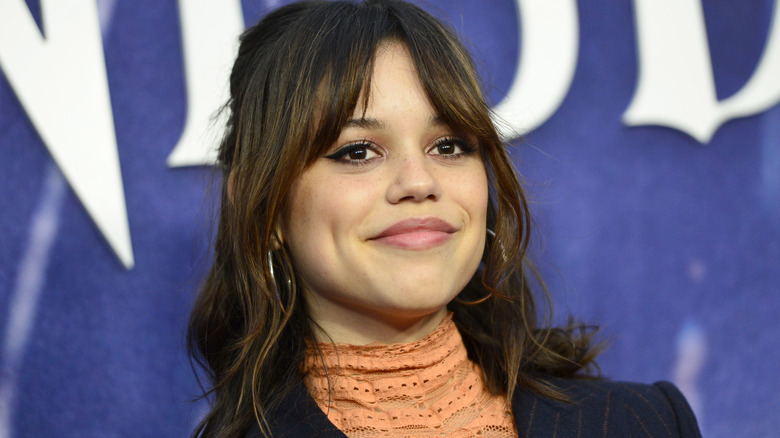 Jerod Harris/Getty Images
Jenna Ortega is topping the trendsetting world right now following her acclaimed performance in Netflix's "Wednesday" as the namesake lead character, Wednesday Addams. While the gothic, black, and dark-hued tonal outfits worn by Wednesday look wickedly woeful, or woefully wicked depending on how Ms. Addams prefers adjectives concerning her wardrobe to be arranged accordingly with her wry webs of wisdom, Jenna Ortega is undeniably a top-tier fashion icon and voguish role model. Just as the character she plays relies on a group of friends to escape their terrifying trials of troublesome torment, a favorite pastime of Wednesday, Jenna has a supportive team beside her, curating her looks on the red carpet, magazine covers, and countless appearances since she rose to the pinnacle of pop culture.
One invaluable member of the star's entourage is her makeup artist, who is nothing less than a genius with a magic makeup case of miraculous hacks. Jenna's MUA guru has previously provided numerous DIY hacks, like how to achieve lionized looks from "Wednesday" at home, but this latest hack for achieving the aesthetic of a naturally rosy glow may be the easiest yet. The ingenious DIY technique relies on just two items, a powdered blush palette, and a blush-specific angled brush, reports Bellatory. Through a simple tapping technique, the blush granules are spread evenly through the brush's thick bristles, which produces a smooth synthesization between pigment and skin when lightly stroked across cheekbones. Here's how you use this hack for the radiantly roseate blush application.
Balance blush by bestowing balance between brush bristles
This is one DIY makeup hack by a professional makeup artist (MUA) that can actually be attempted using items you already own rather than having to purchase new cosmetics for elaborate techniques. According to TikTok user Zahava, who uploaded a video of the ingenious MUA to the A-List star providing a tutorial of the blush application, the trick is all in how you fill the tool with the levigated product. After dabbing the tip of the brush onto the compact of rosy-red powdered blush, the celebrity MUA flips the brush upside down and taps the end of the handle on the flat surface of the countertop for an effortlessly even distribution of blush throughout the entirety of the brush's bristles. 
In the viral video, Ortega's MUA says that the table-tapping technique allows the granulated product to seep into the brush and produce increased pigment on the skin, preventing a percentage of powder from otherwise blowing off the brush. Providing beautifully blended blushing tint with brevity that's certain to hasten your makeup routine and give you a few spare minutes on chaotic mornings, this is one DIY from a professional MUA that needs to be added to your beauty call list ASAP.
Tabletop tapping is a trouble-free technique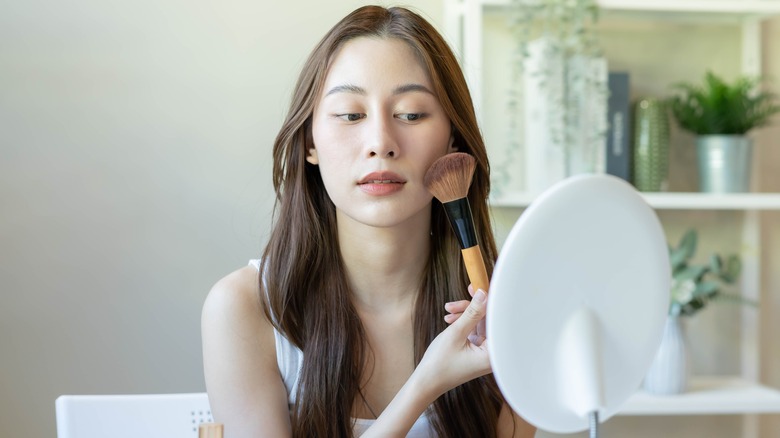 Kmpzzz/Shutterstock
Explaining the undemanding and trouble-free technique, Jenna Ortega's MUA can only be heard exclusively describing the actual method for packing the bristles with brimming product before pristinely distributing roseate pigment across the client's cheekbones, the viral video shows the professional MUA utilizing a slanted makeup brush designed particularly for triturated blush, per Bellatory. Sweeping the sides of the cheeks in upward motions, the pigmented powder evenly spreads from the filled brush for blossoming definition. The trending blush hack blends for a beautifully rose-colored glow, but proper blush brush utilization is often bypassed in beauty discourse, despite being beneficial tools for precisely blending pigment. 
According to Women's Wear Daily, your facial shape coupled with the areas you wish to give a radiantly rosy resemblance will determine which type of blush-specific brush you should invest in. Luckily, it appears as though any full-bodied blush brush will recreate the celebrity-endorsed table-tapping technique for filling the tool with maximum pigmented powder. In the tutorial by Jenna's MUA, the large angled brush is used to sweep shimmery shades of pink across cheekbones, which is what slanted blush tools are meant for. Rounded, thick makeup brushes are crafted for giving the forward-facing apples of your cheeks roseate hues as aesthetically delicious as actual red delicious apples. For added benefit, many brushes marketed for blush can be used for the dual use of applying contour, making the investment in a quality full-bodied brush a win-win. Just remember to tap, tap, tap!