Bridal Makeup Trials Are Non-Negotiable - Here's Why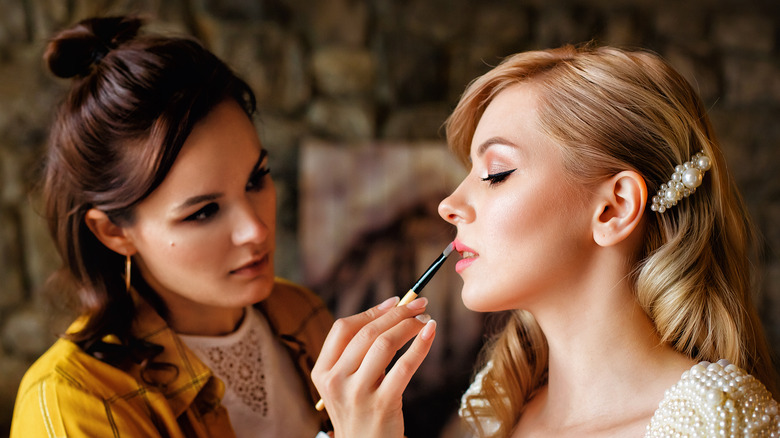 TsElena/Shutterstock
Modern weddings are a complex feat of planning and preparations. Whether you hire a dedicated wedding planner or decide to DIY your way through each step, most guides recommend that you get the ball rolling a full 12 to 18 months before your ceremony date. Look at it this way: The more you can take care of in advance, the fewer items will be crowding your to-do list as the wedding approaches. And your preparations can include a lot more than cake tastings and flower arrangements. Even your makeup look can be decided well in advance, easing the process for both you and your artist.
Among all the wedding day makeup prep you should be doing weeks in advance, one of the most crucial steps is undergoing a test run of the full look. Fortunately, many MUAs are happy to schedule a bridal makeup trial before your big day. In fact, some artists straight-up require a trial to ensure they can meet their own standards and deliver the results you deserve.
A trial run will almost certainly cost you extra, as the artist needs to be compensated for their time and products. As such, some budget-savvy brides may be tempted to skip this step and trust their MUA to get it right on the first try. But is it really worth the gamble? Consider these factors to see why bridal makeup trials are worth their weight in gold.
Trials provide a safe space to explore different options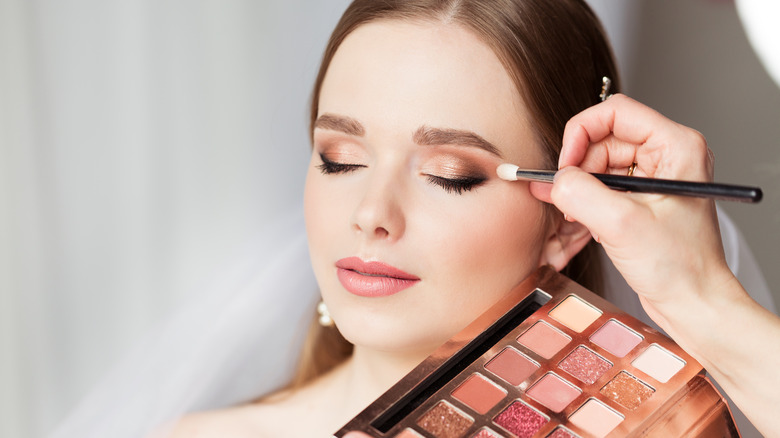 Inarik/Getty Images
If you're the type of bride who has been keeping a detailed wedding binder or Pinterest board for years now, you may already have a firm grasp on the makeup aesthetic you want for your ceremony. But, believe it or not, some people are less certain about the direction to take their wedding day glow-up.
Scheduling a makeup trial is the perfect solution for any lingering indecision. A trial removes the pressure to nail everything the first time and instead provides a space for you and your artist to experiment with different looks. Maybe you have a color palette in mind but aren't sure how you want it applied. Or maybe you're in love with a certain technique, but don't know what shades will play best with your overall bridal look. And what about deciding between mattes? Glosses? Shimmers? Metallics? In your bridal makeup trial, you can take your time and nail down the combo of your dreams.
Of course, you don't have to come to your trial completely blind. It will help your MUA to have a little bit of inspo to start building your makeup plan. But you can also use your bridal makeup trial as a fun chance to test out different details and finishes before settling on a winner.
Makeup trials ensure you're on the same page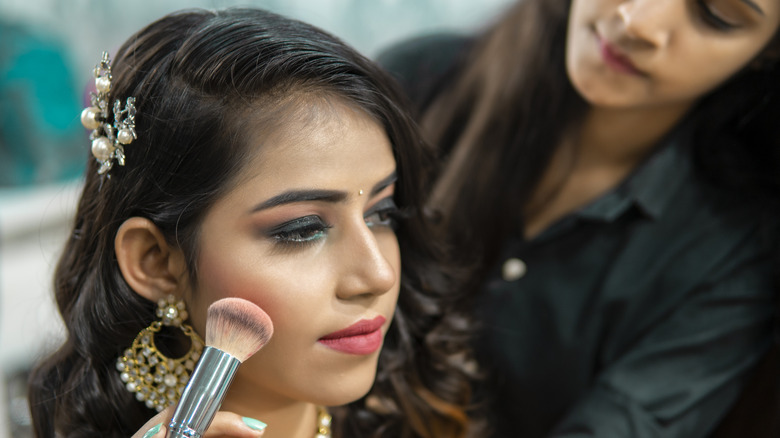 Bhupi/Getty Images
How many times have you gone to get a haircut and walked out with something completely different than you had envisioned? Even if you bring reference photos, you can't always guarantee that the stylist understands what you want until it's too late. The same goes for makeup, which is why it's so important to test out your look before committing to it on your big day.
And this isn't just a matter of things getting lost in translation. Sometimes, a particular bit of aspirational wedding makeup might not be possible due to factors like your complexion or coloring. By the same token, a makeup look you adored on a model might not sit the same way on your facial features, requiring a pivot.
While your artist should be able to offer some expert advice and, if necessary, alternate ideas to create a look that's close to your original vision, that's a lot of pressure to put on them when you're supposed to be walking down the aisle in less than an hour. Instead, it's crucial that you sit down for a makeup trial in advance to ensure that you and your MUA can work together to execute a flawless bridal look when the time comes.
A bridal makeup trial lets you get a feel for the artist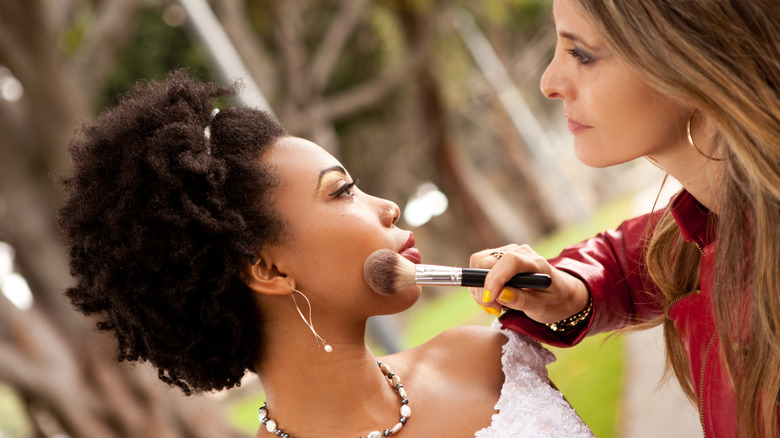 Deborah Kolb/Shutterstock
On top of testing options and ensuring your look will turn out the way you want, bridal makeup trials offer you the chance to do a vibe check on the artist. For one thing, you want to make sure that they're skilled in the particular style you're looking for, and have a familiarity with the products required to get the look. You don't want to request a minimalist, natural effect and walk out with hyper-glam, full-face makeup — or vice versa.
More than that, it also pays to evaluate a MUA's energy and professionalism in person before you meet up for your wedding day makeover. In the run-up to your ceremony, you'll probably be feeling stressed and jittery already, and there's no need to add extra anxiety by realizing at the last minute that you don't mesh well with your makeup artist.
During your bridal makeup trial, try to get a feel for your artist's manner and workflow. Consider elements like their chattiness, organization, punctuality, and level of calm. Someone steady and well-prepared will probably help settle your nerves during wedding prep, while someone scattered might just throw you further into a tizzy.
Also, consider whether small talk will be a blessing or a curse on the day. Some brides will feel further stressed by chatter, while others might appreciate the distraction. So use your makeup trial as a test run of not only the makeup but also your partnership.
A trial run lets you schedule your wedding prep accurately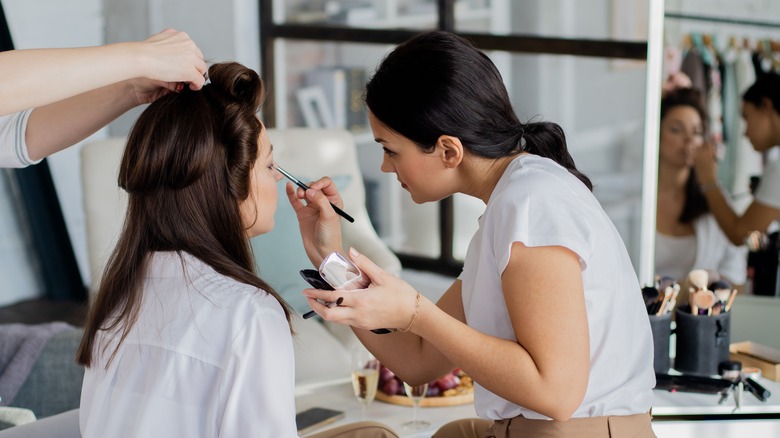 Kostikova Natalia/Shutterstock
Many weddings are all-day celebrations, and you'll probably have a jam-packed schedule from the moment you wake up. From putting the finishing touches on your venue's decor and troubleshooting any technical difficulties with the music to wrangling your officiant and finally putting on your dress, there's a lot to get done. Of course, this includes setting aside time to get your hair and makeup done to perfection.
If you've undergone a trial run for your bridal makeup, you'll have a pretty good idea how long it will take to achieve your look, and can schedule accordingly. Without a makeup trial, you may end up having to guess. At best, this could leave wasted time in your order of events. But at worst, your makeup could take much longer than you expected, and your guests will be left waiting as your entire wedding day starts late.
Regarding prep, a makeup trial run also gives you the opportunity to pick your MUA's brain about anything you should — or shouldn't — do on your wedding day to ensure your makeup looks impeccable. Depending on your complexion and the products you're planning to use, your artist may suggest including or avoiding specific skincare steps like masks, peels, or exfoliation, impacting the shape your schedule will take.
A makeup trial lets you pre-test for any product allergies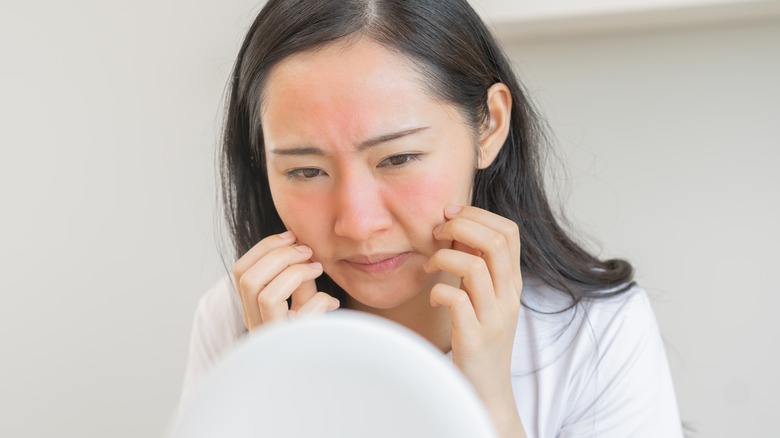 Kmpzzz/Shutterstock
One of the most important benefits of booking a bridal makeup trial is its potential to head off any catastrophes regarding surprise product allergies. On your wedding day, you're going to be the center of attention — not to mention the subject of many photos and videos. Naturally, you'll want to look your best in these keepsake moments. So the last thing you need to contend with is an unexpected rash or, worse, a full-blown medical issue.
Even if you've never had a reaction to skincare or makeup products before, there's no way to be sure that everything in your artist's kit is going to be safe for your precious complexion. At least, not unless you test it, first. By trying out the specific products for your wedding day in a makeup trial, you've got time to handle any adverse reactions and switch products if necessary.
In fact, if you're wondering when you should book your wedding hair and makeup trial, it's recommended that you get it scheduled a full three to six months in advance. This gives your skin plenty of time to heal from any newly discovered makeup allergies, so you look fresh and radiant as you walk down the aisle.
A makeup trial gives you time to source special products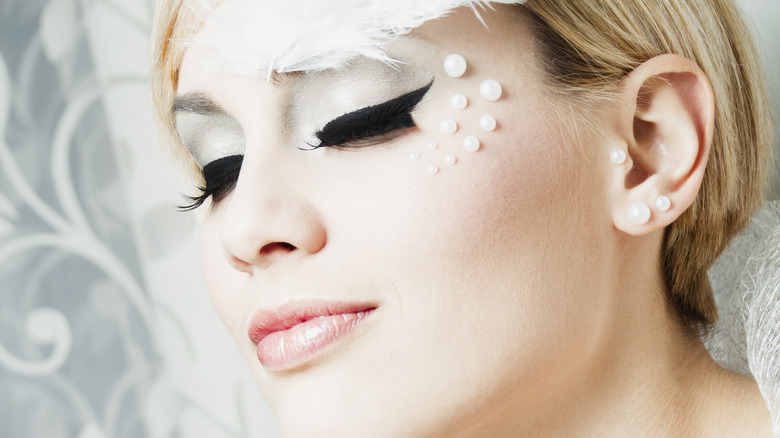 Monikabatich/Getty Images
Last but not least, scheduling your bridal makeup trial a few months out from your wedding means that you have time to get your hands on any special products or makeup accessories that your artist doesn't usually keep on hand. For instance, if your skin tone is chronically difficult to match, your artist may want to pick up some additional foundation and concealer options to ensure they can deliver a natural glow that blends in with your complexion. If you've chosen an unusual wedding theme, they may also need to source hues to perfectly match your dress and decor.
Your MUA may also want to acquire particular products that will work with your skin type — for instance, if you have an especially dry or oily complexion — or to accomplish your artistic vision. While every respectable artist should have an extensive kit of products already, it can't hurt to leave extra time just in case they weren't prepared for your request for an exact shade of glittery lilac.
Your big day is also the perfect chance to push the boundaries of makeup and create something elegant and avant-garde. As you enjoy your makeup trial, you may decide to add a few fun flourishes like face gems, lace, or feathers. But if you're pushing for a makeup look that incorporates any unusual materials, it's better to have this decided with plenty of time to purchase those must-have specialty items.