'Washed Black' Is The Smart Way To Wear Dark Shades In The Summer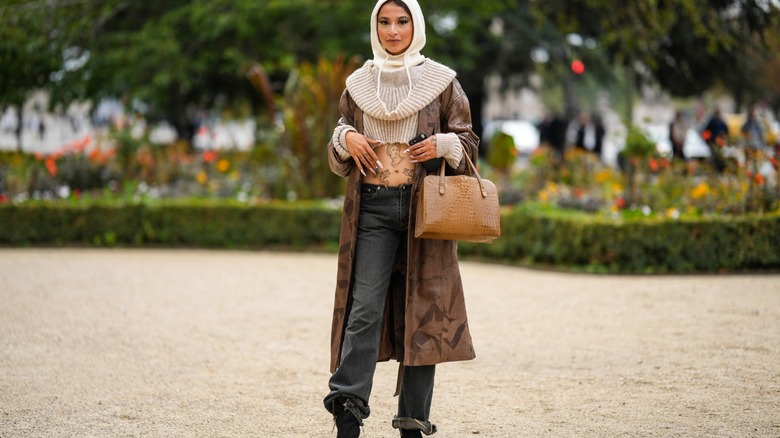 Edward Berthelot/Getty Images
We already know that black clothing is a summer staple this season, despite the fact that it gets you warmer under the sun. Even though you might risk a few more drops of sweat, black is a universal color that can work in any season. However, many fans of this color will look for something that's just a little bit different for the summer. Washed black is the perfect hue that stays in the black color family but gives you the feel of something different. Whether you refer to it as washed black or faded black doesn't matter, as it will still give you the feel of a lived-in piece. With nostalgia being a big part of fashion trends, you'll want something that doesn't look too shiny or new.
Washed black can come in various shades or tints, depending on the fabric or piece. Since there's no one uniform washed black, you can ensure that it will always look unique and chic. As well, this lived-in color will give you a street-style look that's unpolished and natural. Perfect for the summer season, washed black is about to be the must-have neutral hue for your closet.
Washed black graphic tee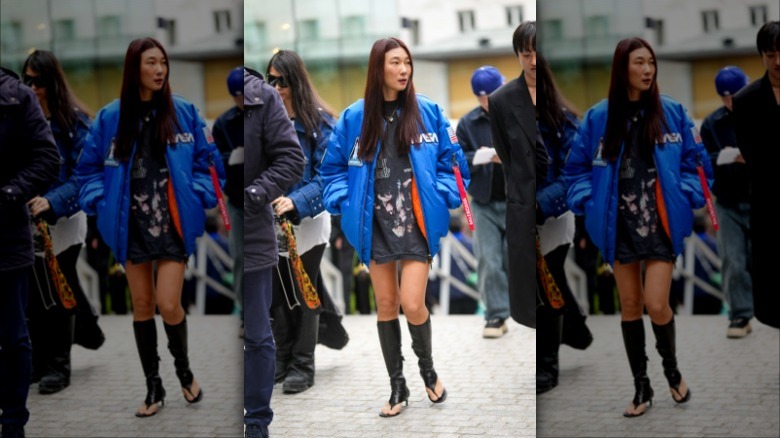 Edward Berthelot/Getty Images
Graphic tees are much more than something you wear when you're running errands or doing chores around the house. A good oversized graphic tee can be the perfect shirt dress to give you an edgy and casual look anywhere you go. Wear it over a pair of shorts or an oversized tee as a loose dress for a simple yet chic fit. Washed black gives you an extra touch of grunge that will make your summer even more street-style inspired.
Washed black skirt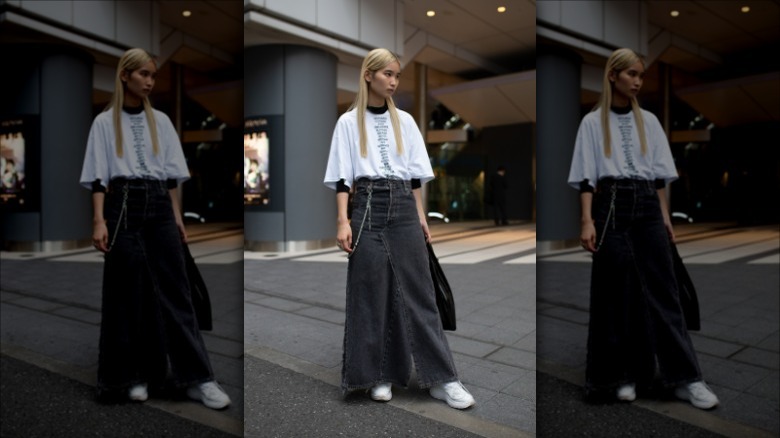 Matthew Sperzel/Getty Images
Skirts don't get as much credit as they should as a summer staple. Although not everyone is into feminine, floral miniskirts, there are plenty of options to add some edge to your outfit. Washed black denim skirts are a perfect place to start. These pieces combine a feminine silhouette with a darker hue for a fun twist on a classic style. Washed black denim can come in a variety of hues, depending on the denim and its composition. Some may give a grayer tint, while others will stay truer to a black.
Washed black denim jeans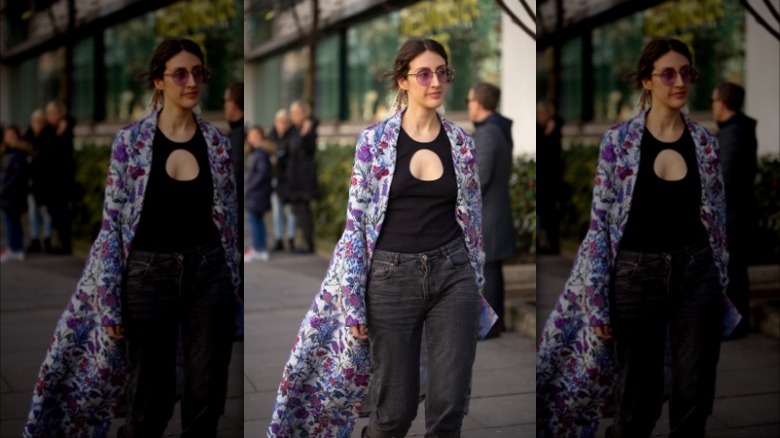 Matthew Sperzel/Getty Images
Likely the most classic example of a washed black piece comes in the form of black denim jeans. Although many are wary of wearing denim during the summer, washed black will absorb much less heat than a true black color. Oversized and baggy styles will give you more room to breathe and less of a constricting factor. Mom and boyfriend jeans in washed black denim will give an edgy component to your look and are the perfect bottom to pair with a neutral tank top or blouse.
Washed black basic tee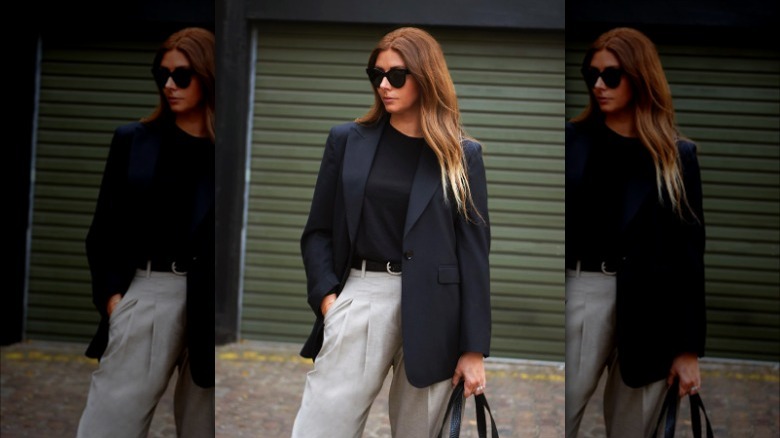 Instagram
While on the topic of basics, you can't go without a washed black basic tee. A black tee is a must-have in any closet during any season. However, a washed black will give you a different look and feel than a plain black top. When pairing your washed black tee, try to pair it with a true black piece that will show the contrast in hues but stay in the same family. Washed black basic tees will add some dimension and texture to your look by simply giving it a lived-in look.
Washed black denim shorts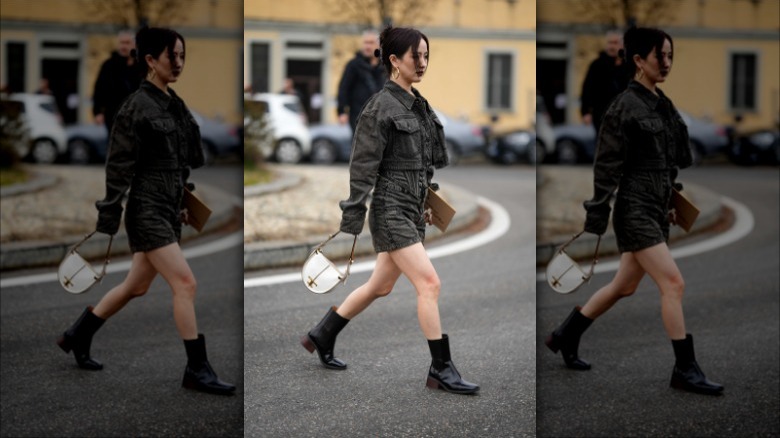 Edward Berthelot/Getty Images
All denim pieces in a washed black shade will ultimately give you a more chic look, but shorts might be your best bet during the warm summer season. Washed black denim shorts are some of the easiest pieces you can wear during the warmer months if you're looking for something practical and chic. Although blue denim will always reign supreme, these washed black shorts pair with anything and everything. Wear them with a neutral or against a pop of color. These bottoms are made for the summer season.
Washed black layers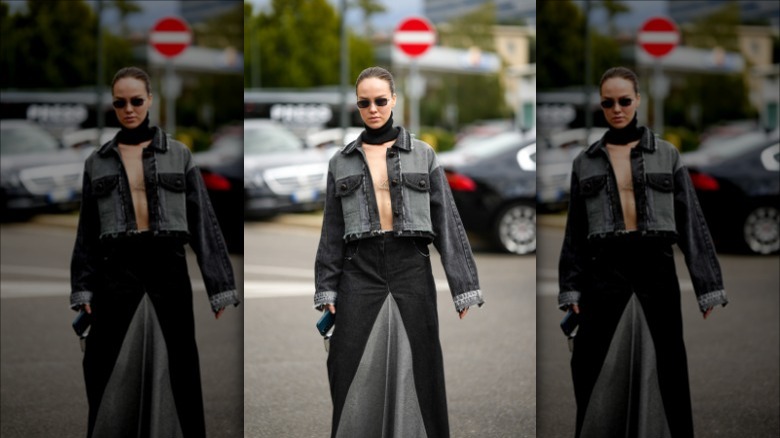 Edward Berthelot/Getty Images
When it comes to the summer season, you may not be thinking of adding layers to your look. Although, indeed, layering isn't necessary in the summer, it can add more chicness to your outfit. Instead of coats and jackets, opt for cropped pieces or a washed black linen shirt. These pieces won't feel too hot but will still give your outfit an extra touch of style. Since it's in a washed black shade, you can trust that it'll match anything you want underneath.