Yacht Fashion Is The Classic, Preppy Look Taking Quiet Luxury To The Next Level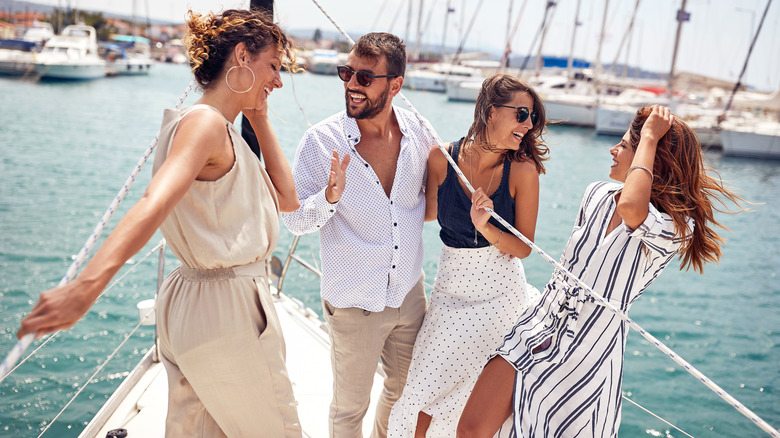 Lucky Business/Shutterstock
There's absolutely no doubt that Princess Diana was the ultimate fashion icon of the 20th century. From her iconic little black dress — the original revenge dress — to her upscale gowns and spectacular wedding dress, the beloved late royal is still a style role model for fashion novices and avid trendsetters alike. When not attending official events and donning glamorous outfits, Princess Diana looked especially stunning in breezy yacht fashion, from swim sets with matching sarongs and casual polo shirts to seersucker button-down overlays and a captain's hat. 
Effortlessly preppy and elegant yacht style, indeed, pulls its inspiration from Princess Diana. Though the royal yacht Britannia, which she was frequently photographed on, is out of commission now, yacht style is as relevant as ever, with its unyielding preppy vibe symbolizing quiet grandeur throughout the decades. You, too, can get in on the style even if you don't plan to board a yacht any time soon.
Dress for a day on the water
The best way to incorporate indulgences of yacht styling is to imagine that you're dressing for a day on the water, the namesake of the fashion trend. Don preppy polos, flowing skirts, and timeless tote bags. Avoid form-fitting styles, but do accentuate your waist with belts and ties for a tailored look, and add classic accouterments like bows and pearls.  Since yacht style doesn't require an actual boat, you can ditch sea-inspired boat shoes for classic pumps and sunglasses à la Audrey Hepburn.
Shoulder sweaters are signature staples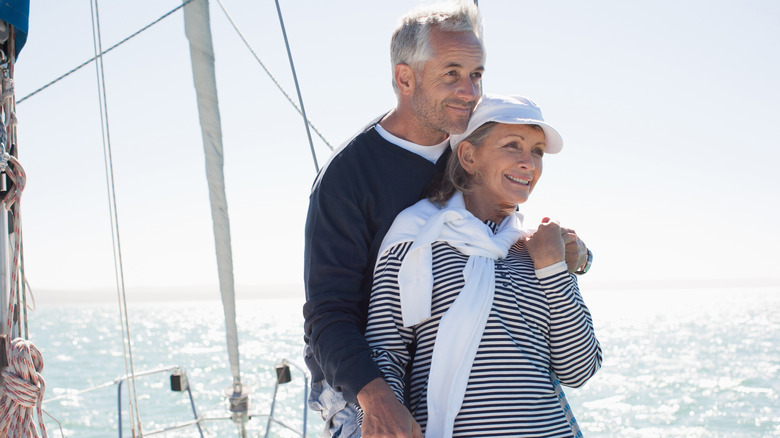 Sam Edwards/Getty Images
When you wear a polo, don't forget to add a sweater on top, even if the weather is balmy. A sweater casually draped over the shoulders and tied loosely below the collar of your shirt is the ultimate staple of preppy yacht style, and quickly escalates the elegance of your appearance. To nail the vibe, evoke the spirit of "Gossip Girl" characters, casually lounging in their penthouses in the city with their loosely draped shoulder sweaters subtly signaling opulence.
Loose-fitting linen and breezy button-downs nail the look
A loose-fitting button-down shirt with high-waisted linen shorts that are belted or tied at the waist is a pairing that gives vibes of effortlessly upscale couture to make you look like you're about to spend a relaxing day out on the water aboard an expensive yacht. Accessorized with open-toed sandals or heels and a large, casual tote bag, the look will transition seamlessly from running errands or laughing with friends over lunch al fresco to sipping lavender lemonade and leaning into the sweet coastal breeze with a slice of key lime pie. 
Seersucker is seriously comfortable and fashionably fancy
In the wardrobe of anyone with a preppy, understated, affluent style is at least one garment made from seersucker fabric. Puckered cotton fabric that's thinly crafted, the lightweight material of seersucker originated in India prior to attaining global popularity, particularly in the southern U.S. during days predating air conditioning. Since the fabric, hallmarked by its pastel stripes, is a no-sweat choice (literally) for summer months, the billowing garments are particularly favored for sunny, breezy yacht fashion. Swimwear, dresses, bow ties, Bermuda shorts, skirts, and suits of seersucker symbolically signal luxurious comfort. 
Preppy accessories instantly elevate your ensemble
For an immediate boost to any outfit, the smallest of preppy accessories can go a long way toward elevating your look with subtle elements of affluent taste. In fact, the foundation of quiet luxury is to allow your attire to speak for you through silent gestures indicating a luxurious lifestyle. Take the trademark yacht-style seersucker fabric and use it for a complementary bow on your bag, or be even more elusive with monogrammed accessories on your key fob. Less is definitely more when it comes to being luxuriously preppy. 
Comfortable flowing pieces are critical
Yacht style promotes ease of prep and laidback vibes. Comfort is critical and form-fitting garments, scratchy fabrics, and apparel that inhibits dexterity won't do. Instead, flowing, summery staples are must-have pieces. Try pairing classic boating trends with sarongs. The fun, flowy fabric can be worn in an array of styles. Go barefoot with your sarong attire for quintessential subtle opulence, as the fabric whimsically waves in the wind.