The Viral TikTok Contour Hack That Makes Placement Easy, Even If You've Never Used It Before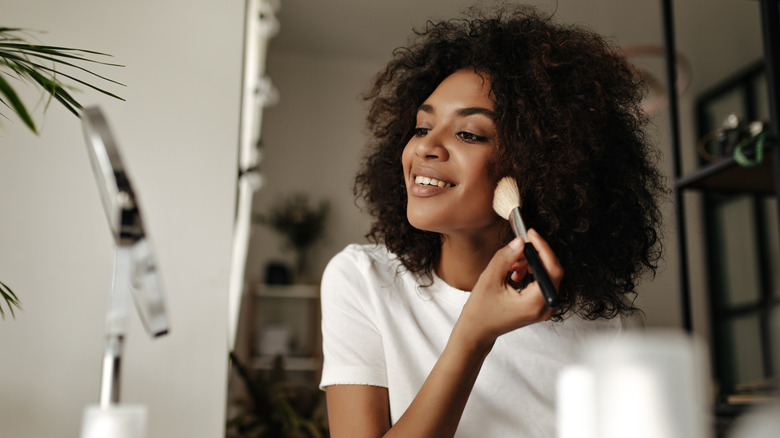 Look Studio/Shutterstock
If you're new to contouring, you might be intimidated by the idea of using makeup to highlight the shape of your face. However, embracing this technique may be just what you need to enhance your best facial features and make that gorgeous face of yours truly pop. Now, there's a TikTok hack that can help you ease into contouring and nail the process.
First, it's important to grasp some of the basics of contouring. Although there are no hard-and-fast rules, the end goal should always be to complete the look with a matte finish. This will help you ensure that your appearance is not only flawless but as natural as possible. Along the same lines, it's important to avoid using makeup with any shimmer. Finally, stick to shades that complement the undertones of your natural skin tone.
Once you're ready to begin, the TikTok video from @raquelbarrera_ is all you need to master the technique. As she demonstrates in the clip, start by placing your contour along your hairline — think of it as drawing a rainbow across the top of your forehead. Then, find the bottom edge of your cheekbone with your finger. You may not have a shadow under this area of your cheek, but you should be able to feel the bone and trace it up toward your ear. This is where you can start applying more contour.
How to contour using your face's natural shadows
As @raquelbarrera_ continues to show in her TikTok video, you can emphasize your cheekbones by applying your contouring makeup onto them, rather than on the shadows below them. If you place your makeup below your cheekbones, you might end up pushing the contouring lines too far down your face once you blend — remember, contouring is all about creating firming, sculpting lines that give your face an instant lift. As you're working your way inward while applying makeup onto your cheekbone, stop once you are parallel to your eye.
Now, you can begin to focus on your jawline. As @raquelbarrera_ explains in her video, your makeup is meant to mimic the shadows that are already on your face. This means you can use them as your guidelines while you're applying your contour. To round out the look, add your makeup along each side of your nose to create more definition. Once the contour is in place, you can begin to blend.
Keep in mind that while this hack can give you a comfortable starting point, it's best to use your face's natural lines and edges to create a look that works for you. "Contouring that works for one person doesn't [necessarily] work for all," celebrity makeup artist Carolina Dalí told Byrdie. "We each have features unique to our face, and your contouring technique should be tailored to complement your features."
Completing your contour with highlighter and bronzer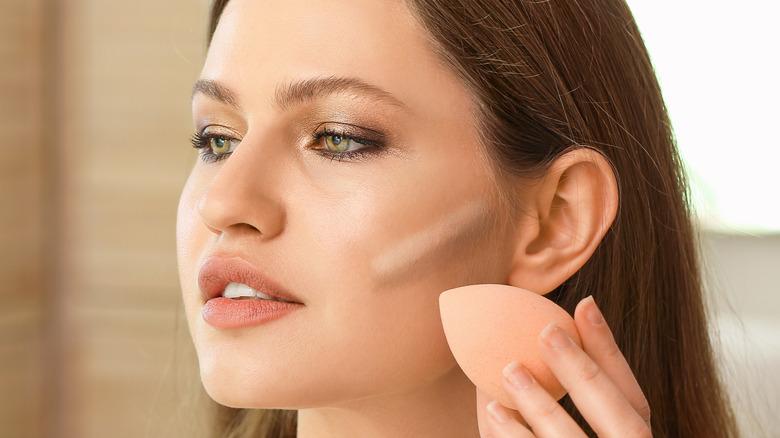 Pixel-Shot/Shutterstock
Many people choose to skip contouring, and the reasons vary. While some aren't confident in blending, others find it to be too time-consuming. However, contouring doesn't have to be challenging, especially with the number of hacks now readily available on social media.
Before you begin, you can apply your primer and foundation as you normally would. Then, you can start to use your contour makeup along your forehead, jawline, and nose. Make sure you have a fluffy brush on hand to help you blend everything effectively for a seamless look. Once you're satisfied with your look, you can use highlighter and bronzer to accentuate the definition you've added across your face.
Keep in mind that bronzer and highlighter are typically warmer in tone than contour. This is because they're formulated to make your complexion pop, while contour is meant to add depth to the natural shadows of your face. If you find that your contour is dulling down your natural skin tone, you can try using bronzer instead for more neutral shading.
As you're applying bronzer or highlighter, stick to the areas of your face where the sun would naturally fall while outdoors. This is where you want your face to naturally "shine" and glow.