The Contour Hack To Try If You Love The Button Nose Look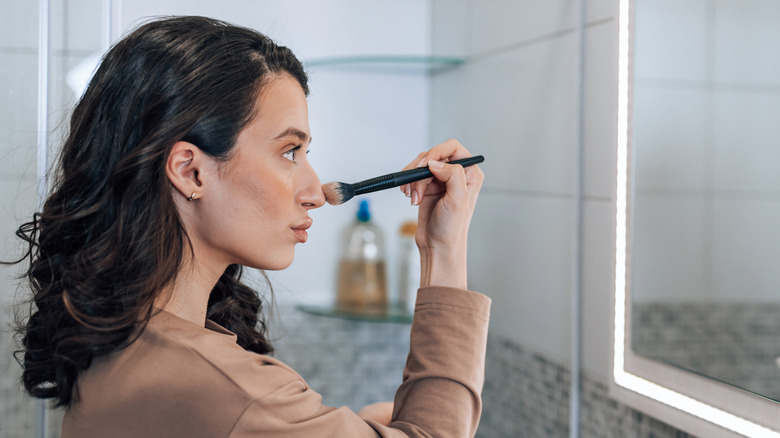 Realpeoplegroup/Getty Images
We may receive a commission on purchases made from links.
Contouring is one of the most transformative makeup techniques to try on your face. For those who don't know, a contour is a cool-toned concealer, powder, or stick that is a few shades darker than your skin tone. This allows you to sculpt your face however you please, meaning you can create prominent cheekbones, a lower hairline, and a defined jaw. You can also alter the shape of your nose with a good contour. There are plenty of ways to execute this technique, from TikTok's Finger-painting Trick to J.Lo's contour hack for a perfect sculpt. 
Contouring your nose has also become its own art form. Long gone are the days when you just had to place some contour streaks on the side of your nose; now we are creating the exact shape we want with a few simple tricks. For those who want a natural button nose, TikTok has your back in creating the look with just one swipe. All you have to do is push your nose up to see where you'll be applying the product. 
The button nose trick
TikTok user Sierra Cannon demonstrates the button nose trick in a video of all her favorite makeup hacks. All you will need is a contour product and a brush. It's best to use a stick or liquid contour to do this for the best control over where the product goes. In the tutorial, Cannon cut the Charlotte Tilbury Hollywood Contour Wand to get the look she wanted with her normal base makeup already in place. Then, she pushed her nose up until it created a crease on top, and then applied the contour directly onto the crease. After, she buffed out the contour to blend it out perfectly.
The traditional method of nose sculpting requires outlining the perimeter of the nose and brow bone with contour, and then following up with concealer being placed in the middle of the nose as a highlight, and cleaning up the sides with powder. This trick, on the other hand, is perfect for people on the go, who want to create a button nose without all of the precision that comes with a traditional nose contour.
How to pick the perfect contour for your nose
Contour is an amazing tool to have in your arsenal if you know how use it correctly, whether you're applying it to your nose, your jawline, or somewhere else. The most important step to using contour is finding the right color and undertone. When choosing a contour, look for cooler tones in order to emulate the shadows that are found naturally on your face. While this does mean that it needs to be darker than your skin tone, it won't allow you to have a seamless blend with the rest of your makeup if it's too dark. This will be especially obvious on your nose. 
If finding the right contour shade is hard, you can make your own at home. According to TikTok user Rose Siard, all you need is a full coverage foundation, white concealer, and black concealer to create a suitable contour color for anyone. Once you have the products, mix the three colors together using an even ratio. As long as you use your usual shade of foundation, you will get a perfect contour product that suits your skin tone.