Britney Spears And Justin Timberlake's Unforgettable Canadian Tuxedo Moment, Explained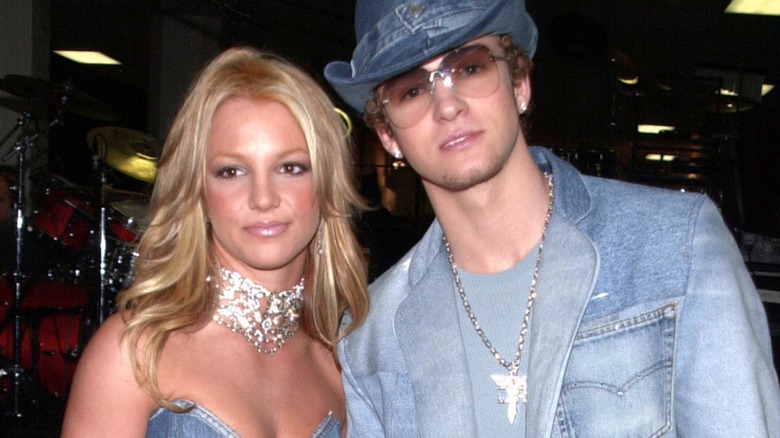 Frank Trapper/Getty
When you think about Y2K style and all its glory, it's hard not to think of Britney Spears and Justin Timberlake. The two were a popstar couple that was ahead of every trend. From frosted tips to low-rise jeans, people everywhere were looking to see what the couple would wear next. What was great about this time was that the two had a lot of creative control over their own looks, according to costume designer Steven Gerstein via Jezebel. This is a big deal since many celebrities nowadays leave their image to their stylist.
Of all the iconic style moments, nothing compares to their Canadian tuxedo moment. It was 2001, and the two were on their way to the American Music Awards. They were covered head to toe in denim, which was never done before on the red carpet. With the early '00s jean trend making a 2023 comeback, it's amazing to see where the denim trend really took off.
How the outfits came to be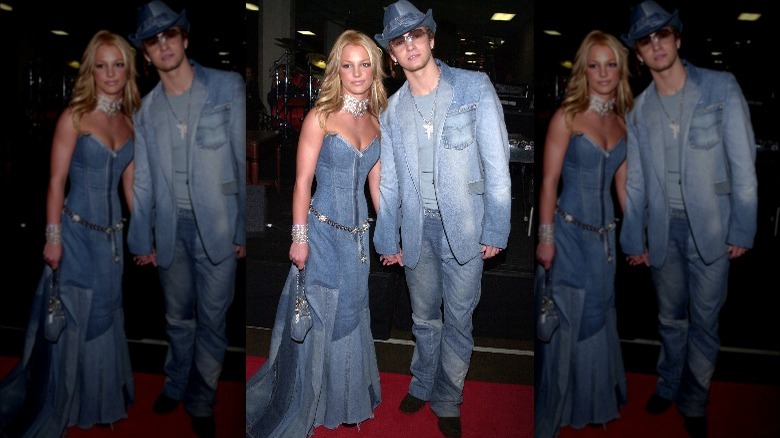 Frank Trapper/Getty Images
The idea to create the jean moment all began with Timberlake and Spears, according to Gerstein via Jezebel. "We were in New Orleans when Britney and Justin were like, 'We're doing matching denim.' And I was like, 'How are you doing that? Who is doing that?' We wound up taking the Costume National suit that Justin wore for the Celebrity album cover. We remade it in denim," shared Gerstein. He went on to explain that the process was pretty organic. With the help of Levi's, as well as Spears working with Kurt and Bart at the time, the outfits were made and fitted to the stars in just a few days.
Once the teen dream couple showed off their ensemble, the paparazzi started taking photos from every angle, as per E! News. The two had been together for two years, and people loved seeing them together whenever they could. While the couple would break up a year later, their denim ensemble will still live as one of their best moments.
Where are the outfits now?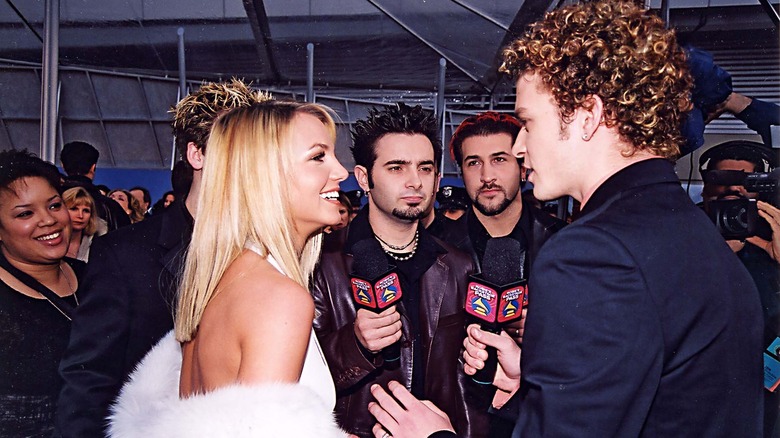 Jeff Kravitz/Getty Images
While we all would love to believe that both celebrities have their outfits locked away in their closet, that sadly is not the case. According to Nate D. Sanders Auction, the dress was auctioned off in 2013. The buyer to this day is unknown, but they competed with 14 other bidders and paid $7,199 for the dress. The outfit was framed with a plaque that said: "Dress Worn by Britney Spears at 28th Annual American Music Awards / January 8, 2001."
Sadly, Justin's Canadian tuxedo is also not on hand for him either. After the American Music Awards, NSYNC's management requested the suit back, Gerstein told Jezebel. "So, we started to archive it. It was when polaroids were still a thing, and we had polaroids of everything. Every shoe. We had so much going on that we had to have a catalog." While he has no access to the suit or the catalog, Gerstein guesses the outfit is still in Orlando, somewhere. While it's a shame these outfits are somewhere in the ether, y2k fashion is back, which means we can still appreciate and recreate these outfits today.