Folding Fans Marry Practicality And Fashion This Summer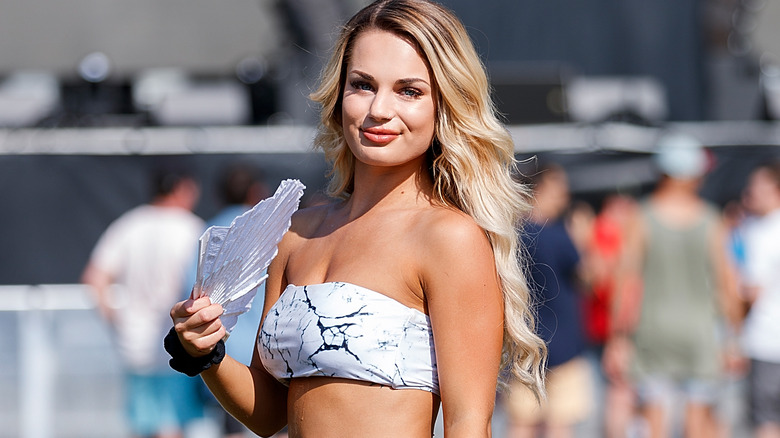 Andrew Chin/Getty Images
Having the latest fashion trends is great, but none of them hold up to the summer heat. It doesn't matter if you have the latest capri pants or poplin pieces if you can't enjoy them because of the sun. Although there are plenty of ways you can keep fresh while looking cool, none of them come close to one of the latest summer trends to keep our outfits (and us), nice and breezy. Folding fans may seem like a dramatic accessory for the summer, but you can't beat the flair and practicality it adds to your wardrobe. For the last couple of years, fashion has been focused on merging style and practicality rather than sacrificing comfort for trends. Folding fans may not be your first thought when you think about accessories, but they can soon become your new favorite piece.
Advertisement
Folding fans are helpful because they can add an extra unexpected piece to your outfit that can help battle the sun's rays. Although it's very easy to opt for a simple plastic folding fan at any corner store, this accessory gives you the chance of adding a unique feature to your look. Along with color and details, you can make this accessory a fun new part of your summer wardrobe.
White folding fans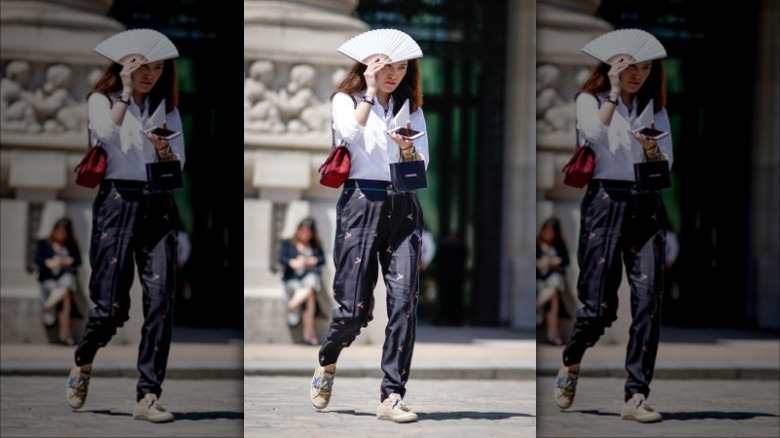 Edward Berthelot/Getty Images
Summer whites are a real thing, and there's no better color to sport in the summer. Along with your all-white seasonal looks, a matching folding fan can add some ease and casualness to your look. Although there's nothing informal about the folding fan, it can add a touch of freshness to your outfits in the summer. When paired with organic details and a light-colored palette, you can get the same vibe as walking around the Hamptons in the summer.
Advertisement
Printed folding fans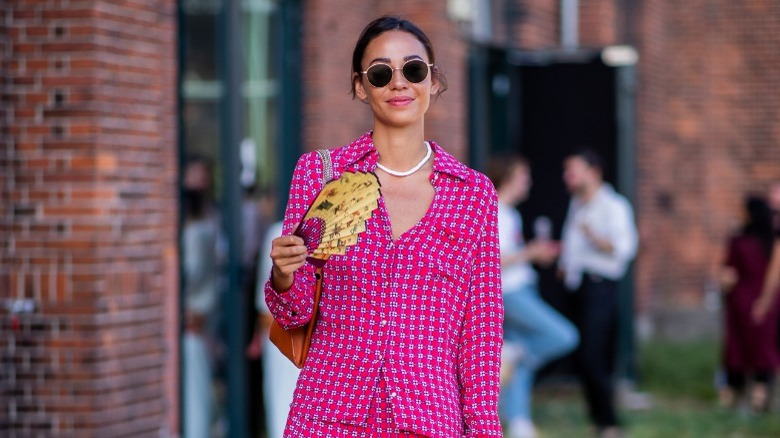 Christian Vierig/Getty Images
We all know that folding fans are not a simple accessory that you can find anywhere. They are often considered a last-ditch effort to keep cool in the summer. Give your folding fan some thought by going with a fun and funky printed design that will inject more color and detail into your look. The perfect contrast for a neutral look or the ideal match for a colorful outfit, the printed folding fan can look however you want it to.
Advertisement
Feather folding fans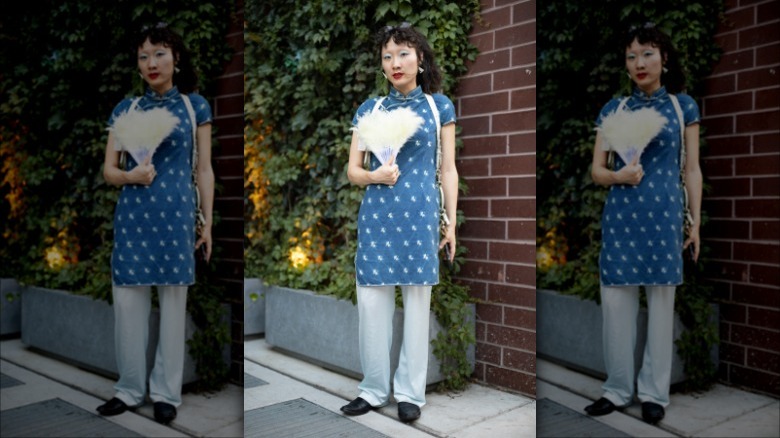 Matthew Sperzel/Getty Images
For those looking to add something seriously unique to their summer wardrobe, adding feathers or other fun details is one way of making a statement. Feathered folding fans might be common on "Bridgerton," but there's not any other accessory close to it that we currently own. A feather folding fan might not be the first thing that pops into your mind when you think of fashion, but it's the ideal piece for those looking to make a giant impact with only one small accessory.
Advertisement
Black folding fans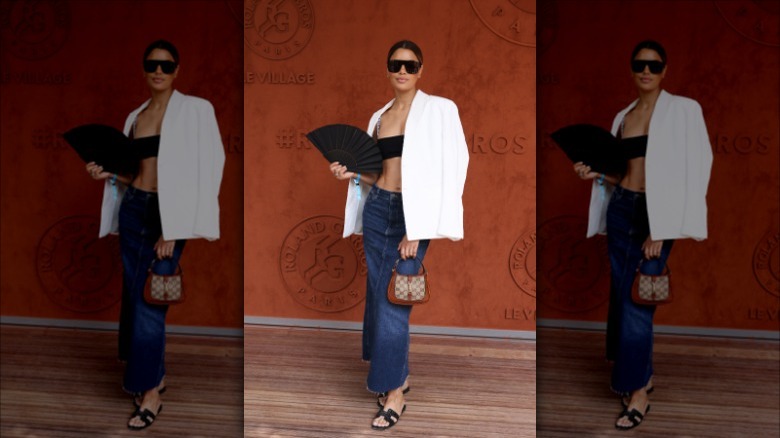 Pierre Suu/Getty Images
Black is a sleek color, no matter what the piece or season is. Regardless of how you wear it, black will always help to complement your look and will seldom ruin it. If you're already going too out of the box with your folding fan, opt for a simple color like black. A black folding fan is simple and chic, without overwhelming your entire look. If you're more on the minimalist side of fashion, a black folding fan can match almost any look — making it ideal for all of your summer outfits.
Advertisement
Lace folding fans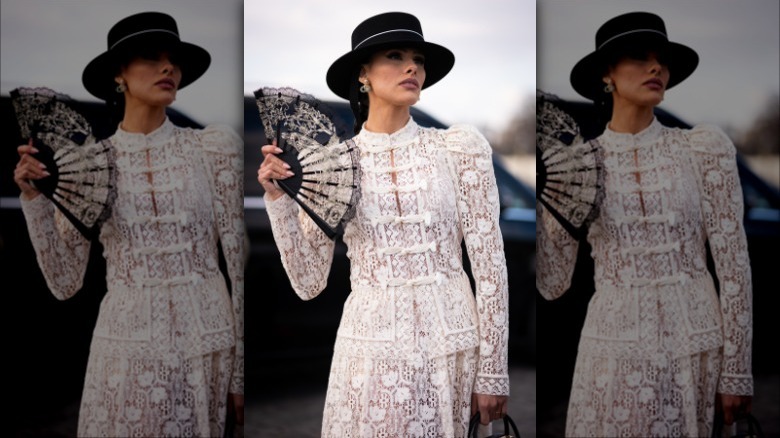 Claudio Lavenia/Getty Images
Lace, just like the color black, is beautiful all year-round. Whether it's in a dress or blouse, lace adds a romantic touch to your look without even trying. A lace folding fan is much more unique and regal because of the intricate detail that often goes into it. Lace folding fans are much more similar to ones you would find in a museum or a collector's closet than on the street. You can never go wrong with adding a little lace to your folding fan, as this piece will create a regal fashion statement that can seldom be replicated.
Advertisement
Monochrome folding fans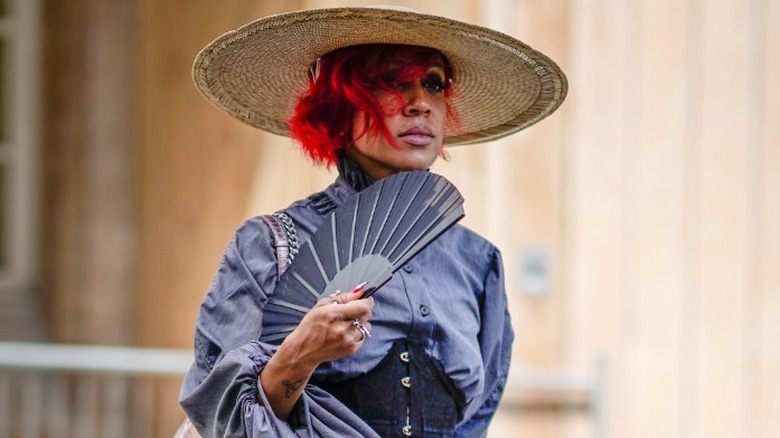 Edward Berthelot/Getty Images
Knowing which type of folding fan you want or need is important, but it's equally vital to know how to style it. While it's a small accessory that doesn't require much thought, you want to get the most out of it by styling it accordingly. A monochrome folding fan that matches the rest of your look will keep it cohesive and chic, rather than a costume piece. Adding the same color as your outfit will make your folding fan intentional as well as another part of your piece, instead of just a random accessory.
Advertisement
Textured folding fans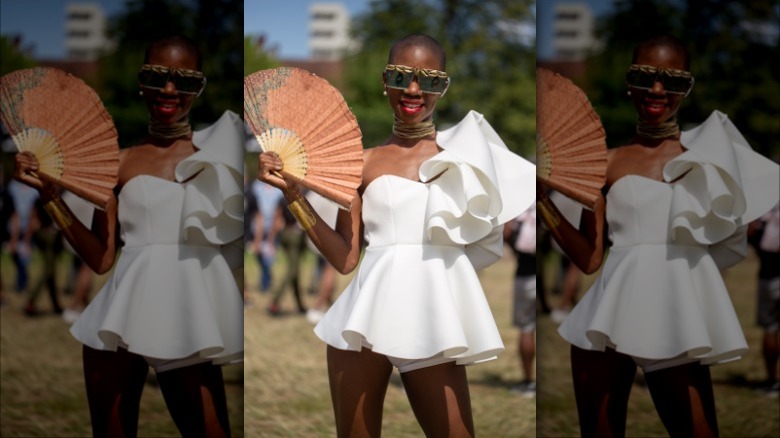 Matthew Sperzel/Getty Images
Adding texture to an outfit will always complement your look and help prevent it from falling flat. Adding a textured folding fan in linen or rattan will always add another layer, without taking over entirely. As well, a textured folding fan is a subtle way of adding another point of interest, without having to add more color or print to it. If you're minimalist or simple in your dressing, a neutral textured folding fan can add more visual interest to your summer outfit.
Advertisement
Circular folding fans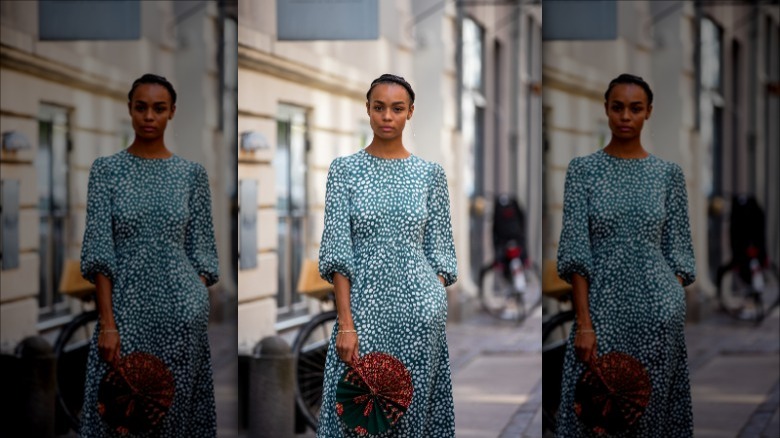 Christian Vierig/Getty Images
Not all folding fans come in the same shape or size. Along with your typical accordion folding fans, there are also shaped fans and circular fans that can add another layer of interest to an already fun piece. Circular folding fans are elegant pieces that will give your look another layer of sophistication. While folding fans already make a statement, a circular-shaped folding fan can't simply be ignored. Along with a circular folding fan, there are plenty of other options that can take your fan to the next level.
Advertisement