Capri Pants Are Staging A Revival This Summer & We're Showing You How To Style Them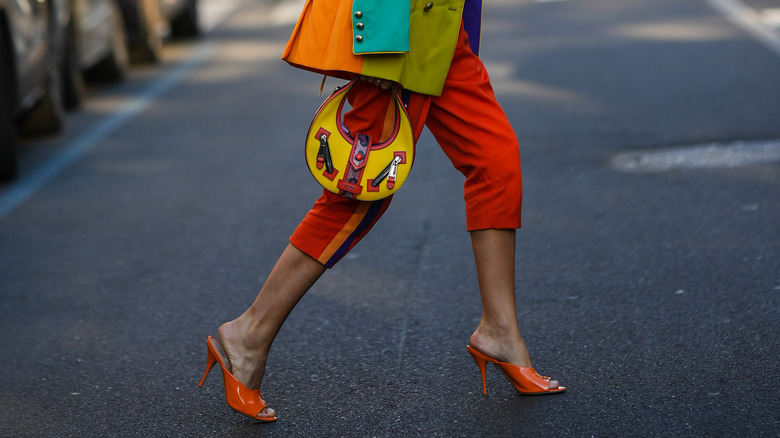 Edward Berthelot/Getty Images
Although capri pants never completely disappeared from store shelves, their popularity has undoubtedly receded over the years, really only being represented by older Millenials nowadays. However, they're back in 2023, and they're being styled in ways that our middle school and high school selves would salivate over. Who else remembers when they were the "it" item during back-to-school season?
Nowadays, you can find dozens of different capris, which are available for all genders and made from various fabrics in multiple styles: denim capris, drawstring yoga capris, twill capris, cargo capris, moisture-wicking capris, linen capris, and so on. With so many options, there are even more ways to work a pair of capris into your look. Of course, you can wear yours however you want to, but it doesn't hurt to get some inspiration by looking at how others are wearing theirs — and trust us, people are getting more creative than ever with them.
Compression capri leggings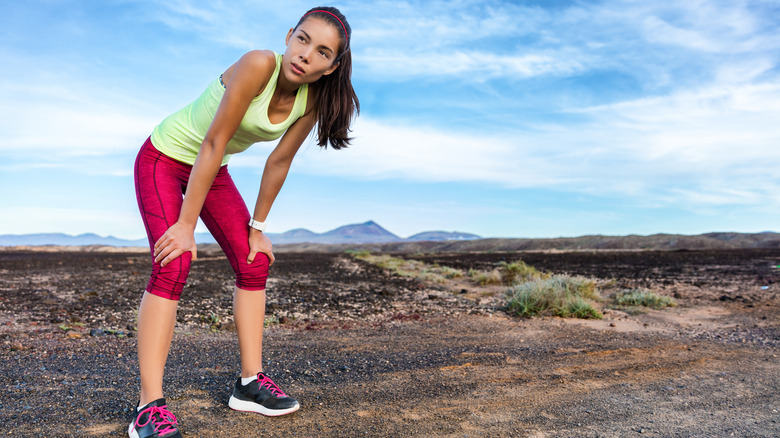 Maridav/Shutterstock
Compression capri leggings are especially common for exercise since many of them are made with a flexible polyester or other moisture-wicking fabric. They can also be worn whenever you just want that sculpted-legs-and–booty look. To work out, you can pair them with pretty much any top you don't mind getting sweaty in, from tanks to t-shirts to hoodies. If you won't be exercising in your capri leggings, you'll have more options on tops, including sweaters and ponchos. They are typically sold in solid and print fabrics, with or without pockets.
Blue denim capris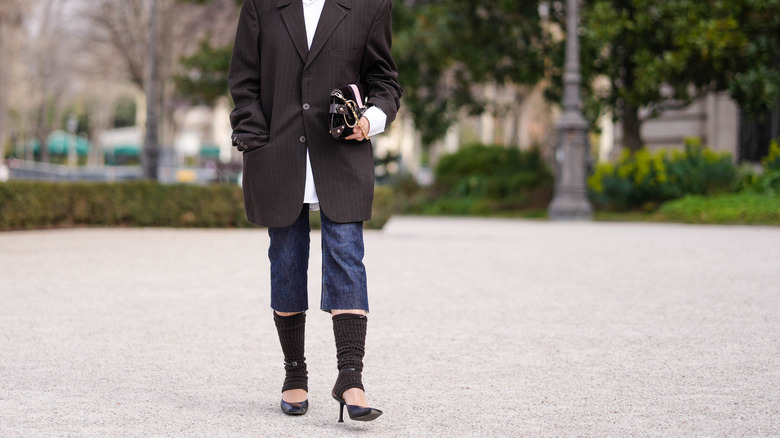 Edward Berthelot/Getty Images
Just like a regular pair of blue jeans, blue denim capris can be worn with both dressy and casual looks. Whether you have a date night coming up or you'll just be doing some shopping at the mall with friends, there are multiple tops that complement blue denim capris well. Try dressing up your outfit with a pair of heels or dress it down with a pair of sneakers or other flats. Style options include cuffed, distressed, and medium and light washes, to name a few.
Wide-leg capris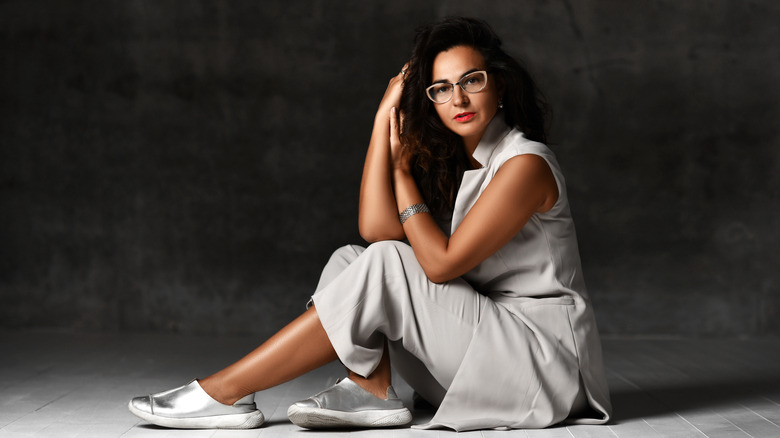 Dmitry Lobanov/Shutterstock
You'll find wide-leg capris in a variety of styles. With cotton or similar soft fabric in a solid color, like light gray, you can create a dressy casual look, perfect for the office and a night out afterward. This looser pant style goes well with a matching long, lapel vest or duster and a dark-colored camisole. You can also choose a dressier top in a great printed fabric to complement the solid color of the capris or vice versa.
Khaki capris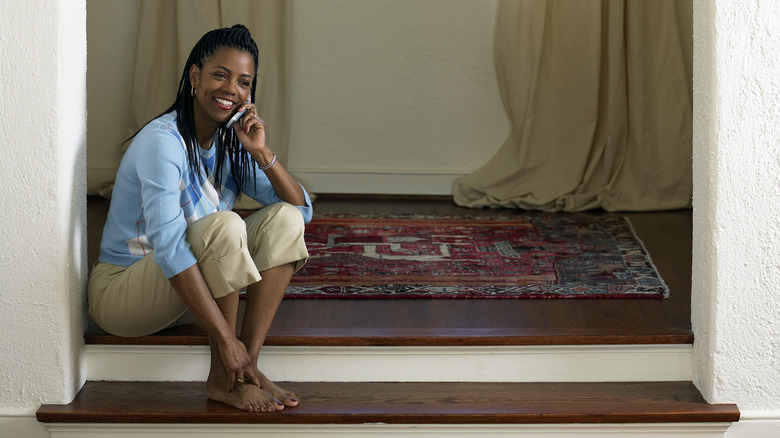 Ryan Mcvay/Getty Images
Khaki capris offer a lot of versatility, just like denim capris. They can be paired with a long-sleeve blouse if temps are on the cooler side or a sleeveless top if temps are on the warmer side. A crisp button-up shirt would also look nice. Other complementary options include screen tees, a blazer over a chiffon tank, or even a simple tucked-in t-shirt. As far as shoes go, any pair can be worn with khaki capris, depending on how dressy or casual you want to be.
Cotton capri leggings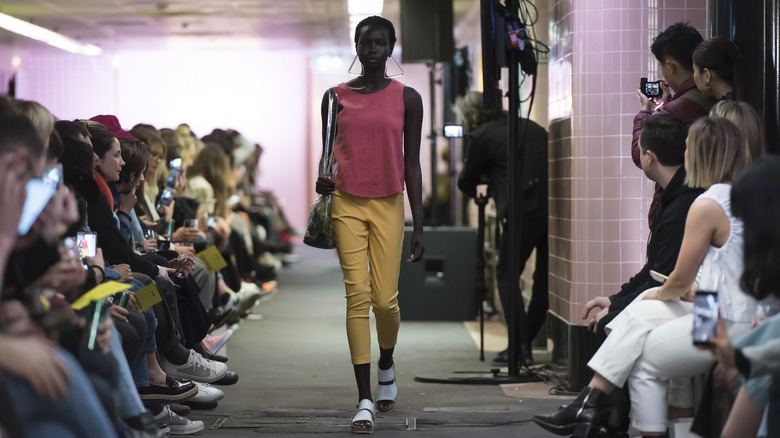 Naomi Rahim/Getty Images
Leggings typically have a more fitted look than other styles of capris, but some have a more relaxed fit than others. Unlike compression capri leggings, cotton capri leggings aren't moisture-wicking, so you probably won't want to wear them for exercise if you plan to sweat a lot. They are great for lounging around the house, though, or going out in casual settings. For a relaxed summer look, pair yellow capri leggings with a bright sleeveless top and sandals.
Brightly colored capris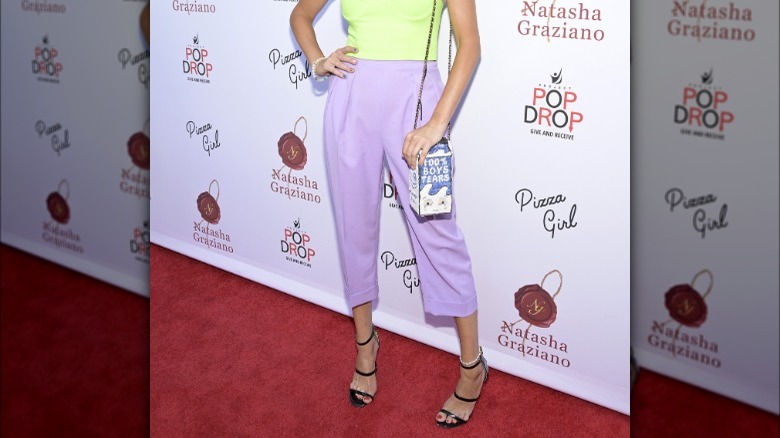 Michael Tullberg/Getty Images
With the new millennium came the colored skinny jeans trend. You can still find colored pants on store shelves and online today 20+ years later, including colored capris. Fabric options range from cotton twill to linen to corduroy to polyester to denim and so on. What's nice about solid-colored pants is that you have the option to wear a printed top or a solid-colored one, depending on the vibe you're going for.
Printed capris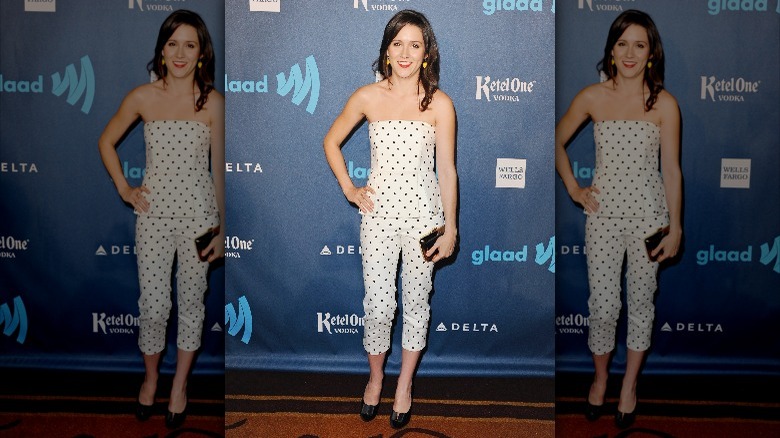 Jon Kopaloff/Getty Images
Printed and patterned capris are available in polyester, denim, twill, linen, cotton, and many other fabrics. They can be fitted or loose and cuffed or uncuffed. If you choose a simple pattern like polka dots, it will be easy to find a top in the same pattern for a cute matching set. You can also throw on a solid top, whether it's a short-sleeved or sleeveless blouse or something more casual. Avoid tops that have a different pattern than your capris, since the two may clash and create a disjointed appearance.